---
Since the 4th of July celebration is coming up, I thought it would be the appropriate time for me to post this "Thai" recipe! This fried rice, though named "American", is a uniquely Thai experience. It contains ingredients that we associate with American food: ketchup, hot dogs, sunnyside up egg, and fried chicken drumsticks (possibly through the association with KFC).
In Thailand, this is one of the most popular dishes amongst kids because it is not spicy, has kid-friendly flavours, and it just looks like a lot of fun! (Which kid wouldn't love octopus-shaped mini hot dogs, right?) It has been a long time since I had this dish, and I thought that with my adult palate, I wouldn't like it as much now, but I was so surprised to find that I love it even more, and I'm sure you will too!
Watch The Full Video Tutorial!
All my recipes come with step-by-step video tutorials with extra tips not mentioned in the blog post, so make sure you watch the video below to ensure success - and if you enjoy the show, please consider subscribing to my YouTube channel. Thank you!
Print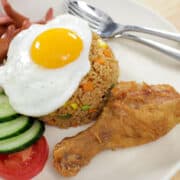 American Fried Rice ข้าวผัดอเมริกัน
---
½

small onion, small diced

3

cloves Garlic, chopped

⅓ cup

carrot, small diced

¼ cup

peas or diced sugar snap peas

3 Tbsp

corn kernels, frozen or canned

2 Tbsp

raisins

350 g

cooked rice, preferably chilled (see note)

3 Tbsp

ketchup

1 Tbsp

soy sauce

1 Tbsp

Golden Mountain Sauce or Maggi

¼ tsp

ground white pepper

2

eggs (for making sunnyside up eggs)

Cocktail wieners, hot dogs, and/or ham, as many as you like (see video @3:04 for how to the cut hot dogs. If using long hot dogs, cut them first into 2-inch pieces) 

Fresh tomatoes and cucumber slices for serving
Note: If you have trouble with fried rice being clumpy or mushy, get some more info about how to make good rice for fried rice in my pineapple fried rice video. 
Simple Fried Chicken Drumsticks
Here's a very simple yummy fried chicken recipe, however, you can use any fried chicken recipe you want (or even get some KFC and that would be extra American ;). There are no rules about what the fried chicken should be like, and you can use baked or grilled chicken instead if you don't want to fry. Please note that the fried rice recipe above serves 2, but I've given you a recipe for 4 drumsticks, in case you want to have 2 pieces of chicken per person (and it's not really worth the oil if you're frying only 2 pieces of chicken!).
4

chicken drumsticks (drumsticks are what we always use, but feel free to use other cuts you prefer)

1 Tbsp

fish sauce

2 tsp

soy sauce

3 Tbsp

water

A pinch white pepper

¼ cup

cornstarch

¼ cup

all-purpose flour
Oil for frying (you'll need lots)
---
Instructions
For the Fried Chicken: Place chicken, fish sauce, soy sauce, water and white pepper in a zip-top bag and squeeze out as much air as possible. Marinate chicken for 30 minutes and up to overnight, flipping the bag halfway through. If only marinating for 30 minutes, leave the chicken at room temperature. If marinating for longer than 30 minutes, put in the refrigerator but pull it out 30 minutes before frying so the chicken isn't super cold when you fry. 
If you want to keep the fried chicken hot while you fry your rice, preheat the oven to 200°F/95°C and you can hold the chicken there once they are fried.
To fry, heat enough oil in a pot to completely cover the chicken (about 2 inches) and bring it to 350°F/175°C. While the oil is heating, transfer the chicken into a mixing bowl and add the cornstarch and flour. Toss until you have a smooth, thin batter, adding more flour if you'd like a thicker coating. When the oil is hot, add the chicken to the oil (don't crowd the pot) and then maintain the frying temperature at about 325°F/165°C. Fry for 8-9 minutes until the chicken is fully cooked.
While the chicken is frying, make sunny side up eggs, 1 per person.
For the hot dogs: Once the chicken is done, turn off the heat and immediately drop the hot dogs into the still-hot oil and fry for about 10 seconds just until they "bloom." Drain on some paper towel. If you're not frying chicken and you don't want to heat the oil just for the hot dogs, just heat the hot dogs up however you like: blanch, bake, grill or pan fry. 
For the fried rice: 
Combine the ketchup, soy sauce, Golden Mountain Sauce and white pepper together in a bowl.
In a wok, heat a little oil over medium heat and add onion, garlic and carrots; cook, stirring constantly, until the onion is translucent.
Add peas, corn and raisins and cook for 30 seconds just to heat them up.
Add the rice and toss briefly with the vegetables, then and the sauce mixture. Turn the heat to high and keep tossing until rice is well coated, pressing any rice lumps with the spatula to break them. 
Once the rice is thoroughly coated in the sauce, remove from heat.
To assemble: Pack the rice tightly into a bowl or another mold of your choice, and unmold it onto a serving plate. Arrange the fried chicken, hot dogs, tomato and cucumber slices around the rice, and place the fried egg on top of the rice. Serve and enjoy!
---