---
Aunty Jenny is my Chinese mother-in-law, and this is something she makes ALL the time. And we love it because it looks like a luxurious stew that took time and effort to make, yet it's really quick and easy. I don't know if this is a traditional Chinese dish, but I do know it is delicious! Chicken wings are braised with sweet caramelized onions, so the chicken comes out tender and the onions practically melt in your mouth.
Key to Flavourful Wings
The recipe starts out with searning the chicken wings until well browned. Even though once the wings are braised you may not see the searing job you did, and you may be tempted to just skip it, don't! It is super important because that browning of the skin adds so much flavour—think the flavour of fried chicken skin VS boiled chicken skins...yeah, a LOT of flavour. So take the time to really get a beautiful sear.
Key to Tender Wings
Wings are small and technically can cook in just a few minutes, but in this recipe we want more than just "cooked". We want tender, which means we need to braise them. Braising is when you cook meat gently in a liquid for an extended period of time until the meat is fork tender. So as the meat cooks it goes from raw, to cooked, to overcooked, and then eventually to scrumptiously tender.
If we were doing red meat, this would take hours, but luckily for wings, it only takes 20 minutes! And this time also allows for flavour to penetrate the meat for a thoroughly flavourful wings. Not to mention the onions cook and become sweet and melty!
The Perfect Freezer Meal
Yes, you can freeze this dish! And it thaws and reheats so perfectly you couldn't tell the difference. Make the recipe as is, no need to modify anything, and freeze. You can let it thaw in the fridge first overnight (my preferred method) then microwave, or just microwave it from frozen. If using the microwave to reheat, I would stir it a few times in between for a more even heating. You can add some fresh green onions or cilantro to it after reheating to bring back some freshness, but otherwise, just eat! You can also freeze some rice to go with it so it can be a ready-made-meal for you.
Bonus content for Patreon members: For this episode I share a cooking time guideline for braising different types of meat, a useful thing to know for sure! Click here to learn more about becoming a Patreon member.
Watch The Full Video Tutorial!
All my recipes come with step-by-step video tutorials with extra tips not mentioned in the blog post, so make sure you watch the video below to ensure success - and if you enjoy the show, please consider subscribing to my YouTube channel. Thank you!
Print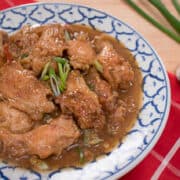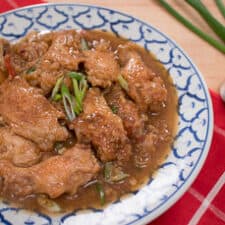 Braised Wings with Caramelized Onion
---
750g

chicken wings

2 Tbsp

soy sauce

½ tsp

sugar

2 Tbsp

cornstarch

1

-

2

teaspoon dark soy sauce

1

large onion, cut into strips

¼ tsp

salt

5

cloves garlic, chopped

2

-inch pc ginger, finely minced

1 ½ Tbsp

oyster sauce

1 ½ Tbsp

Chinese cooking wine (optional)

½ tsp

black or white pepper
About

½ cup

water

1

-

2

green onions

A squeeze lemon or lime juice (optional)

Jasmine rice for serving
---
Instructions
Marinade chicken in soy sauce and sugar for at least 30 mins or overnight.

Dry off excess liquid from chicken with paper towel, then add cornstarch and toss until evenly distributed.

In a large heavy-bottomed skillet or pot (something with a lid), add enough oil to coat the bottom and heat over medium high heat.

Once oil is hot, sear wings until well browned on both sides. Do not crowd the pan, you will likely need to do this in 2 batches. Once browned (inside will be raw, that's okay), remove wings from pan and set aside.

In the same pan, add onions and salt and saute over medium high heat until onions are browned, deglazing with water as you notice brown bits forming on the bottom of the pan. You will need to deglaze a few times as you go. Do not worry about onions being super soft at this point, focus on browning as the onions will have time to soften later.

Once browned, add garlic and ginger and saute for another 1 minute.

Add chicken, oyster sauce, dark soy sauce, Chinese cooking wine and just enough water so it comes halfway up the chicken. Cover and cook on low heat for 20-25 minutes or till chicken is fork tender.

Taste and adjust seasoning. If you want, add a little squeeze of lemon juice to brighten up the flavour of the sauce. 

Stir in green onions and serve with rice.
---