---
Whenever I go to an Indian restaurant, this dish is always on my table. This easy eggplant "curry" has a soft, luscious texture that works well as a dip for bread or poured over rice. Iconic aromas of Indian spices blooms from it, with a little kick of heat to wake up your taste buds! It is also vegetarian and vegan friendly, AND it is gluten-free!
Tip: If possible, plan ahead and make the dish in advance so it can have a chance to sit, allowing flavours to mingle and develop further. Even 30 minutes of this "sitting" will help! You can also roast the eggplant up to a few days in advance, scoop out the flesh and keep it in the fridge until ready to use.
Watch The Full Video Tutorial!
All my recipes come with step-by-step video tutorials with extra tips not mentioned in the blog post, so make sure you watch the video below to ensure success - and if you enjoy the show, please consider subscribing to my YouTube channel. Thank you!
Print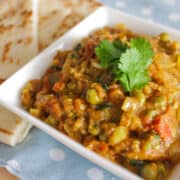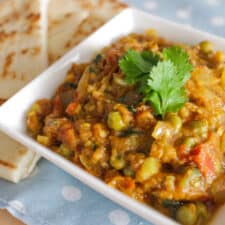 Indian Eggplant Curry (Baingan Bharta)
---
1

large globe eggplant

1 ½ tsp

cumin seeds

1 tsp

ground coriander

½ tsp

turmeric powder

Chili powder, to taste

1

green chilies (such as jalapeno or serrano), seeds and pith removed

3

cloves garlic, chopped

½

a medium onion, chopped

1

-inch piece ginger, minced

2

tomatoes

⅓ cup

peas, optional

A handful chopped cilantro, optional

For serving: naan, other flatbreads, or rice
---
Instructions
To roast the eggplant: Pierce the skin of the eggplant with a sharp knife in several places, then place it on a foil-lined baking sheet. Put the eggplant on the top rack under the broiler (or as high as it can go without touching the element). Broil for about 45 minutes to 1 hour, rotating the eggplant every 15 minutes, until the eggplant skin is completely black. If you have a gas burner you can also roast the eggplant directly over open flame for 15-18 minutes. (When roasting the eggplant, this could set off the smoke alarm especially in a small apartment like mine! So make sure you have good ventilation when doing this!)
Once the eggplant is done, let it cool so you can handle it. Cut off the top of the eggplant, then open it up and scoop out all the flesh with a spoon, making sure you scrape all of the flesh off the skin. Be careful not to get the charred skin falling into the flesh.
Add oil to a pot and turn the heat on to medium. Immediately add cumin seeds and cook, stirring constantly, until it is aromatic and is darkened slightly.
Once cumin seeds are toasted, stir in coriander and turmeric powder and toast for 10 seconds, then right away add the onion and stir to mix. Add green chilies, garlic, ginger and ½ teaspoon salt. Saute for 3-4 minutes until the onions are translucent.
Add tomatoes, then cook, stirring occasionally until the tomatoes are soft and mushy. Add eggplant, cayenne pepper, another ¼ teaspoon salt, stir to mix and break up any big eggplant chunks. Add frozen peas and a splash of water to loosen the texture a bit, then cover and cook over low heat for 15 minutes, stirring occasionally. Once done, taste and add more salt or cayenne pepper as needed (you'll probably need a pinch more salt, but this depends on the size of your eggplant.)
Turn off the heat, the stir in chopped cilantro if using. Serve with some naan or rice!
---