Voted the most delicious food in the world, this Indonesian/Malaysian beef rendang is one of the most complex flavoured dishes I've ever made. Herbs, spices and coconut milk are slowly cooked and reduced into a thick flavourful sauce that coats the fork tender beef.
It's a dish that takes patience, but it's quite easy and is well worth every minute spent. Beef is my favourite but you can also try making chicken rendang, using bone-in dark meat chicken.
PS. Don't have a few hours to make rendang quite yet? Try this bo luc lac recipe which is a Vietnamese favourite, also known as shaking beef. It's much faster and easier, but will satisfy your beef cravings!
Watch The Full Video Tutorial!
All my recipes come with step-by-step video tutorials with extra tips not mentioned in the blog post, so make sure you watch the video below to ensure success - and if you enjoy the show, please consider subscribing to my YouTube channel. Thank you!
Print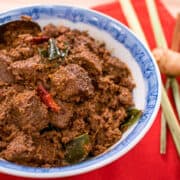 Malaysian/Indonesian Beef Rendang
---
Paste
10g

dried mild chilies (I'm using guajillo)

6

cloves garlic

½ cup

shallots, chopped

1

stalk lemongrass, finely chopped

2

-inch pc galangal, chopped

2

-inch pc ginger, chopped

8

pc cloves

5

pc green cardamom

2 tsp

ground cinnamon

1

pc star anise

4

candlenuts
Curry
1½

lb (700g) stew beef such as chuck or boneless short ribs

2 cups

coconut milk

2 Tbsp

tamarind concentrate

1 tsp

salt

¼ cup

dried shredded coconut (for making kerisik, see note)

6

kaffir lime leaves, torn into chunks

Optional: Fish sauce for seasoning adjustment
Note: Kerisik is toasted coconut paste for adding and rich, toasty aroma.
---
Instructions
To make the kerisik: (You can make this in advance or while the beef cooks.) Toast the coconut in a dry saute pan over medium heat, stirring constantly, until dark brown. Grind in a mortar and pestle or a coffee grinder until it becomes and oily paste.
To make the paste: Grind dry chilies and spices in a coffee grinder until fine, then add candlenuts and grind until fine. In a blender, add galangal, ginger, lemongrass, shallots and garlic and blend until smooth, adding water as needed. Once fine, add the ground dry spices and blend to mix.
For the curry: Bring ½ cup of coconut milk to a boil in a large heavy-bottomed pot. Add the curry paste and cook over medium heat, stirring constantly, until the paste is thick, and the coconut oil is starting to sizzle away from the paste.
Add the beef and toss to mix with the paste, add the remaining coconut milk and scrape off any bits of curry paste that might be stuck to the bottom of the pot.
Add salt and tamarind, then keep the pot loosely covered, let it simmer on low heat for 2.5-3 hours or until beef is fork tender. In the beginning, stir it every 20 minutes or so, but as the sauce gets thicker, you need to stir more frequently to make sure the curry paste doesn't stick and burn to the bottom of the pot. Towards the end I stir it every 5 minutes. You should have a very thick, not runny sauce, and you can add more water if it gets too dry as it cooks. If the beef is done, but there is too much liquid, just open the pot and stir for a few more minutes to let it reduce.
In the last few minutes of cooking stir in 1 tablespoon of kerisik, and roughly tear kaffir lime leaves into chunks and stir them in, letting them cook for a few more minutes to infuse. Taste and adjust seasoning as needed.
Serve with rice, enjoy!
---