---
I'm starting this video not by prepping ingredients, but by catching my main ingredient straight from the ocean! My friend Rodney from fishingwithrod.com took me out on my first ever fishing trip, and in this video I show you a bit of the fishing/prawning/crabbing action in the beautiful city of Vancouver, and then we get right back in the kitchen where you'll learn how to make "black pepper prawns," an easy and delicious way to highlight the natural flavours of fresh seafood.
Check out the full video of the fun fishing trip here: https://youtu.be/_sPbaBxPv9A
Watch The Full Video Tutorial!
All my recipes come with step-by-step video tutorials with extra tips not mentioned in the blog post, so make sure you watch the video below to ensure success - and if you enjoy the show, please consider subscribing to my YouTube channel. Thank you!
Print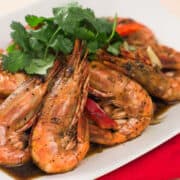 Black Pepper Prawns + Bonus Fishing Footage!
---
300 g

medium-to-large prawns, head-on, shell-on if possible

1 ½ Tbsp

black peppercorns, ground

2 Tbsp

oyster sauce

1 ½ Tbsp

soy sauce (or use a mix of Golden Mountain sauce)

1 Tbsp

Chinese cooking wine

2 tsp

sugar

¼ cup

chicken stock

5

cloves garlic, chopped

4

-

5

cilantro sprigs, finely chop stems and save the leaves for garnish 

¼

onion, julienned

¼

red bell pepper, julienned
---
Instructions
If using head-on prawns, trim antennae and the sharp pointy bit in the front. With small scissors or a paring knife, cut through the shell all the way down the back of the prawns. Remove the veins with a paring knife, if any.
Pound black peppercorns in a mortar and pestle—doesn't have to be powdery fine, but there shouldn't be too many big chunky pieces.
In a small bowl, combine oyster sauce, soy sauce, Chinese cooking wine, sugar, and chicken stock. Stir to dissolve the sugar.
In a wok, add a little vegetable oil, garlic and black pepper. Sauté over medium heat for about 30-45 seconds or until the garlic is very aromatic. Add the cilantro stems and sauté for another 20 seconds. Add the sauce mixture and reduce for a few minutes until it is thickened. Add the prawns, turn the heat up to high, and toss until they are almost done, adding more water if it becomes too dry. Add onion and bell peppers, then toss until the prawns are completely done. Note: If you like onions and bell peppers to be soft, add them earlier to give them more time to cook.
Plate, and top with cilantro leaves. Serve with jasmine rice. Enjoy!
---