I grew up on these black sesame balls and for a long time I thought it was a Thai dessert. And I suppose one could argue that it is because of how commonplace it has become. But the truth is that it has its roots in Chinese cuisine, and the easiest place to find these black sesame balls in Thailand is indeed in nice Chinese restaurants. However, while Chinese people tend to make many different filling variations and broth variations, in Thailand, you can only find this combination of black sesame and ginger tea.
How to tell if black sesame is toasted
As mentioned in the video, I like to throw in some white sesame in the mix so I have something to watch. When the white ones are golden, then I know they're ready. But if you don't have any white sesame seeds, I wouldn't want you to buy them just for this! Here's another trick: you can toast the black seeds until they start to smoke over medium low heat. After they smoke, continue to toast them for 30 more seconds and then remove from heat. Immediately spread them out onto a plate to cool. This method is not ideal, as you're kind of guessing the doneness of the seeds. But I always err on the side of them being under-roasted, because it's better than burnt! Once they're cool enough you can taste them, and they should be crunchy and aromatic when properly roasted.
How to make them in advance
This is the perfect dessert to make for a dinner party because they hold up so well in advance. Once you've got the balls made, put them on a tray or plate and do not to let them touch so they won't stick to each other. Wrap them with plastic wrap and keep in the fridge until ready to use. You can do this even a few days in advance. If space is an issue and you want to pack them more closely together, brush them first with oil so that if they do touch,they won't stick together so much. I still wouldn't pack them tightly together, but at least you can pack them into a tupperware and they can touch a little bit and will be fine..
If you want to freeze the balls, put them on tray without touching each other, then freeze them on the tray. Once frozen, you can consolidate them into a container or a ziplock freezer bag. I noticed that if I keep these for too long in the fridge (a month), when I go to boil them again, the surface of the dough flakes off into the water. This isn't a big deal and it won't break the dish...but it is a curious thing happened to me and thought I should let you know. Probably has to do with the ice crystals that formed and chipped away at the dough a bit. This did not happen to me when I had it in the fridge for a week.
Customizing the ginger tea
Thai people like our ginger tea SPICY. We want it to heat our throats on its way down! This, however, might be too much for some of you, and when Chinese people make this they tend to make the ginger tea quite mild in comparison. So please feel free to use less ginger or add more water to dilute if you have made the tea too spicy. Also, if serving guests with different sweet preferences, I would make the tea lightly sweetened, just a few tablespoons of sugar, and let people add their own sugar when serving.
Storing leftover cooked balls
If you have leftover cooked balls, don't keep them in the water! Toss them in oil and refrigerate. The oil is important to prevent them from sticking together. They last at least a few days in the fridge but they will *probably* up to a week (though I haven't kept them for that long myself). To serve them again simply re-boil them to heat up.
Watch The Full Video Tutorial!
All my recipes come with step-by-step video tutorials with extra tips not mentioned in the blog post, so make sure you watch the video below to ensure success - and if you enjoy the show, please consider subscribing to my YouTube channel. Thank you!
---
Print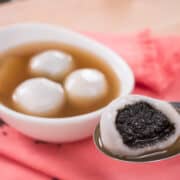 Black Sesame Balls in Ginger Tea บัวลอยน้ำขิง
---
Black Sesame Filling
130 g

black sesame seeds (see note)
A pinch of white sesame seeds (optional, see note)

40 g

palm sugar

3

-

4

tablespoon coconut oil or butter
Scant

¼

 

tsp salt
Ginger Tea
100

-

150

g ginger (see note)

6 cups

water
About

4

-

6

tablespoon brown sugar, or to taste
Dough
175 g

glutinous rice flour
~150-175 ml water
---
Instructions
Make the Filling
If using raw sesame seeds, roast them first by adding a pinch of white sesame seeds in with the black, then stir them over medium-low heat in a dry wok or saute pan until the white seeds turn golden. The seeds will smoke a bit; this is normal. Remove from heat and immediately spread them out onto a large plate to cool them down. If you don't have white sesame seeds, see above.
Grind the sesame seeds in a coffee grinder for 5-7 seconds until fine. The seeds should start to stick a bit to the bottom of the grinder, but still powdery and not yet oily. Do not over do it or it will turn into tahini! You can also grind them in a mortar and pestle, but this will take a while so grind a little bit at a time.
In a small pot, melt 3 tablespoon coconut oil or butter with sugar and salt over low heat. Once the sugar is melted, turn off the heat and add the ground sesame and mix well. The mixture should come together into a paste that holds together. If it is too runny and you don't think you can make balls out of them later, grind some more sesame seeds and add them to absorb the liquid. If it is too dry and crumbly and isn't holding together, add more oil or butter.
Transfer the mix into a bowl and let cool to room temp.
Once the mixture cools, weigh out about 9g of filling, then compress it into a ball (see video for technique). It does not have to be perfect. Cover and freeze until firm.
Make the Ginger Tea
While the filling is cooling, this is a good time to make the ginger tea. Slice the ginger into rounds then pound it in a mortar and pestle until broken and bruised.
Simmer the ginger in water for 20-30 minutes. When done, taste the tea for spiciness. If it is too spicy add more water to dilute, if not enough, you can add more ginger and let it simmer some more until you're happy with the heat level.
Strain the tea then add dark brown sugar to taste. This tea will keep for at least a week in the fridge.
Make the Dough
Add glutinous rice flour into a mixing bowl. Add a little splash of the water and mix it in with your hand. Then add a splash more water, and continue to mix it in, little by little, until a soft and smooth dough forms.
The dough is good when it no longer sticks to bowl, and it doesn't stick to your hands. It should be easily pliable like play-dough, but should retain its shape and doesn't droop when left alone. Be VERY careful not to add too much water as it can go from dough to puddle with just a tiny bit too much water. So when you're close, add just a tiny bit of water at a time.
Cover and rest the dough for at least 15 mins.
Wrap the Dumplings
Oil the palms of your hands.
Pinch off 12g- 13g of dough, then roll it into a ball. At this point, I would watch the video again for the wrapping technique cuz it's much easier to see than for me to write it out!
Assembly
Bring a pot of water to a boil. Add the sesame balls to the water, then bring it back to a simmer (not a vigorous boil) and let them cook for 5 minutes. The balls should be floating by the time they're done.
If you have a few batches to cook and you're not serving right away, scoop them out with a slotted spoon and let them sit in a bowl of room temp water while you do the other batch.This will prevent them from sticking together. If serving immediately…you could place them directly into serving bowls, but I still like to let them sit in the water briefly to cool them down a bit. They're incredibly hot and could burn you if you eat them too soon after boiling!
When ready to serve, place 2-3 sesame balls into serving bowls. Ladle some hot ginger tea on top and enjoy! (If you're not sure how to eat them, watch the end of the video!)
---
Notes
Black sesame: You can buy sesame seeds already roasted from Korean or Japanese grocery stores. If you're gonna do that check the date on the package and make sure it's not old. However, I like to start with raw sesame seeds and roast them myself for fresher flavour. And make sure you have a bit extra seeds on hand in case the filling is too runny you will have more to add to it.
White sesame: The white sesame seeds are used for helping you determine when the black sesame seeds are sufficiently toasted. Obviously you won't need them if you're buying pre-roasted seeds.
Ginger: 150g ginger will make a SPICY ginger tea which is popular with Thai people. You don't have to add that much. Chinese people tend to make a less spicy version, so it's really up to you. If you're not sure, start with less and you can always add more. If you've made it too spicy by accident just add more water.