---
A Classic Childhood Treat
This recipe reminds me so much of my childhood. I used to eat these all the time, and in my hometown of Hat Yai you can find them anywhere kids' snacks were sold. Peanuts coated in a crunchy sugar coating flavoured with Ovaltine and sometimes a little coffee. They're rolled in toasted sesame seeds which reminds you of that munchiness of sesame snaps. Few snacks are more addictive than these!
Choosing The Right Peanuts
You want to find raw, skin-on peanuts for this recipe. The raw part isn't as important as the skin-on part, but I don't think they sell roasted skin-on peanuts!
The skin does two very important things, 1) Keeps the peanuts whole and not split, this is important because it affects the candy-to-peanut ratio; split peanuts will have too much sugar around them per piece, and 2) It help provide friction so the candy coating can stay on evenly. As you may discover, if some of the skins fall off during cooking, those naked peanuts won't have as much sugar coating on them because the surface is too slippery.
You can find skin-on peanuts at most Asian supermarkets, but don't even bother looking at Western stores (at least in Canada), I went just about everywhere and there were NONE to be found! If you have a choice, choose larger peanuts.
Can You Use Other Nuts?
YES! But if you want to try other nuts keep a few things in mind:
1) The shape. I tried these with mixed nuts just to see how different nuts perform and found that pecans, because of their flat shape and the grooves, ended up with too much sugar for my liking. I would imagine the same would be the case for walnuts. Again, it's all about the surface area-to-volume ratio for optimal sweetness. Cashews also didn't get as even of a coating because of the irregular shape, and the candy coating slipped off a bit cuz they are also slippery. Not to say that you can't use these nuts, I just found that the result wasn't ideal.
2) The skin. As mentioned above, the skin is important in getting the coating to stick on evenly, so don't use blanched almonds, for example.
3) Of the mixed nuts I tried, almonds were my favourite in all respects—flavour, crunch, size, evenness of coating, and they're widely available! You CAN use roasted almonds too if you cannot find raw ones. FYI pistachios are similarly shaped to peanuts and performed well in the way they looked, but they're not as crunchy and the flavour didn't work as well.
But My Nuts Were Still Soft!
Most people who have made this recipe reported success, but a couple have mentioned that the peanuts were still soft inside, tasting like boiled peanuts. This has never happened to me, but I think I know why and how you can prevent it.
The way this recipe works is in the beginning, the peanuts are boiling in the combination of syrup and water and they are simply cooked through. But as the water evaporates, what's left in the pan is molten sugar, which can get extremely hot. Eventually, this super hot sugar "roasts" the peanuts and turn them into crunchy and roasted nuts. When you cut open the peanuts, it should look just like you used roasted peanuts.
If your peanuts come out still soft inside, my theory of why this happens is that your heat was too high, so the sugar ended up evaporating and crystallizing too fast, and the nuts did not have time to roast through. This is a theory, as I mentioned, but it seems to make sense. In Thailand where they make these in large batches it would not be a problem as a large batch simply takes much longer, giving the nuts a lot of time to do their thing.
To prevent it, make sure you use low or medium-low heat throughout. For the amount in the recipe below it should take you 20-25 minutes minimum. If you're done faster than that, and the nuts come out soft, that would be why.
Watch The Full Video Tutorial!
All my recipes come with step-by-step video tutorials with extra tips not mentioned in the blog post, so make sure you watch the video below to ensure success - and if you enjoy the show, please consider subscribing to my YouTube channel. Thank you!
Print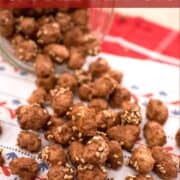 Can't-Stop Candied Peanuts
---
Description
This recipe is easy, but I highly recommend you watch the video first as it's immensely helpful to see what they're supposed to look like at each stage.
---
200 g

raw, skin-on peanuts

160 g

sugar

2 tsp

Ovaltine powder, Milo powder, or 1 teaspoon cocoa powder (see note)

½

-

1

teaspoon instant coffee granules (optional, see note)

¼ cup

coconut milk

⅓ cup

water

½ tsp

fine salt

2 Tbsp

white sesame seeds, toasted
Notes:
Ovaltine or Milo are chocolate malt drink mix powders that are popular in Asia. If you don't have it, just use half the amount of cocoa powder. There's no need to buy a whole jar for this recipe, unless of course you wanna try it! The drinks themselves are super yum and kids adore them, and I like to sprinkle the the powder on toast with some condensed milk!

½ tsp

coffee granules will give a little extra depth of flavour, but if you actually want to taste the coffee, add 1 tsp. The measurement is for instant coffee granules like Nescafe, if using Starbucks Via you will probably need only half of a sachet.
If you want to make a big batch, don't scale up the water proportionally; add just enough water to cover the peanuts. Keep in mind that the more you make the longer it will take to evaporate all the liquid.
---
Instructions
Spread the peanuts onto a plate and pick out any that look "unwell" (remember to replace them with healthy ones so you keep the proper amount). You can also rinse them gently in cold water if you like if you think they might be dirty.
If your sesame seeds are not yet toasted, toast them in a dry pan over medium high heat, stirring constantly until golden. Remove and set aside.
Prepare a large baking sheet lined with parchment or silicone to put the nuts on once they are done.
In a wok or a large pot (see note below re: choice of cookware) combine water, sugar, coconut milk, Ovaltine and instant coffee. Turn the heat on medium high and stir with a rubber spatula just until the sugar is dissolved.
Once sugar is dissolved, add the peanuts and bring to a simmer. Turn heat to medium low to maintain a simmer, then keep cooking, stirring occasionally, until the syrup starts to thicken, about 10 minutes for this amount.
Once the syrup looks thick, you want to be stirring all the time, scraping the bottom with the rubber spatula constantly. Keep the heat medium-low throughout.
From this point onward, you have to really pay attention: Keep stirring until the sugar gets so thick that is starts to crystalize, and it will look at first like wet sand. Keep stirring, and eventually the sugar will look dry and powdery, and all the peanuts should be evenly coated in the sugar. DO NOT STOP STIRRING AT THIS STAGE. Sprinkle the salt on evenly over the peanuts and keep tossing.
As you keep going, it will feel like nothing is happening for a bit, but then the sugar around the peanuts will start to melt again, and the peanuts will start to get wet spots. Once all of the peanuts have some wet spots on them, sprinkle on the sesame seeds as evenly as you can, and toss well to coat. DO NOT let the sugar liquefy too much; you want just SOME wet spots on all of the peanuts so the sesame seeds have something to stick on (see video for what this should look like).
Once the nuts are well coated in sesame seeds, transfer onto the prepared baking sheet to cool, spreading the peanuts apart so they don't stick to each other.
Let cool completely before eating. These can be stored in an airtight container for several weeks, but let's face it, they will not last that long!
---
Notes
Choice of cookware: Choose something you can vigorously stir in without the peanuts jumping out. A deep, bowl-shaped wok like I use in the video is perfect since there are no corners, making it easy for you to scrape the sugar. A non-stick surface is also helpful as the sugar will not stick to it and makes it easier to scrape the sugar off the pan. If you don't have a wok, an 8- or 10-inch pot will also work - just be diligent with scraping the corners. I chose not to use my seasoned carbon steel wok because I don't want the oil I use to season the wok and the "wok flavour" to get into the nuts - though it's probably okay to use it.