---
These crispy chicken cheese "purses" are the perfect appetizer for your next dinner party! Spring roll wrappers are easy to find and even easier to use, and they fry up to be shatteringly crispy and beautifully golden. The filling is tender chicken scented by citrusy coriander seeds, with a hidden surprise of creamy tangy cheese! If you don't like goat cheese or cannot find it, you can substitute mozzarella, blue cheese or even cream cheese.
Serve these with your favourite hot sauce (mine is sriracha!) or for something less spicy try the sweet chili dipping sauce which is our go-to dipping sauce for anything fried!
Watch The Full Video Tutorial!
All my recipes come with step-by-step video tutorials with extra tips not mentioned in the blog post, so make sure you watch the video below to ensure success - and if you enjoy the show, please consider subscribing to my YouTube channel. Thank you!
Print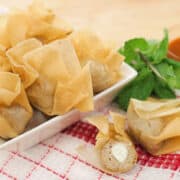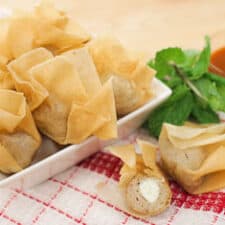 Crispy Chicken & Cheese Purses Recipe ถุงทองไก่ชีส
---
300g

boneless, skinless chicken thigh, cut into small pieces (keep all the fat!)

4

cloves garlic

¼ tsp

white peppercorns

¼ tsp

black peppercorns

1 ½ tsp

coriander seeds

2 tsp

fish sauce

1 Tbsp

soy sauce

1 tsp

sugar

1

egg

2 tsp

cornstarch or tapioca starch
About

40

pieces of goat cheese,¼-inch cubes (or use another type of cheese, see note)

10

sheets 8-inch spring roll wrappers
Oil for frying
Sriracha or sweet chili dipping sauce for serving (see note)
Note: Choose cheese that is creamy and/or melty. Mozzarella (the hard one, not the fresh one), blue cheese, cheddar cheese, or even cream cheese will work. Avoid really soft or really hard cheese—I tried it with camembert and it was too soft it basically liquefied and almost disappeared, so I couldn't really taste it in the end.
---
Instructions
In a small dry saute pan, toast coriander seeds over medium high heat until they are aromatic and darken slightly. Remove from heat and set aside.
If you are using a soft cheese like goat cheese, place the cubes of cheese in the freezer while you make the filling so they will be easier to handle later.
Make the filling: In a mortar and pestle, grind the peppercorns and the coriander seeds into a powder. Add garlic and pound into a paste. Alternately, you can grind the dry spices in a coffee grinder and finely mince or grate the garlic.
In a food processor, add the chicken, the garlic-spice paste, egg, cornstarch, soy sauce, fish sauce and sugar. Process until the chicken is fine and the mixture is thick enough to hold its shape. (The mixture will start out looking runny, but as you keep processing it, the proteins will develop and become thicker).
Wrap the purses (it's easiest to watch the video for this part to see the technique): Peel the spring roll wrappers apart from each other (they tend to stick together when they first come out of the bag), then with a chef's knife, cut each sheet into 4 quarters so you have four 4-inch squares. Using a round teaspoon, scoop the chicken filling so it is a bit higher than the rim. Place a piece of cheese in the middle of the chicken filling and push it into the spoon, then use another small spoon to push the chicken mixture over the cheese, making sure that the cheese is well encased; the cheese should be sitting in the middle of the filling. Use the small spoon to dig out the whole filling from the teaspoon and place it in the middle of the wrapper. Gather the 4 corners and pinch it in the middle to create a "ruffled purse" look. Keep them covered under a tea towel so they don't dry out.
Fry them: In a pot or a wok, heat about 1.5-inch of oil to 350°F (175°C) then fry them until they are golden and crispy, this should take only 1 - 1.5 minutes. Use tongs to remove the purses, turning them upside down to make sure oil doesn't collect in the ruffles of the purse. Drain them on a rack or on a paper-towel-lined plate.
Serve with sriracha hot sauce (the Thai kind if you can find it) but if you think it's too spicy you can mix it with some ketchup to tone it down. Try making your own Sriracha here! For something milder, you can dip them in the Thai sweet chili sauce which you can buy or make your own.
---