---
There are many types of rice puddings in the Thai dessert repertoire, but this one is an absolute classic. Longan is a juicy, sweet, aromatic fruit that goes so well with the rice pudding. It's a comforting, satisfying, ward dessert that is also a ridiculously easy recipe that you really cannot screw up. It is also gluten-free and vegan 🙂
RELATED VIDEOS:
Sticky Rice 101
The Best Coconut Milk to Buy
Watch The Full Video Tutorial!
All my recipes come with step-by-step video tutorials with extra tips not mentioned in the blog post, so make sure you watch the video below to ensure success - and if you enjoy the show, please consider subscribing to my YouTube channel. Thank you!
---
Print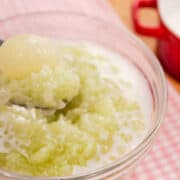 Coconut Rice Pudding w/ Longans ข้าวเหนียวเปียกลำไย
---
¾ cup

Thai sticky rice (what is Thai sticky rice?)
~3 cups water

6

-

8

pandan leaves

¼ cup

+

2 Tbsp

sugar, or to taste

¼ tsp

salt

1 ½ cups

longans, fresh or canned (see note)

¼ cup

young coconut meat, cut into small pieces, optional

1 cup

coconut milk (how to choose good coconut milk)

¼ tsp

salt
Note: If using canned longans, choose a brand from Thailand. You will need no more than 1 can for this recipe. Drain the longans from the syrup but do not rinse them. If using fresh, peel and remove the seeds.
---
Instructions
For the rice pudding:
Rinse the sticky rice a couple of times using cold water, then add to a heavy bottomed pot. Add 2 cups of water and bring to a gentle simmer. Let the rice simmer gently for about 15-20 minutes or until the rice has thickened up into a pudding-like consistency. Stir it frequently to make sure it's not sticking to the bottom—in the beginning you don't need to stir as much, but you will need to increase the frequency once the pudding starts to look thick.
Meanwhile, blend the pandan leaves with ¾ cup of the remaining water. Strain out all the fibers through a fine mesh sieve, pressing out as much juice as you can.
Once the rice has a thick, pudding-like consistency, but it still has a bit of an uncooked core, add the pandan juice and the longans and stir. You can stir the young coconut meat in at this point, or save it as garnish like I did in the video. Let simmer for another 5 minutes or so, stirring frequently, until the rice is fully cooked (just give it a taste to make sure it no longer has a crunchy center).
Add sugar and salt, and stir to dissolve. Taste and add more sugar as needed. 
For the Coconut Sauce
Combine the coconut milk and salt in a pot, and bring it to a boil over high heat. Once boiling, turn off the heat.
Assembly
Ladle a portion of the warm or room temp pudding into a serving bowl, then top with young coconut meat (if you haven't stirred it in) and more longans, if desired. Spoon 1-2 tablespoons of coconut milk on top and enjoy. Some people stir the coconut milk into the pudding, others like to let it sit on top, so it's up to you. Feel free to go back and add more coconut milk if you want it to be saltier/creamier. 
---