Coconut milk is a rockstar ingredient in Thai cooking, though using a good vs. bad one can mean the difference between a great dish and a not-so-good one.
So in this article you'll find answers to basically every question I've gotten about it over the years, plus everything you need to know; including how to choose, use, store and substitute it in your cooking.
If you're more of a video person, watch this video below where I go through all the basics, though there is more detailed information in the article.
Note: Since the shooting of this video, there have been some changes: Aroy-D UHT coconut milk is STILL my recommended brand, but it now includes a preservative. I have not found this to affect the taste of the product and don't see it as a problem.
What is Coconut Milk?
Coconut milk is the liquid that is pressed out of grated coconut flesh (aka coconut meat). Only mature coconuts (the brown hairy ones) are used for this, as young coconuts (the green ones you see on beaches) do not contain enough fat in their flesh.
If you want to know exactly how it gets made, here's a video of me making it from scratch using the traditional method!
What is the Difference Between Coconut Milk and Coconut Cream?
The presence of coconut cream can confuse people when they're shopping, but basically, coconut cream has a higher proportion of coconut oil; it is exactly the same as the difference between dairy milk and dairy cream.
In my Thai recipes though I never call for coconut cream, because it is not an ingredient that we traditionally use. (I don't even think you can buy it in Thailand!). This is because coconut cream is an industrial product made by artificially removing water from coconut milk, so it has no place in traditional Thai cooking.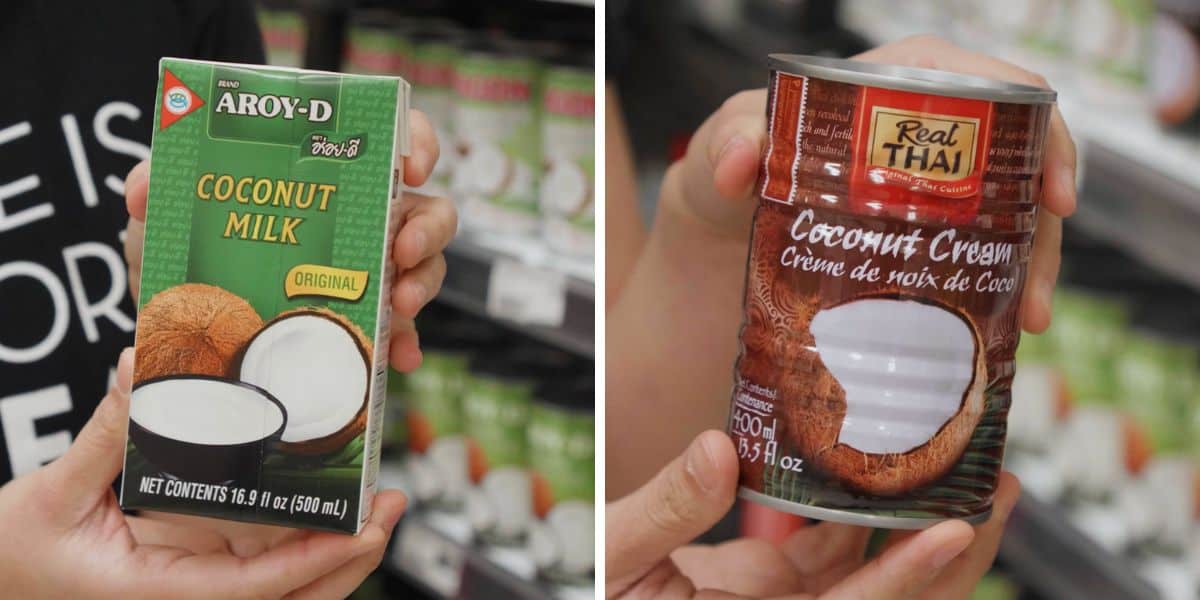 Having said that, we do have two different levels of richness of coconut milk. The first press, called hua gati (literally the "head" of the coconut milk), and the second press, haang gati, or the "tail". Some people call the first press "cream" and the second "milk," but this is incorrect, and I'll explain.
The first press coconut milk is made with little or no water added for a rich and flavourful liquid. But so as not be wasteful, Thai people then take the already-used coconut meat, add more hot water to it, and press it again to get another round of coconut milk that is quite diluted, but still useful.
All store bought coconut milk is first press, and they do not sell the second press. This is why calling these "cream" and "milk" is misleading. Store bought coconut cream is even richer and fattier than the first press!
Can I Use Coconut Cream instead of Coconut Milk?
You technically can, but know that you'll end up with a much richer and fattier dish. If that's what you want, (maybe you're on a keto diet looking to get more healthy fat in your meals), then go for it.
In theory you could add water to coconut cream to make it "milk", but I don't know how much you would need to add, so you would have to experiment and maybe do some math to match the calorie count of your coconut cream with that of coconut milk!
You can also use coconut cream as a vegan substitute for heavy cream in any recipe if you're okay with the flavor.
Can I Use Light Coconut Milk Instead?
Light or lite coconut milk has a lower fat content. It also has more water added. See in the pictures below, the regular one has "coconut" listed as the first ingredient, followed by water, but the light coconut milk has water listed first. But because coconut fat is where the flavour is, the "light" is also light in flavour.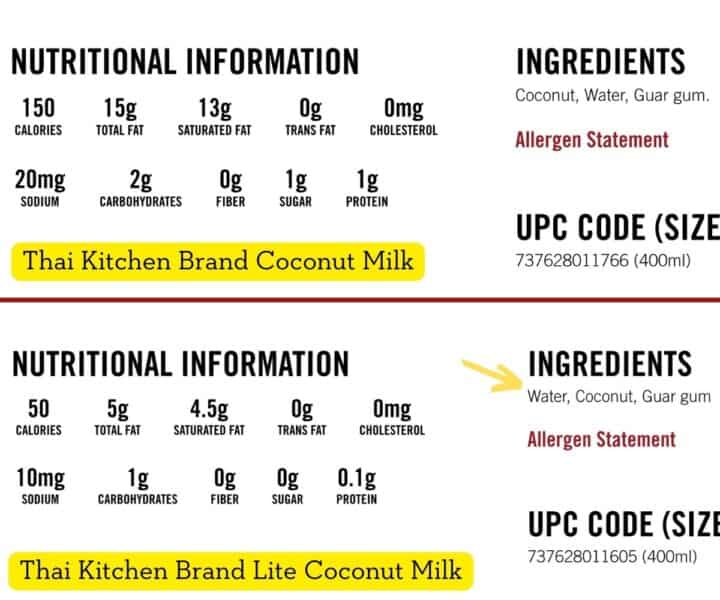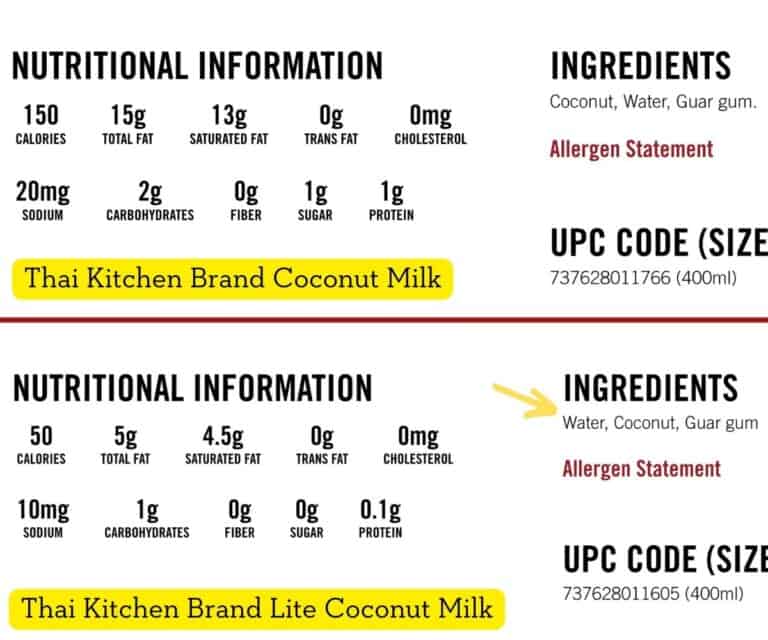 I do not recommend cooking with it because you're giving up a lot of flavour. If you want to cut down on calories (and are willing to give up some flavour) you can simply add a little less full-fat coconut milk, then add more water to makeup the volume. That's essentially what light coconut milk is, so you might as well save yourself some money!
Watch Out for Coconut Beverage
Trendy coffee shops now give you the option of using "coconut milk" in your lattes, but this is a misnomer and cause for confusion! What they're actually using is technically a coconut beverage, in the same way that "almond milk" is actually, technically, an "almond beverage."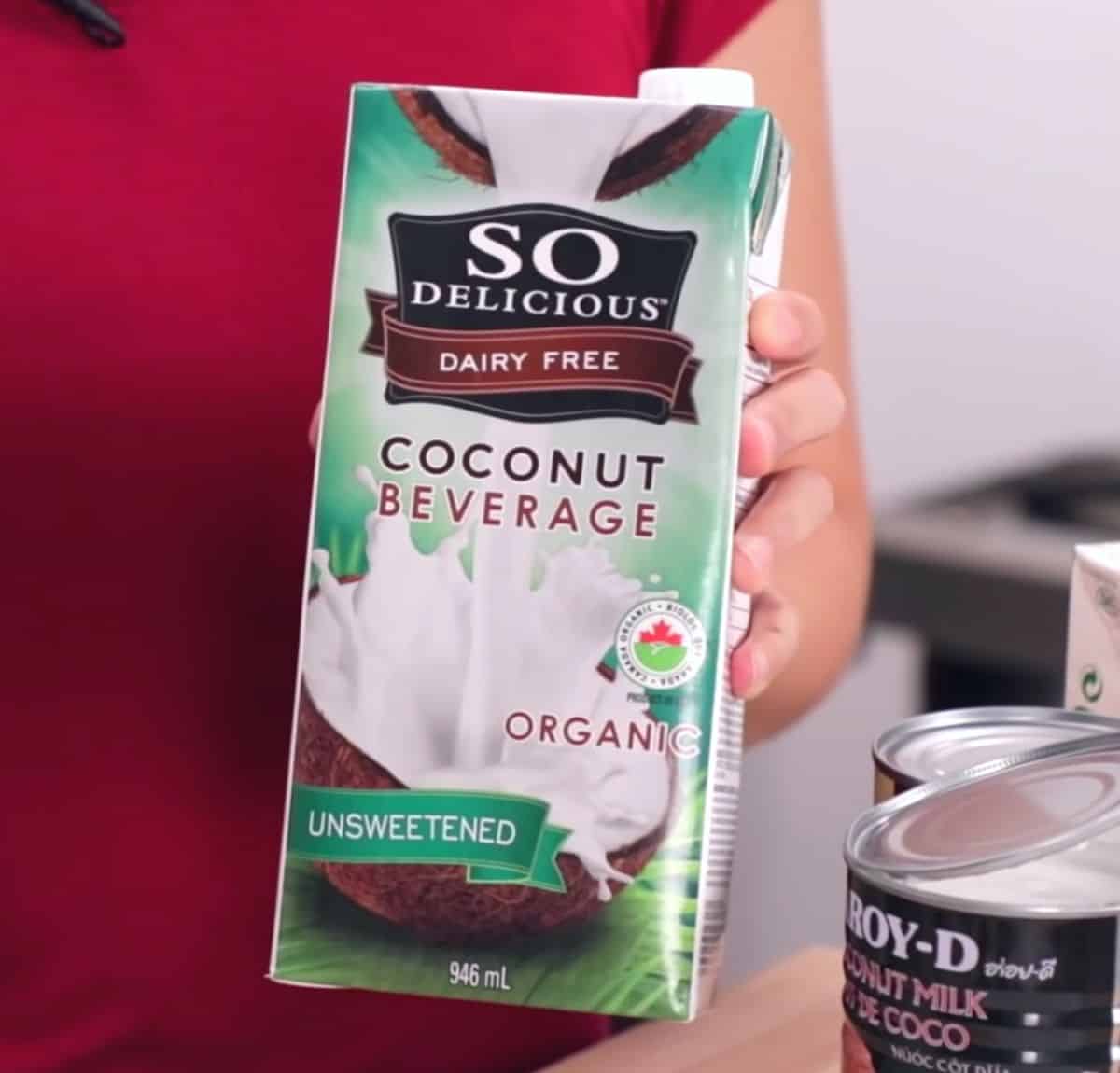 It is a milk substitute for vegans and people with lactose intolerance, and you cannot use it for cooking. Why? These have had most of the tasty coconut fat taken out in order to make it drinkable, so it is very thin and doesn't taste anything like coconut. It's the extreme version of light coconut milk discussed above.
What then...is Coconut Water?
A quick mention here to avoid confusion. Coconut water is a completely different ingredient and is not substitutable for coconut milk in any way. It is the almost-clear, sweet and tasty liquid inside of a coconut. It makes a great refreshing beverage, or dessert recipes such as these coconut water jelly fruit cubes!
What is the best coconut milk for cooking?
When I first came to Canada, I only had access to canned coconut milk, and I was less than enthralled by its flavour. But one day I found one in a paper carton, and lo and behold, smelling it brought back memories of Thailand. Much better! So first, let's talk about the kind of coconut milk you should get:
1. Choose UHT Cartons, if possible
When you're at the grocery store, look past all the cans and find the ones in paper cartons. Here's why:
Coconut milk in UHT cartons have been heat treated for a shorter amount of time, keeping more of the delicious flavour intact. Canned coconut milk has had aggressive heat treatment, and as a result doesn't taste as good. In Thailand most stores only carry the cartons, because it's better! But cans are preferred for export because they are more durable.
Now, that doesn't mean you should never use cans! If you're making savory dishes, the canned ones will be just fine because there's a lot of competing flavors, (a lot of herbs and spices), so you won't taste too much of a difference. But if you are making desserts, like this amazing Thai coconut ice cream, the difference will be obvious.
2. Choose one with the least ingredients.
Once you've looked for cartons, (and if you don't see them cans are fine), you should then choose the brand with the least number of other ingredients. Low quality coconut milk adds a lot of thickeners, such as gums to artificially create creaminess.
For example, in the pictures below, my top choice, Aroy-D, only contains coconut milk and a preservative (polysorbate 60). A cheaper one in a can contains: Water (as a first ingredient!), coconut extract, monoglycerides, guar gum, xanthan gum, polysorbate 60, and cellulose gum.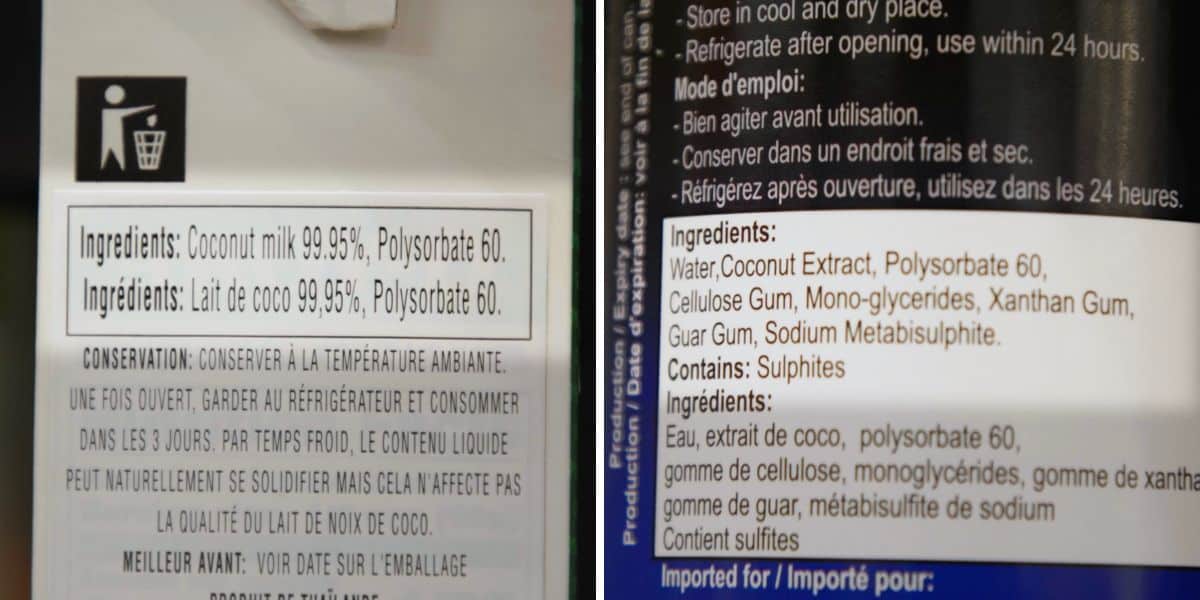 A note on guar gum: Many brands add guar gum to thicken and prevent the coconut milk fat from separating. While this doesn't affect the flavour, it does make the it artificially thicker, and is not my preference. It also prevents the fat from "breaking" which is something we do in traditional Thai curry making.
If you want to learn more about how coconut milk is produced at an industrial scale in Thailand, check out this fascinating short documentary that we filmed, tracking the journey of the coconut from the farm all the way to the cans!
What You Should Avoid
Assuming you're looking for coconut milk for cooking, you should avoid:
Anything with multiple additives
Anything powdered (unless you're going camping)
Anything with "light", "lite", or "low-fat" on the label, as discussed above
Anything with added sugars
Anything with piña coladas on the package (so no Coco Lopez Cream of Coconut, thank you)
Anything that sits on the plant-based beverages shelf
How to Use Coconut Milk
Southeast Asian cuisine does not use any dairy, so when we need things to be creamy, we turn to coconut milk. So aside from using it in traditional Thai recipes, it is a great way to add creamy texture in anything. Here are some ideas:
Smoothies
Salad dressings
Puddings and porridges
It is a great milk substitute in baking (though it does have a higher fat content)
Put it in your coffee!
Coconut milk has about 13%-17% fat, depending on the brand, so keep that in mind if you're thinking of substituting it for dairy products in recipes.
Storage Tips
Once opened, keep coconut milk in the fridge and it should last you at least a week, but probably not more than 3. If you're not planning to use it soon, push it to the back of your fridge, where it's coldest (but don't forget about it!). You'll know it's gone bad if it has pink, green, or black mold on the edges.
Pro tip: If it's been sitting in your fridge for 2 weeks and you THINK it's gonna go bad any day now, bring it to a boil once and that will extend its shelf life!
You can freeze coconut milk; however, when it thaws, it becomes a little grainy and the texture is not the same. If you're going to use it in a curry, or a stir fry, it's fine. But not in desserts or when smoothness is required.
Why does my coconut milk separate and how to fix it?
If you go to open a can and you're surprised to discover a solid mass of white with watery stuff at the bottom...nothing has gone wrong. It's exactly as it should be.
Coconut milk is an oil-in-water emulsion, but a very unstable one. Without enough emulsifiers, over time coconut oil will separate from its watery component, rise to the top, and because it's mostly made up of saturated fat, it will solidify if the room is cool enough.
If this happens, all you need to do is warm it up a bit and stir everything together - problem solved.
Substitutes for coconut milk
I was completely shocked when someone told me he has had allergic reactions to coconut. WHAT? I thought coconut was the go-to solution to people with food allergies! Turns out, people can be allergic to coconut, and I have met more such individuals since.
Though there's no good substitute flavour-wise, we can at least go for texture. In savory dishes, where you've got a lot of other flavors going, you can go with either evaporated milk, a combination of milk and cream, or half and half.
I have had success making Thai curries using soy milk because the flavor of the curry paste is so strong that it didn't affect the end result too much; so other non-dairy milk alternatives like oat milk would probably work also. But choose one with the richest texture and highest fat content.
Nutritional Information
When I was a kid, Thai adults around me were talking about coconut milk as a "fattening" ingredient. Then all of a sudden Wholefoods is flooded with coconut products touting all sorts of magical health benefits. I'm not going too deep into it here as it's not my jam, but I get asked A LOT about the nutrition side of things, so here's what we know and what I think:
For a ⅓-cup or 80 ml serving (pretty reasonable amount IMO), Aroy-D coconut milk has 15 grams of fat, which is 20% of the Daily Value for an average person. The fat is responsible for most of its 150 calories, and it only has 1 gram of protein and 2 grams of carbs. So when thinking about your macros, treat it as a fat.
But most of the fats are medium-chain triglycerides, which have been a subject of much research about its potential value in weight loss, preventing heart disease, as well as lowering "bad" LDL cholesterol.
As of now, it seems to be at a "looks very promising but further studies are needed to confirm" stage, and you can read more on it in this great article here.
My take on it is this: coconut milk is a perfectly healthy, natural ingredient, and you should enjoy it like you do any other healthy foods. But it is not a low calorie food, so it's wise to keep an eye on the amount if you're watching your weight.
Need Recipe Ideas? Start with these!
Now that you know everything there is to know, it's time to start cooking! Here are some classic recipes that use coconut milk as a main ingredient.