This post is sponsored by UFC Refresh Coconut Water.
Special thanks to Canada's exclusive distributor Canda Six Fortune Enterprise Co. Ltd.
---------------
Want a beautiful, Instagram-worthy dessert that will impress everyone, but that is actually super easy? This recipe is the perfect thing for such an occasion. Not to mention it is healthy, naturally vegan and gluten free, so no matter what your guests' dietary needs are, they can enjoy these gorgeous coconut water fruit cubes!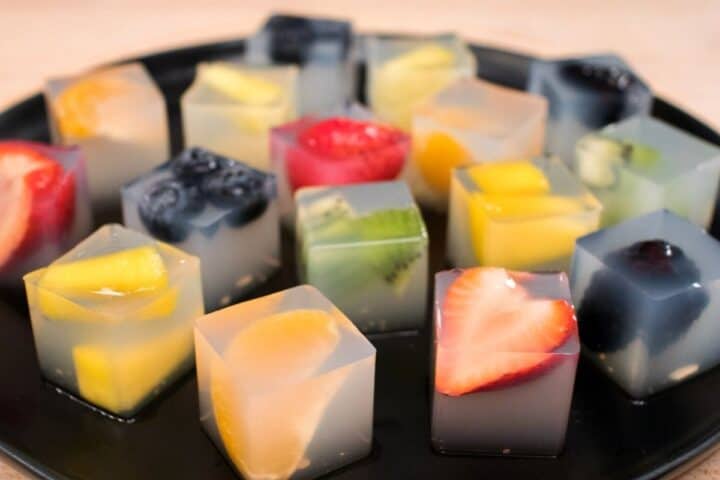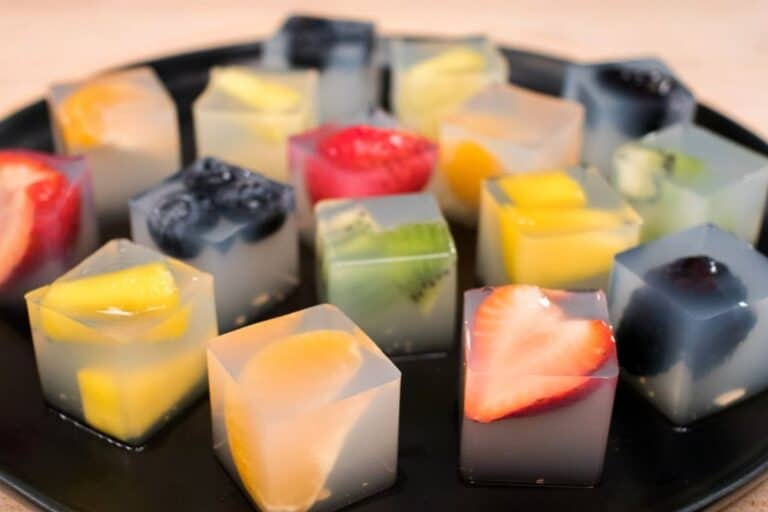 Coconut water is one of my all time favourite beverages. It's high in electrolytes, much lower in sugar than juice, and oh so refreshing when it's very, very cold. But it's more than a drink! In Thailand we also use coconut water in cooking, especially in desserts. Even though this recipe isn't a "traditional" dish, it's inspired by the more classic coconut jelly duo.
Watch The Video Tutorial!
All my recipes come with step-by-step video tutorials with extra tips not mentioned in the blog post, so make sure you watch the video below to ensure success - and if you enjoy the show, please consider subscribing to my YouTube channel. Thank you!
Choosing The Best Coconut Water
The sweetness and flavour of coconut water REALLY matters in this recipe. So it's very important that you choose one that is sweet and fragrant, and there is a HUGE range of qualities out there on the market. Many people assume that since all packaged coconut water say "100% coconut water" on the label, they should all be the same, right? NOPE. Far from it.
Packaged coconut water is actually a combination of young AND mature coconut water. Mature coconuts are the dark brown ones with a hairy husk, and their water doesn't actually have much sweetness or flavour going on at all. On the other hand, young coconuts are green on the outside with a white husk (though ones you see at the store are probably white because the green skin has been removed) and their water can be very sweet and fragrant—definitely the more delicious one between the two!
Different brands of coconut water combine the two at different ratios, which is why some brands are rather bland, while others are much sweeter despite them all being "100% coconut water." Over the years I've tried many brands, and settled on UFC as my go-to because it has the best flavour. So I was quite excited when they asked me to develop a recipe using their coconut water!
For more about young VS mature coconuts, watch my coconut documentary!
Can I Use Gelatin Instead?
Every time I post an agar jelly recipe, this question comes up. And my answer is the same: yes...but. There are so many but's because the two "jellies" are very different even though they both turn liquid into gel. Gelatin is soft and bouncy, agar is neither of those things so they end up being very different desserts.
I talk about substituting gelatin in detail the video, so please watch starting from minute 12:10. It could make or break the recipe so please actually watch it!
As for the ratio, 1 tablespoon of gelatin sets about 2 cups of liquid, so for this recipe you will need 2 Tbsp. You can adjust this ratio to make a softer or firmer result depending on your preference.
Print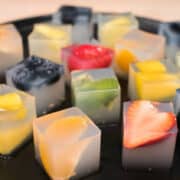 Coconut Water Jelly Cubes
---
4 cups

UFC coconut water

1 Tbsp

(8 g) agar agar powder (see note)

6 Tbsp

sugar (or to taste)

Fruit of your choice: I used mango, pineapple, strawberries, blackberries, blueberries, mandarin slices, and kiwi fruit. Make sure the fruits are good! If they're not ripe or sweet, the dessert won't be good.

1.25

" silicone cube mold, or another mold of your choice (silicone will make it easier to unmold)
---
Instructions
Prep the fruit:
For fruits that are smaller than the mold (blueberries, blackberries, mandarin slices) leave them whole. For larger fruit, cut them into small pieces no larger than ¾ inch. For strawberries, choose a small one and cut them in half.

Place fruit into the molds, a few pieces per piece if they're small, but make sure you don't crowd the mold or the jelly won't be able to hold together. You want to leave plenty of room around the fruit so that it will be well surrounded by the jelly.
Make the jelly:
Put 2 ½  cups of the coconut water in a small pot, sprinkle agar agar powder on top and stir.

Turn the heat on and b

ring to a full boil while stirring frequently. Once it comes to a full boil, turn off the heat, then check that the agar agar powder has fully dissolved by spooning some liquid into a metal spoon, then pour the liquid off and look to see that there are no specks of agar powder remaining on the spoon.If there are specks keep heating and stirring till they're gone.

Add sugar and stir until dissolved.
Add the remaining 1 ½ cups of coconut water to help cool it down faster. If using delicate fruits that turn soft easily like strawberries, don't do this until it's warm (you should be able to put your finger in it with no problem) so that it won't cook the fruit and turn it mushy. You can start using it on other sturdier fruits first (pineapple, mangoes, mandarin oranges will do fine) and come back for the delicate ones once it's cool enough.
Assembly
Transfer the coconut water into a container with a pouring spout. Fill each mold with the coconut water until it just comes under the rim (don't let it flow over or the pieces will be connected together at the top and won't have clean sides).
Let cool until at least the top is set (for easy no-spill transport), then move them to the fridge and chill for at least 2 hours so they will be nice and cold for serving.
To unmold: simply turn it upside down, holding it slightly above a serving plate, then push on the bottoms of all the pieces until they slide out. If you're using a hard mold, you can insert a toothpick into the side while holding it upside down over a plate, then push it slightly and it should slide out easily.
Flip them upside down for serving. Enjoy!
Important Note on Unmolding: Do not unmold or cut agar jelly until close to serving time. When agar jelly is uncontained, water will slowly seep out because it's an unstable gel. A small amount of water loss will not affect how it tastes, and if it has to sit for a couple of hours unmolded that's fine, but you want to avoid it when possible. If you want to give it away to people, I recommend making it in clear heat-proof plastic or glass cups that you're willing to part with.
---
Notes
Make sure you're buying pure agar agar powder with no sugar or any other ingredients added (you need to check the ingredient list.) Also if measuring by volume, you need to use agar agar POWDER. If using flakes, use the weight in grams.