---
This is such an addictive appetizer! Tender, juicy fried chicken tossed in the "dust" which is toasted rice and Thai herbs ground up into this magical powder! If you've had laab before, you know how much toasted rice powder can transform a dish, now imagine it around fried chicken! Served with a classic "jeaw" dipping sauce, it's the perfect finger food to have with a cold fizzy bevvy!
P.S. It's gluten-free!
Watch The Full Video Tutorial!
All my recipes come with step-by-step video tutorials with extra tips not mentioned in the blog post, so make sure you watch the video below to ensure success - and if you enjoy the show, please consider subscribing to my YouTube channel. Thank you!
Print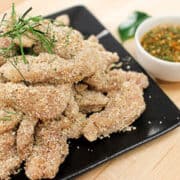 Dusty Chicken! Toasted Rice Crusted Chicken
---
300g

boneless skinless chicken breast or thigh, cut into bite-sized strips

¼ tsp

white pepper

½

 

Tbsp soy sauce

½

 

Tbsp fish sauce

Cornstarch or all-purpose flour

Oil for frying
Toasted Rice "Dust"
¼ cup

sticky rice

1 ½

inch lemongrass

2

slices galangal

2

kaffir lime leaves

½ tsp

sugar

¼ tsp

salt

¼ tsp

ground white pepper

Roasted chili flakes, to taste
Jeaw dipping sauce
1½ Tbsp

tamarind juice

1½ Tbsp

palm sugar, finely chopped and tightly packed

1 Tbsp

hot water

1 Tbsp

fish sauce

1½ Tbsp

lime juice

Chili flakes, to taste

2

-

3

sprigs cilantro, chopped

1 Tbsp

of the toasted rice dust
---
Instructions
To make jeaw dipping sauce, place the sugar in a bowl and cover with hot water, let sit for a minute and stir until the sugar is mostly dissolved. Add all remaining ingredients except cilantro and toasted rice dust. Let it sit until ready to serve.
Marinate chicken: Combine chicken with white pepper, soy sauce and fish sauce. Set aside while you make the toasted rice dust.
Make the toasted rice dust: In a dry saute pan or wok, add the rice, lemongrass, galangal and kaffir lime leaves. Turn the heat on to medium high and stir constantly until the rice is a deep brown colour (it will get a little smokey). Transfer onto a plate to cool. Once cooled, place the toasted rice and herbs, sugar, salt and white pepper in a coffee grinder and grind for a few seconds just until it's mostly fine with some bigger grains mixed in (don't let it turn into a completely fine powder so you get a bit of texture). Place the "dust" in a large mixing bowl.
Fry the chicken: Heat about 1.5 inches of oil to 375°F. While waiting, toss the chicken in cornstarch or flour, making sure all the pieces are separated, then toss the chicken in a sieve to remove excess flour. Fry the chicken only for 1-2 minutes until the chicken is fully cooked. Remove and set aside. Once all the chicken is fried, place all of the chicken into the dust bowl and toss to thoroughly coat all the pieces. (If you want to throw the chicken like I did in the video, try not to breathe while doing it because you'll end up inhaling some!)
Finish the dipping sauce by adding the chopped cilantro and the toasted rice dust. Serve immediately, enjoy!
---