---
This famous dish is iconic of northeastern Thai cuisine, and it's probably the healthiest chicken salad I've ever seen! A few years ago I made a pork laab video, this time I make it with chicken with lots of new tips and tricks to help you make a laab to impress! And that crazy good crispy chicken skin makes an appearance at the end as well 🙂
Watch The Full Video Tutorial!
All my recipes come with step-by-step video tutorials with extra tips not mentioned in the blog post, so make sure you watch the video below to ensure success - and if you enjoy the show, please consider subscribing to my YouTube channel. Thank you!
Print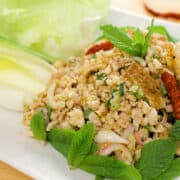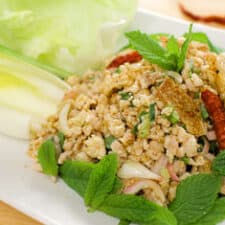 Laab Gai - Northeastern Chicken Salad ลาบไก่
---
300 g

ground chicken, preferably not lean (I grind my own using 50/50 dark and white meat, see video @3:20 for how to grind your own chicken)

2 Tbsp

water or unsalted chicken stock

1 Tbsp

+

2 tsp

fish sauce

1

small shallot, thinly sliced

2 Tbsp

lime juice

Roasted chili powder or regular chili powder, to taste (see note)

2

-

3

Tbsp toasted rice powder (recipe follows)

4

leaves sawtooth coriander and/or

6

-

8

sprigs cilantro, chopped

1

green onion, chopped

⅓ cup

mint leaves, roughly torn if large
Crispy chicken skin (optional, see recipe here)
Note: To make good, Thai-style roasted chili powder, roast Thai dried chilies in a 300°F oven for 5-7 minutes or until they darken and smell smokey. You can also throw in 1-2 kaffir lime leaves and roast it along with the chilies as well. Let cool and grind in a coffee grinder or mortar and pestle until fine. If you don't use it often, store in the fridge or the freezer to prolong its freshness and prevent mold.
Toasted Rice Powder
Uncooked Thai sticky rice or jasmine rice

1

kaffir lime leaf (optional)
---
Instructions
To make toasted rice powder: In a dry saute pan, add the rice and the kaffir lime leaf and toast, stirring constantly, over high heat until the rice has a deep brown colour (see video for colour). Remove from heat immediately and transfer into a mortar and pestle or a coffee grinder. Grind until fine (yes, grind the lime leaf too), but if using a coffee grinder, be careful not to over-grind—you don't want it to look like flour, you still want a bit of grittiness to it.
To make the laab : In a wide pot or saute pan, add the water or stock and bring to a simmer. Add ground chicken and 1 teaspoon of the fish sauce, then cook, stirring constantly to break up any big lumps, just until it is done. Remove from heat, then, using the pot as  your salad bowl, add the shallots and stir to wilt slightly and to make sure all the shallot layers are separated. Then add fish sauce, lime juice, chili flakes, and toasted rice powder; stir to mix well. Then add green onions and sawtooth coriander and/or cilantro and stir to mix.
Tip: If you're not serving right away, hold the toasted rice powder and stir it in just before serving, otherwise the toasted rice powder will absorb all the dressing and make the salad seem dry, and the toasted rice powder will become slightly mushy. 
Plate and sprinkle the mint on top. Garnish with a couple of dried chilies if you want, and sprinkle with some crispy chicken skin (which you can make in minutes!). Serve warm or room temp with sticky rice and fresh, crunchy vegetables such as iceberg lettuce, cucumber, long beans, Belgian endive.
---