---
A classic recipe, these red-curry-flavoured fish cakes can be found everywhere in Thailand. The preparation is really simple; the hardest part is getting the right fish. Go with something tender and you'll be fine, because the firmer the fish, the firmer the fish cakes, and I personally prefer them on the softer side. I'm using basa and it worked out great. If the fish you have access to is a bit too firm, try adding 1-2 more egg yolks to help tenderize the mix a bit.
The dipping sauce is similar to the "sweet chili sauce" that you can find on many grocery store shelves, and you can use that as a base if you're feeling lazy, but it really makes a difference if you make it!
Watch The Full Video Tutorial!
All my recipes come with step-by-step video tutorials with extra tips not mentioned in the blog post, so make sure you watch the video below to ensure success - and if you enjoy the show, please consider subscribing to my YouTube channel. Thank you!
---
Print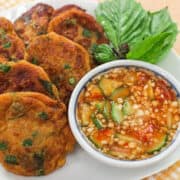 Thai Fish Cakes (Tod Mun Pla) ทอดมันปลา
---
350 g

tender fish meat, dried thoroughly if thawed from frozen (see note)

2

-

3

tablespoon red curry paste (see note)

1

egg yolk

1 tsp

sugar

½ cup

long beans

⅓ cup

Thai basil or holy basil, sliced into ribbons if large

5

kaffir lime leaves, finely julienned

Fish sauce, as needed (taste mixture before adding!)
Sweet Chili Dipping Sauce
3

cloves garlic

1

spur chili (prik chee fah) or another type of big red chili pepper that's not too spicy

Thai chilies to taste, optional

½ cup

sugar

½ tsp

salt

⅓ cup

white vinegar, cane vinegar or rice vinegar

3 Tbsp

water

Cucumber slices for serving

Optional add-ins for the dipping sauce: roasted crushed peanuts, sliced shallots
---
Instructions
For the dipping sauce:
Place both chilies, garlic, vinegar, water, sugar and salt in a blender and blend just until there are no more chunks. I like to use low speed to blend so I still have chili seeds seeds and chili pieces for a nicer visual.
Pour the blended chilies into a small pot and bring to a simmer, then simmer for about 3-5 minutes or until it has a consistency of a thin syrup. The sauce will thicken as it cools, so if it is too thick once it is cool, you can add more water. Set aside until ready to use.
Tip: The dipping sauce, without the cucumber/shallots/peanuts, will last you months when kept sealed in the fridge, so only add the add-ins to as much of the dipping sauce as you will need for serving.
For the fish cakes:
Combine the fish, curry paste, egg yolk and sugar in a food processor. Process until fine, scraping the sides as needed. Then keep processing for a few minutes longer until the fish is firm enough that it holds its shape well when spooned (see video). If this is your first time, cook up a bit of the mixture to taste for salt and spiciness. If you want a stronger curry flavour or more spiciness, add more curry paste, keeping in mind that that also adds more saltiness. If you just want more saltiness, add a little fish sauce. 
Transfer the fish paste into a mixing bowl and add chopped long beans, Thai basil and kaffir lime leaves; stir until well combined.
(At this point you can deep fry the fish cakes like we traditionally do, or you can pan fry them as per instructions below)
Get your station ready by having a bowl of cold water and some paper towel (for your hands) by the stove.  Heat a skillet over medium heat until hot, then add just enough oil to coat the bottom of the skillet. Wet your hands and a tablespoon in the cold water, then scoop a heaping tablespoon of fish paste with the wet spoon and place in your hands. Gently pat the fish cakes to form into patties and place in a preheated skillet. Fry until browned on both sides, about 2 minutes per side. You may need to add more oil as you go. 
Tip: I find it easier to form the cakes as you fry them, as opposed to pre-forming them all, because the mixture is quite soft and it's hard to pick up a pre-formed cake. 
To serve, stir cucumber slices, peanuts and shallots into the dipping sauce and serve with the fish cakes. You can also serve extra cucumber on the side as it goes so well with fresh cucumber.
---
Notes
In Thailand the fish used is "pla grai" or clown featherback fish. I cannot get that fish here so I used basa with great success, but if you cannot find basa, experiment with fish that has TENDER flesh. Basa is a type of catfish, so you can also try using catfish as well and let me know how it turns out. If you get frozen fish fillet, make sure you REALLY dry off the fish well after it has thawed. Too much extra water from thawing will make the fish too wet to form patties.
DO NOT use pre-made fish paste you can find at some Asian grocery stores; those are already seasoned.
If you are sensitive to spice, start out with just 2 tablespoon of red curry paste. Avoid pastes that are quite salty (Mae Ploy brand, for example) or you will be limited by the saltiness rather than by curry flavour. I used 3 tablespoon of Maesri brand paste and did not need to add any fish sauce.