---
When I think about Thai street food, these fried bananas are among the first foods to come to mind. Firm, slightly sweet bananas are coated in a super crunchy sesame coconut batter, it's the perfect snack that stands on that delicious line between salty and sweet.
While you've got the frying oil out, also try this easy Thai-style fried ice cream!
Watch The Full Video Tutorial!
All my recipes come with step-by-step video tutorials with extra tips not mentioned in the blog post, so make sure you watch the video below to ensure success - and if you enjoy the show, please consider subscribing to my YouTube channel. Thank you!
Thai Fried Bananas Recipe
Print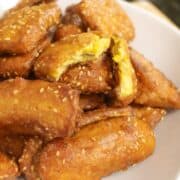 Thai Fried Bananas กล้วยแขก (gluay kag)
---
2

sweet plantains or 6 namwa bananas (see note)

⅓ cup

shredded coconut, dried, fresh, or frozen (see note)

¾ cup

rice flour

¼ cup

granulated sugar

½ tsp

salt

½ tsp

baking powder

1 ½ Tbsp

white sesame seeds, toasted

⅓ cup

of water
oil for frying
---
Instructions
 

In a medium-sized mixing bowl, combine rice flour, sugar, toasted sesame seeds, salt, baking powder and shredded coconut. Add water and stir until well combined.
If using plantains, peel and cut them crosswise into 3 equal sections, then slice each section horizontally into 4 pieces. If using namwa bananas, peel and cut lengthwise into ¼-inch thick pieces.
Add about 1½ inches of oil to a pot and heat to about 325℉ (160℃). Dip the bananas into the batter and fry for about 5 minutes, until they are a deep brown colour. Maintain the frying temperature below 350℉ (175℃). When done, let drain on paper towel or a rack. Note: Based on your first batch, you can decide if you want a thicker or thinner coating by adding more flour or water. 

Let bananas cool for several minutes before serving and the coating will crisp up once cooled.

Serve as soon as they are cool and crisp.
---
Notes
Choose plantains whose skins have turned at least 60% black so they will be sweet (the more black on the skin, the sweeter the plantain). If using namwa bananas, choose ones that are almost ripe—mostly yellow with a hint of green. In Thailand, we also fry taro and sweet potato in this batter, which make for delicious savoury snacks!
If using dried shredded coconut, make sure it is unsweetened, and mix with 2 tablespoon (30ml) of hot water for 10-15 minutes to rehydrate before using.