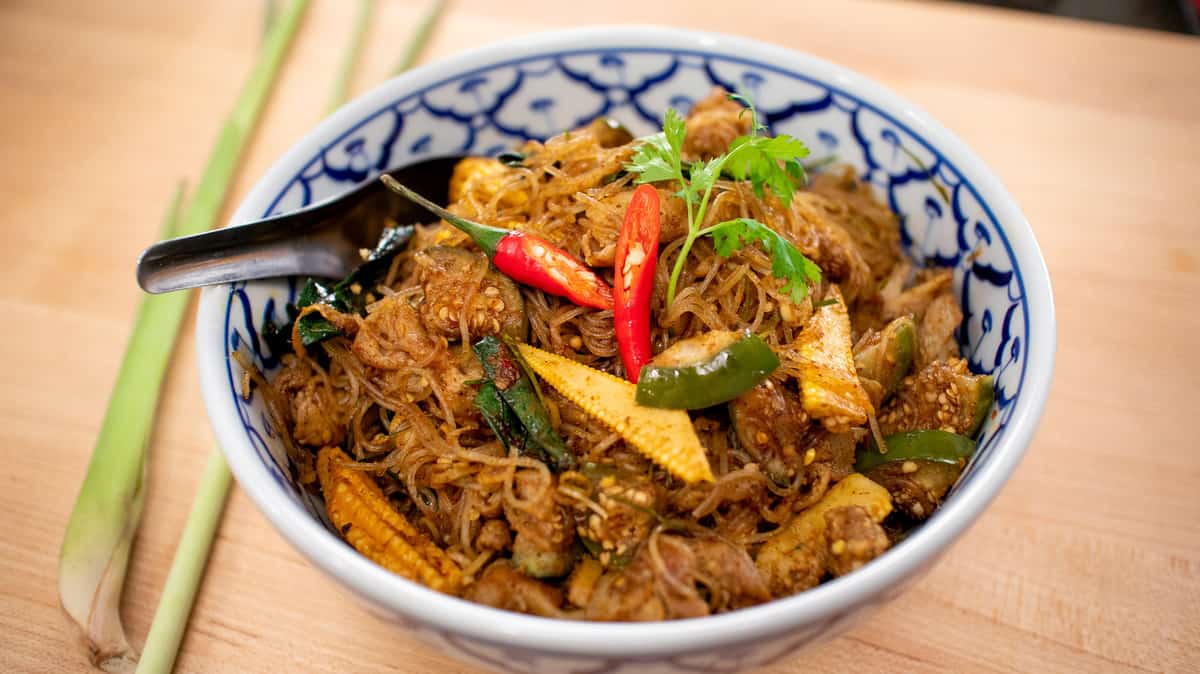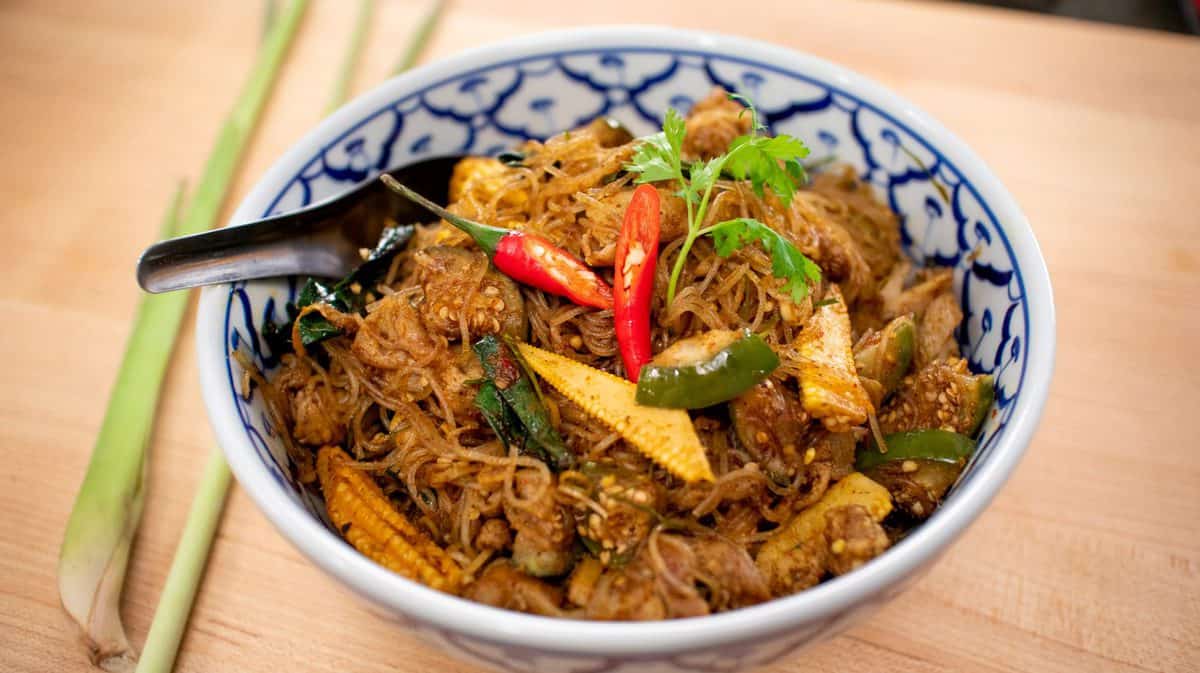 Thanks to Pine Brand Glass Noodles for sponsoring this video!
Classic Northern Thai Dish Originated from Leftovers
This dish is called gaeng ho, gaeng meaning "curry" and ho means "a mix of stuff". It might seem strange because this dish is a stir fry and not a curry, but here's the story. It started out with people repurposing leftover curry, specifically Hung Lay curry, and turned it into a stir-fry by adding veggies and glass noodles. I guess whoever did it first realized this was delicious, so it became widespread and eventually became an established dish.
But You Don't Need Leftovers to Make It!
If you look for recipes of gaeng ho in Thailand, you'll see that one of the ingredients required is "hung lay curry." Yes, technically you need to buy/make another curry before you can make this dish.
While hung lay curry is out-of-this-world delicious and you should make it one day anyway, I've come up with a way to enjoy gaeng ho without having to have hung lay curry on hand. The key is using the mix of spices in hung lay curry mixed with store bought red curry paste, which is a great basic paste that I love using as a base for building more complex curries without having to make everything from scratch.
Related Recipes
Watch The Full Video Tutorial!
Print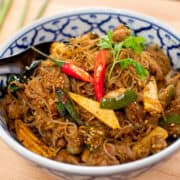 "Leftover Curry" Glass Noodle Stir Fry แกงโฮะ
---
200 g

pork belly, thinly sliced, or sub another protein of your choice

1½ tsp

soy sauce

40g

dry glass noodles, soaked in room temp water for

7

-

10

mins

2 Tbsp

red curry paste

1 Tbsp

hunglay curry powder (recipe follows) or substitute garam masala

2

-inch knob ginger, thinly julienned

½

-

1

cup water or chicken stock, unsalted or low sodium

2

-

3

teaspoon fish sauce

1 Tbsp

sugar

2 cups

a mix of firm vegetables of your choice (see note for options)

1 cup

sturdy leafy greens of your choice (see note for options)

½ cup

pickled bamboo shoots (optional, see note)

3

inch piece lemongrass, very thinly sliced

5

-

6

kaffir lime leaves, finely julienned
Jasmine rice or sticky rice for serving
Hung Lay Curry Powder (this makes more than you need)
1

8-inch cinnamon stick or

1 Tbsp

ground cinnamon

2 tsp

black peppercorns

2 Tbsp

cumin seeds

2 Tbsp

coriander seeds

2 tsp

fennel seeds

5

pc white cardamom (optional)

1

star anise

2 tsp

turmeric powder

1 tsp

ground cardamom

1 tsp

ground cloves or

3

pc whole cloves

½ tsp

nutmeg
Notes:
For firm vegetables, traditional ones include thai eggplant, pea eggplant, and long beans, but you can substitute any firm, crunchy veg such as carrots, green beans, or baby corn.
For leafy greens, traditional ones include wild betel leaves and tum leung leaves. But you can substitute any sturdy greens such as kale, swiss chard, or Chinese broccoli.
Though it often says "pickled bamboo shoots" on the label, they are actually fermented. It's a classic ingredient in gaeng ho but it is fine to omit them. They need to be rinsed well and boiled for about 5 minutes before using to lessen the sour smell/flavour. Regular canned bamboo shoots can be used instead, and while these don't need to be boiled first, if you find the bamboo smell a bit strong, boiling will help lessen it. 
---
Instructions
For Hung Lay Curry Powder
Add all whole spices into a dry saute pan and toast on medium heat for 4-5 minutes until aromatic and the cumin seeds darken slightly. (Yes, all the spices are all different sized and do not toast at the same rate, so technically you should toast them all separately, but since we're doing such a small amount for each spice, it wouldn't make much sense! So I just toast everything together until the cumin seeds, the smallest spice, are done.) 
Place spices in a spice/coffee grinder and grind until fine. Add in ground spices and blitz quickly to mix. Keep in an airtight spice jar in a cool dry place.
For Gaeng Ho
Mix pork belly with soy sauce and let sit while you prep other ingredients.
Drain glass noodles from soaking water and cut them with scissors into 3 sections to shorten them. Tip: If you forget to soak the noodles, you can "speed soak" using the hottest tap water and they will soften in just 1-2 minutes.
In a wok over medium high heat, add just a little bit of oil and once hot, add the pork belly and spread into one layer. Let the pork brown on one side, and then toss and cook until completely done. Remove pork from the wok, leaving any rendered fat in the pan.
If using lean protein, you may need to add a little more oil to stir-fry the noodles. Keeping the heat off, add red curry paste, hung lay powder, and julienned ginger and mix the dry spices into the curry paste. Turn the heat on medium and keep stirring for a few mins until the paste is aromatic, deglazing with water or stock as needed if the paste sticks to the pan.
Add firm vegetables and cook for a few minutes until they're about half way done, adding a little stock from time to time as needed to keep things moist.
Add glass noodles and about ¼ cup of water or stock, fish sauce, sugar, and toss until noodles are fully cooked, 2-3 minutes.
Once noodles are done, add the pork and leafy greens and toss just until the greens are wilted.
Add lemongrass and lime leaves, toss briefly just to mix and turn off the heat.
Serve with sticky rice or white rice. Enjoy!
---