---
This recipe is sponsored by Pine Brand glass noodles.
What Makes a Dish Perfect for Lockdown?
As of this writing, we've been on lockdown due to the Covid19 pandemic for about 6 weeks. So I've had a lot of time to think about what is the "perfect lockdown recipe". I came up with 5 qualities that a dish must have:
Ingredients must be easy to find and last a long time (at least a month in your fridge).
Quick and easy—for many of us who are trying to juggle working from home with kids, we need quick and easy more than ever!
The recipe must be flexible—you can substitute a lot of ingredients and it'll still turn out fine.
Inexpensive. Times are tough for so many people right now, so it must be easy on the budget.
Delicious, of course! Perhaps most important of all, it needs to taste good to help uplift the mood!
This dish, glass noodle stir-fry, ticks all of these boxes. It's a classic Thai dish that's super common, just about every family makes some sort of a glass noodle stir-fry, and kids love it as well!
The Perfect Lockdown Ingredient
Glass noodles are pretty much the perfect lockdown ingredient, most notably because it essentially never goes bad. It'll keep in your pantry for at least five years, although it's such a versatile ingredient that I don't see why it would ever last that long!
It really is one of the most versatile ingredients—it can be used in anything, you name it; stir-fry, soup, salad, spring roll filling - it's also the most important ingredient in our hot pot! It has a neutral flavour so it will go with whatever sauce you give it.
Glass noodles are super quick to cook; just a 7 minute soak in tap water and straight into the wok, or only 2-3 minutes in boiling water. It can also be soaked in advanced, drained, and kept in the fridge for a few days in a well-sealed container.
Some Tips for Cooking During Lockdown
Don't overlook cabbage as a vegetable to stock up on. It lasts up to 3 months in your fridge if you keep it in a bag! Super versatile: try making green papaya salad with shredded cabbage and carrots instead of green papaya, or this popular side dish Garlicky Cabbage & Fish Sauce Stir-Fry!
Carrots also last a long time, but be sure to keep them in a plastic bag to prevent them from wilting too quickly.
Drained diced tomatoes make a great sub for fresh tomatoes in stir-fries.
Use only the green part of green onion, then put the white + root in a glass with an inch of water. Put this by the window sill and change out the water every few days, within a week you'll have a whole new green onion!
Ground meats go a long way in stir-fry. You will need less than if you were to use sliced pieces of meat.
For another lockdown-friendly recipe, check out how to make mie goreng. It uses egg noodles, but the same vegetables you use here will work there too!
Watch The Full Video Tutorial!
All my recipes come with step-by-step video tutorials with extra tips not mentioned in the blog post, so make sure you watch the video below to ensure success - and if you enjoy the show, please consider subscribing to my YouTube channel. Thank you!
Print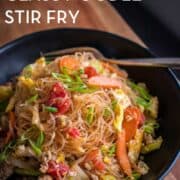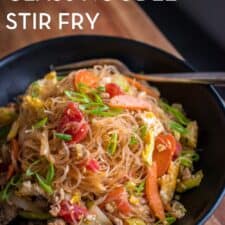 The Perfect Lockdown Recipe: Glass Noodle Stir-Fry!
---
Description
Reheating tip: Glass noodles do keep quite well BUT, you need to know one thing: they harden up in the fridge, and in order for them to be soft again, they have to be heated back up until VERY hot. So don't heat it just until warm enough to eat; you want to get it steaming hot as if you cooked them in the pan again, and the noodles should look soft and clear.
---
80g

glass noodles (2 small packs of Pine Brand)

5

-

6

cloves garlic, chopped

¼

large onion, cut into strips

½ tsp

ground white or black pepper

150g

ground pork or dark meat poultry, or sub another protein of your choice

½ cup

carrot, halved lengthwise and thinly sliced on a bias (about

half a

carrot)

1½ cups

cabbage, cut into bite-sized pieces (or sub other veggies you've got in the fridge)

1 cup

canned diced tomatoes, drained well

2

eggs (you can also add 3 for extra protein)

Optional garnish: Green onions or cilantro
Sauce
2 Tbsp

oyster sauce

1 Tbsp

soy sauce

½ Tbsp

Golden Mountain sauce (or sub Maggi Seasoning or more soy sauce)

1 Tbsp

sugar
~¼-½ cup water
---
Instructions
Soak glass noodles in room temperature water for 7-10 minutes until soft and pliable. Pour the water off, then cut the noodles in halfs or thirds with scissors to shorten them.

To make the sauce, in a small bowl, mix together oyster sauce, soy sauce, Golden Mountain sauce and sugar. Keep the water separate but have it ready on the side when you're cooking. 

Add oil to a wok or a large saute pan (preferably non-stick) and heat it on medium heat.

Add garlic, onions, pepper and cook until the garlic starts to turn golden.

Add the meat, turn the heat up to medium high and cook just until about 80% done.

Add the cabbage and carrot, about 2 teaspoon of the sauce, and cook for a minute to wilt the veggies. 

Add the noodles, then pour the rest of the sauce on top of the noodles. Rinse the sauce bowl with about 3 tablespoon of the water and pour it in. Toss everything until the noodles have absorbed all the sauce and are fully cooked.

Once the noodles have absorbed all the sauce, give it a taste to see if the noodles are done to your liking. If you want them softer, add another splash of water and toss them until they're dry again
Push the noodles to one side and add a little extra oil to the empty space. Add the eggs to the space, then move the pan so the eggs are centered on the burner and the noodles are a bit off heat. Let the eggs set a bit, then scramble them slightly just to get a marbling of the whites and yolks. Once the eggs are about half way cooked, put the noodles on top of the eggs and let it sit without stirring for another 30 seconds to cook the eggs, then flip and tossing everything together.

Add tomatoes and toss just to heat through for 10-15 seconds.

Plate, top with green onions or cilantro, and serve immediately!
---