---
This is not only one of my absolute favourite chicken dishes, it's also one of the most meaningful. It is something my grandmother makes for me every time i come home to Thailand! Usually the chicken she uses is the leftover from Hainanese Chicken Rice, but you can make it directly by simply poaching up some chicken first 🙂 OR actually, you should intentionally too much hainanese chicken rice, and get 2 epic meals out of it!
The chicken is twice cooked, and tossed with ginger, garlic, soy sauce, and palm sugar for a sweet-salty-umami flavour that is unparallelled simplicity. The kids will love it, and for the adults, make the spicy-tart dipping sauce and it's a flavour explosion in your mouth! Poach the chicken in advance, keep it in the fridge, and dinner will be ready in just a few minutes!
Watch The Full Video Tutorial!
All my recipes come with step-by-step video tutorials with extra tips not mentioned in the blog post, so make sure you watch the video below to ensure success - and if you enjoy the show, please consider subscribing to my YouTube channel. Thank you!
---
Print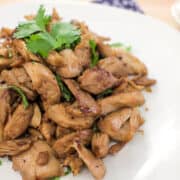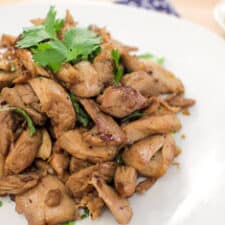 Grandma's Twice Cooked Chicken ไก่เค็ม
---
Tip: Poach the chicken in advance and have it ready in the fridge for a weeknight meal. You can also use this method with leftover plain cooked chicken from another meal, as long as the flavour of the chicken isn't too strong, but be prepared to adjust seasoning accordingly. 
For Poaching
4

bone-in chicken thighs, 1 small breast (670g total weight)

3

cloves garlic

8

slices ginger

Lemongrass tops, if you have it

½ tsp

salt
For Stir-Fry
6

cloves garlic

4

slices ginger

1 Tbsp

+

1 tsp

palm sugar, chopped

1 ½

-

2

tablespoon soy sauce (see note)
Salt as needed

A dash black soy sauce

¼ tsp

black pepper

Chopped cilantro, optional
Note: The amount of soy sauce will depend on the exact size of your chicken and also the saltiness of your soy sauce. If you are using chicken that's on the small size, add only 1 ½ tablespoon and you can adjust with salt later. If you're not using Thai soy sauce, also use 1 ½ tablespoon and adjust later. Remember, you can always add more salt but you canNOT fix chicken that is too salty!
Optional: Dipping Sauce
2 Tbsp

finely chopped ginger

2 cloves garlic

2 Thai chilies

2 tablespoon chopped cilantro stems

2 tablespoon soy sauce

2 tablespoon  lime juice

½ tsp

sugar
---
Instructions
To make the dipping sauce: Pound ginger, garlic, chilies and cilantro stems in a mortar and pestle into a paste. Add soy sauce, lime juice and sugar and swirl to mix.
To poach the chicken: Add chicken, ginger, garlic, and lemongrass top (if using) to a pot and add just enough cold water to cover the chicken. Add salt and stir the water around a bit to mix the salt (so it's not just sitting as a pile on top of a piece of chicken!).
Turn on the heat to medium high and bring the water to a VERY gentle simmer—water should be steaming lots but it should be very still, with few, gentle bubbles—175°F-185°F (80°C-85°C). Do not let the water boil.
Once chicken is cooked, about 20-30 minutes, remove the chicken from the water and let it cool to room temp, then if not using immediately, refrigerate until ready to use. The poaching water has become a very tasty broth, and I suggest using it to cook your rice to go with this dish! 
Tear the chicken into small bite-sized pieces, making sure you take off all the meat even if the pieces are just tiny little shreds—that's the good part!
To stir-fry the chicken: In a wok, add a little vegetable oil, garlic and ginger and saute over medium heat for about 30 seconds or until you see the first sign of browning on the smallest pieces of garlic. Add palm sugar and cook until the sugar is melted.
Add the chicken, soy sauce, black soy sauce and black pepper, then turn up the heat to high and keep tossing until the chicken has absorbed all the sauce and there is no more liquid pooling in the pan.
Once the chicken is dry, let it sit on the pan for several seconds without stirring to get some caramelization on the chicken. Give it a flip and let it sit one more time to get more browning. Remove from heat. 
TASTE! Tasting is always important but it's more important in this recipe because all the seasoning is absorbed into the chicken, so the ratio between chicken to seasoning matters a lot. If you have larger chicken pieces, for example, you may need more salt, and vice versa. If you find that you need more salt at this stage, do not add soy sauce because it will create more liquid; add salt. If you need more sugar, add granulated sugar so it mixes in more easily.
Once the seasoning is adjusted, toss in some chopped cilantro if you want (off heat) and serve with rice and dipping sauce. Enjoy! 
---