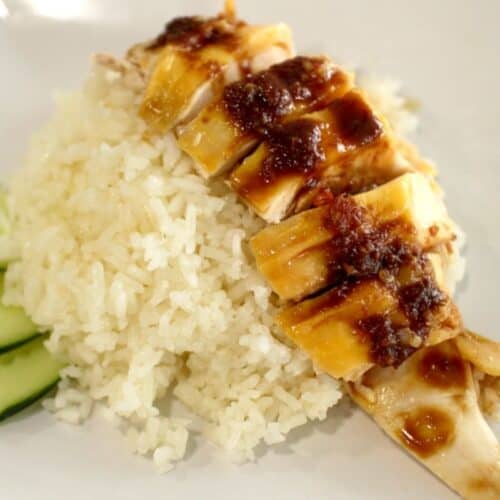 Hainanese Chicken Rice Recipe ข้าวมันไก่ (kao mun gai)
Hainanese chicken rice of "kao mun gai" is a popular street food, not only in Thailand, but all over Southeast Asia! This dish will amaze you how good "chicken and rice" can be. This recipe is the traditional method that poaches a whole chicken; for a weeknight, check out my Easy Hainanese Chicken Rice Recipe.
Ingredients
Check Out Ingredients and Kitchen Tools I Use
Notes
I've noticed that black soy sauce varies greatly depending on the brand so start out with 1 Tbsp and go from there. If you're substituting "dark soy sauce" for this, use only 1 Tbsp and reduce the amount of regular soy sauce by ½ Tbsp. See this video on the differences between dark and black soy sauce.

In the video I didn't add sugar because if you're using both sauces together like I usually do, it doesn't really need it. But if you will use it on its own, it needs a the sweetness to balance.
All my recipes come with step-by-step video tutorials with extra tips not mentioned in the blog post, so make sure you watch the video to ensure success. If you enjoy them, consider subscribing to the YouTube Channel to not miss an episode. Thank you!
Subscribe to my YouTube Channel
Instructions
Cut off chicken neck, feet, and wing tips and add to a stock pot large enough to put the chicken into.  And onions, garlic, ginger, cilantro roots and white peppercorns to the stock pot and add enough water to generously submerge all ingredients. Simmer for 20 minutes to render a stock.

1 whole chicken,

2 Cilantro roots,

4 cloves garlic,

Half an onion,

½ tsp white peppercorns,

2 slices ginger,

1-2 Tbsp salt

Remove fatty bits of the chicken and add to a pot you will use to cook the rice. Set it aside for now.

Once the stock is ready, season with salt and fill the pot with cold water. Taste the broth so that it tastes like a mildly salted soup. Add the chicken to the pot and cover with more water to keep the chicken submerged if needed. Bring the temperature of the water up to 165 - 170 degrees Fahrenheit, and maintain it there till the chicken is done and the internal temperature registers 165F at the thickest part of the thigh, about 30 minutes for my 2.5 lb chicken, 40-50 minutes for larger chickens. Note: Cooking time starts AFTER water temperature has reached 165.

When the chicken is done, remove from the stock and let cool to room temperature.

While the chicken rests, make the rice. Heat the collected chicken fat over medium low heat until you've got about 2-3 Tbsp of fat. Remove the solids and discard. Add the rinsed rice to this fat and toss to coat. Cover with the chicken stock and stir until the rice is thick and the fat no longer floats on top. Cover and let cook until rice is done, about 10-15 minutes.

2 cups rice,

2 ⅔ - 3 cups chicken stock
For the Classic Dipping Sauce:
Pound together the ginger and chilies into a rough paste. Then add fermented soybean paste, sugar, black soy sauce, regular soy sauce, and vinegar. Stir until the sugar is completely dissolved

2 Tbsp Finely chopped ginger,

2 Thai chilies,

3 Tbsp Tao Jiew (Thai fermented soybean paste),

1 Tbsp sugar,

1-2 Tbsp black soy sauce,

1 Tbsp soy sauce,

1 tsp vinegar
For the Spicy & Sour Dipping Sauce:
Pound together garlic, chilies, ginger, and cilantro stems into a rough paste, then add the sugar, soy sauce, and lime juice.

2 Tbsp chopped garlic,

2 Thai chilies,

2 Tbsp chopped cilantro stems,

2 Tbsp lime juice,

2 tsp sugar,

2 Tbsp soy sauce

After the chicken has rested and cooled, you can carve the chicken following this video for instructions: How to carve a chicken. Chop the meat into bite-sized pieces and serve over the rice along with the sauces. Serve the extra chicken stock on the side as a soup.
Watch my videos AD-FREE and get bonus content on Patreon!
Tried this recipe? Share a pic!
Tag @hotthaikitchen on Instagram and Twitter!