---
A Go-To Veggie Side Dish
Could greens really be this good?? Every time I eat this dish I am surprised how much I am enjoying a plate of green vegetables. The combination of gai lan (aka Chinese broccoli) and savoury oyster sauce is a match made in heaven and a classic for a reason.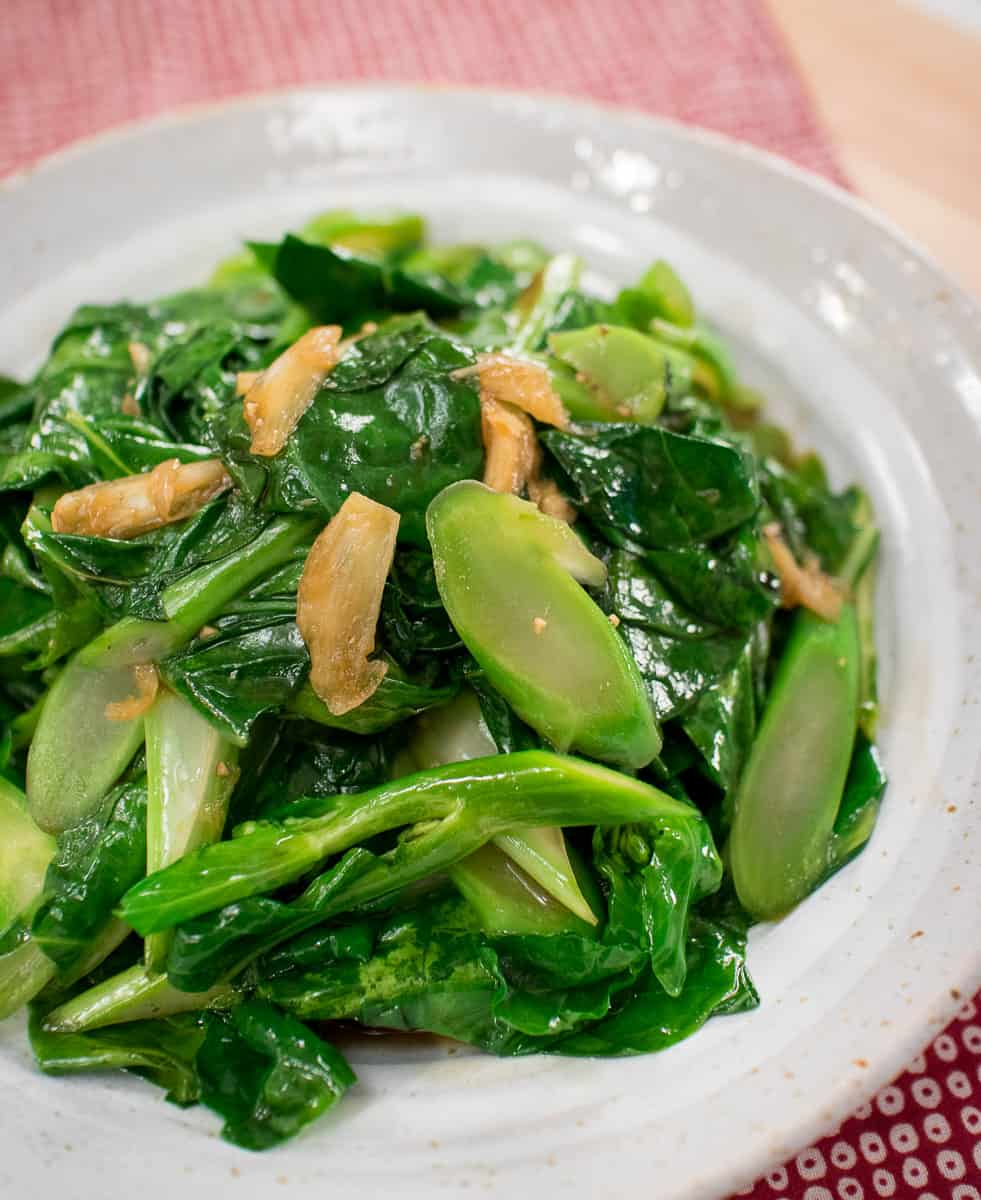 You might be familiar with a Chinese restaurant dish with long stems of steamed gai lan on a plate with oyster sauce drizzled on top, and this is a similar idea except BETTER! It's all cut up so you don't have to try to eat whole stems of gai lan while trying to be graceful about it (it doesn't happen). And because it's stir-fried, the flavours of the sauce are absorbed into the vegetables making them extra flavourful. Not the mention the soft, chunky garlic pieces, those are the cherry on the sundae!
Preventing Chewy Gai Lan
Chinese broccoli, especially older ones, can be chewy, but this isn't a problem if you know how to deal with them. As shown in the video, you want to make sure you slice any thick stems thinly (on a bias so you still get nice large pieces) and then you won't need to peel the stems as some people might do.
For the leaves, make sure you only cook them until they're wilted and remove them from the heat immediately. Cooking gai lan for a long time tends to make leaves that are super wilty and chewy.
Watch The Full Video Tutorial!
All my recipes come with step-by-step video tutorials with extra tips not mentioned in the blog post, so make sure you watch the video below to ensure success - and if you enjoy the show, please consider subscribing to my YouTube channel. Thank you!
Print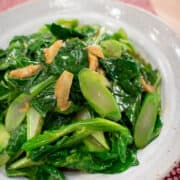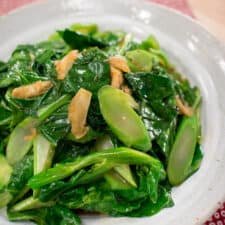 Gai Lan Oyster Sauce Stir-Fry (Chinese Broccoli)
---
300g

gai lan (Chinese broccoli)

6

-

7

cloves garlic
Optional: 1-2 Thai chilies if you want it spicy

1½ Tbsp

oyster sauce (use good quality oyster sauce that lists "oyster extract" as the first ingredient)

½ Tbsp

soy sauce

1 Tbsp

water

½ tsp

sugar

¼

-

½

teaspoon ground white or black pepper, or to taste
Jasmine rice for serving
Note: I think broccolini would make a good sub for gai lan. I would  cut the stems in half lengthwise, then again horizontally in half so they cook fast in the wok.
---
Instructions
Cut thick gailan stems on a sharp bias into thin slices. Thinner stems can be chopped into 2-inch pieces. Once you get to the leaves, cut them into bite-sized chunks. Keep the stems and leaves separated.
If using chilies, pound them into a paste using a mortar and pestle. Then add garlic and pound just until they look "shredded" (see video). You can also just roughly chop garlic and chilies.
In a small bowl, combine oyster sauce, soy sauce, sugar, and water; stir to mix.
In a wok, fry the garlic in a little oil over medium-low heat for a minute or so until light golden. Don't use high heat as you want the garlic to have time to soften and infuse the flavour into the oil.
Add gai lan stems, turn heat up to medium and cook for about 30-45 seconds.
Turn the heat up to high, then immediately add gai lan leaves, the sauce, white pepper, and cook for only about 30-45 seconds. Remove from heat immediately once the leaves look mostly wilted. Do not overcook, the residual heat will wilt the leaves further, and the leaves also get chewy when cooked too much. 
Serve immediately with jasmine rice. Enjoy!
---
Notes
This amount is good enough for 4 just as a side dish, but will serve 2-3 if you want to eat it as one of the main things.