---
From a Project to a Weeknight Meal
The traditional way to make Hainanese chicken rice is a bit of a project. You can find that method in my older post here, but basically you gotta poach a whole chicken, which takes a long time and a very big pot. Then you take the broth from poaching the chicken and use it to make the rice. And then after all that you gotta carve a whole chicken.
For this recipe, I use chicken pieces instead of whole chicken, so cooking time is greatly reduced. Then I also cook the chicken and the rice in the same pot, which means the whole thing will cook in only 25 minutes! Yay! Well, okay, plus maybe 5-7 minutes of rendering chicken fat and sautéing rice.
However this does require that you have some good chicken stock on hand. You can use store bought chicken stock if you wanna make it super quick, but for the most authentic flavour I recommend you use homemade Asian style chicken stock. I always keep homemade chicken stock in my freezer, and I recommend you do too because it comes in so handy in so many situations! Chicken noodle soup in a snap, anyone?
I have a recipe for Thai-style chicken stock here.
Stock Aromatics Options
At the very basic level, you can simply simmer chicken bones in water and you'll have a basic chicken stock. But to boost the flavour, adding some aromatics will help, and that's how you can "customize" the chicken stock. For my basic Thai chicken stock I like to use onions, garlic, white pepper and cilantro stems. But If you're making the stock specifically for Hainanese chicken rice, I recommend adding a few slices of ginger into the stock as well because ginger is such a key flavour in this dish.
*Extra Goodies for Patreon Members: In this episode's "Show After The Show" I share more ideas on other variations of Hainanese chicken rice you can get in Thailand. Click here to find out more about becoming a Patreon member!
Watch The Full Video Tutorial!
All my recipes come with step-by-step video tutorials with extra tips not mentioned in the blog post, so make sure you watch the video below to ensure success - and if you enjoy the show, please consider subscribing to my YouTube channel. Thank you!
---
Print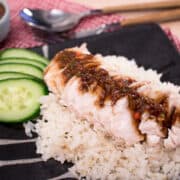 Easy Hainanese Chicken Rice (Kao Mun Gai)
---
For the Chicken:
3

pc skin-on, bone-in chicken thigh (see note)

1

large skin-on chicken breast (or

2

small ones)

1⁄2 tsp

salt
For the Rice:
1

1⁄2 cups jasmine rice, rinsed until the water runs clear and drain well (note by "cup" I mean measuring cup and not the rice cooker cup)

1

2⁄3 cups chicken stock, unsalted, preferably homemade (recipe follows, see note)

1⁄2 tsp

salt

2 Tbsp

chopped garlic

2 Tbsp

chopped ginger
Optional: Extra chicken stock for serving on the side, about 1⁄2 cup per person (see note)
Optional: Fresh cucumber slices for serving
For the Dipping Sauce:
1

-inch knob ginger, finely chopped

2

cloves garlic

1

Thai chili, optional, to taste

3 Tbsp

Tao Jiew (Thai fermented soybean paste) OR  2 tablespoon Korean doenjang + 1 tablespoon water

1 Tbsp

sugar

2 tsp

dark soy sauce (or use Thai black soy sauce)

2 tsp

soy sauce

1 tsp

vinegar

3

sprigs cilantro, chopped
For another variation of dipping sauce that my grandma makes, see my original Hainanese chicken rice recipe
Basic Asian-Style Chicken Stock (see note)
(This makes more than you need, but you can freeze the rest)
2

lb chicken bones

3

L water
Half and onion, quartered

5

garlic cloves

1⁄2 tsp

cracked white pepper

5

-

6

slices ginger, optional

6

-

8

Cilantro stems, optional
Special tools: A heavy bottomed pot or a rice cooker big enough so that the chicken pieces can be laid in one layer.
---
Instructions
Trim extra fat and skin off your chicken thighs and reserve. You will need to render fat from these trimmings for the rice.
Sprinkle salt over chicken and rub it in. Let sit at room temp while you prep other things.Note: You can do everything from this point on right in the pot that you will use to cook the rice and chicken, and it'll be a one pot meal. But I prefer to sauté the rice in a wok and then transfer.
In a wok, or the pot you're using to cook the rice in, add just a tiny bit of vegetable oil along with chicken fat/skin trimmings. Saute over medium-low heat to render chicken fat until the trimmings are browned. You want to have about 2 tablespoon of fat total, so if there is too much, remove some. If there isn't enough, add a little more vegetable oil to supplement. Remove chicken trimmings, leaving the fat in the pot.
In the same pot/wok you used to render chicken fat, add chopped ginger and garlic and saute over medium high heat until garlic starts to turn golden.
Add raw, rinsed rice and salt, and turn heat up to high, tossing rice for about 2 minutes until hot throughout and dry.
Transfer rice into a rice cooker or a heavy bottomed pot (unless you're already using that pot). Note: A rice cooker is more convenient, because it will turn itself off, but I personally prefer using a pot so I can use low heat to gently cook the chicken so it will be less likely to overcook.  
Add chicken stock to the rice and and stir to mix. Place chicken in one layer on top of rice.
Turn heat to high and watch until you start to see the first sign of simmering. Then turn the heat down to low, cover with a tight fitting lid and cook for 25 minutes or until the chicken is done. While you wait for it to cook, make the dipping sauce and the broth.
When chicken is cooked, remove chicken from the rice and let rest for at least 5 minutes before slicing.
Fluff rice to distribute seasoning and chicken juices evenly.
To serve: Slice chicken into thin pieces, and place on top of rice. Serve with dipping sauce, some fresh cucumber and extra chicken broth as soup. Enjoy!
For the Dipping Sauce 
Pound garlic, ginger and chilies into a paste. Alternatively, finely chop everything and add to a small bowl.
Add tao jiew or doenjang & water, sugar, dark soy sauce, soy sauce and vinegar.  Stir until the sugar is dissolved.
Before serving stir in the chopped cilantro right before serving.
For the chicken broth to be served on the side (optional):
heat the chicken stock in a pot until it comes to a simmer. Season lightly with salt or soy sauce and a dash of ground white pepper. Garnish with some chopped cilantro or green onions if desired.
To Make Chicken Stock:
Gently simmer chicken bones for 1 hour in the water, skimming off foam and scum as they come up. However, if you want to keep the fat for your rice, I would not skim after about 30 minutes so you don't end up skimming off the fat.
After 1 hour of simmering, add all the vegetables/aromatics and simmer for another 45 minutes to 1 hour.
Drain off the stock and skim off any fat on top of the stock and reserve for your rice. If you have time, refrigerate the skimmed fat so you can easily remove the stock that came with the fat.
---
Notes
If you only want to use white meat for this dish, that's fine, but the chicken thighs are also going to be your main source of chicken fat trimmings that you need for the rice. So you need to make sure that whatever chicken you use, you are able to trim enough chicken fat off of it. Or, if you're making your own chicken stock, choose bones with fatty bits attached (back bones are good for this) and you can skim the fat off the stock when it's done. You can also trim fat and skin off of chicken thighs that you can save for another dish!
You can use store bought stock for a super quick/easy version, but for the most authentic flavour I highly recommend using Asian-style homemade stock for this one (like in the recipe here). Store bought stock tends to have a distinctly different flavour that will affect the flavour of the rice.
It's traditional to serve a bowl of chicken broth on the side since the dish itself isn't very saucy. The broth can be plain, simply seasoned with salt and pepper, but you'll often see people putting a few pieces of winter melon in it.