This recipe is one of a couple Ingredient Challenge videos on my YouTube channel. The idea is that I will create a dish around a specific ingredient using only 5 additional ingredients (plus some freebie staples), and I will film me cooking it for the first time, unrehearsed, and I have to do it in 20 minutes!
The idea is that I want to build a repertoire of simple, quick recipes using everyday ingredients that are easy to find. I might use a harder-to-source Thai ingredient but I'll try to keep it that to no more than 1 ingredient per dish.
As you can see in the video, I went over time! To be fair, I didn't really rush and I spent a lot of time talking you through the recipe. And hey, I am 6 months pregnant in this video, with a pulled ligament in my leg, so moving quickly was just NOT gonna happen!
Ingredient Challenge Rules
1. The ingredient will be one suggested by viewers on social media (I will take suggestions on Facebook, Twitter and Instagram.)
2. I am allowed to bring 5 additional ingredients, plus some "freebies" which are staples most people have at home. Freebies include: salt, pepper, sugar, oil, flour, ONE OF fish/soy/oyster sauce, and a neutral spiciness. And by "neutral" I just mean it's not going to add any other flavours to the dish other than heat, so this might be a Thai chilies or dried chili flakes, but no hot sauce!)
3. I must cook it within 20 minutes (which did not happen in this first one, haha!)
4. I must not have made this dish before, and I cannot practice this dish prior to filming.
5. The video will be left minimally edited so you can see the entire process. I will only speed up parts where nothing is happening, or trim off a second or two of silence here and there just to keep the pace going.
Let's see how I do with this first one!
*Extra Goodies for Patreon Members: In this episode's "Show After The Show" I share some other ways you can cook eggplant Thai style. Click here to find out more about becoming a Patreon member!
---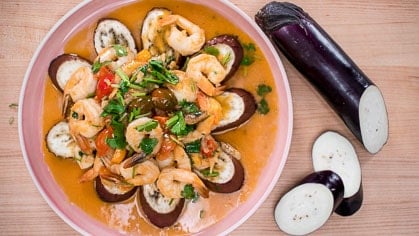 Roasted Eggplant with Garlicky Shrimp
An easy eggplant dish that will be done in just 20 minutes! Eggplants are roasted till tender, topped with a Thai garlicky shrimp stir fry. Delicious and gluten free!
Ingredients
1

Japanese eggplant

,

sliced ½ inch on a bias

A pinch of salt

8

cloves

garlic

1

Thai chili

,

optional

1 ½

tablespoon

Thai shrimp paste in oil

350

g

medium sized shrimp

2

teaspoon

fish sauce

½

teaspoon

sugar

1 ½

cups

cherry tomatoes

,

halved

8

sprigs cilantro

Jasmine rice for serving
Check Out Ingredients and Kitchen Tools I Use
Notes
Please keep in mind that this is part of a "live" ingredient challenge (see video) so I did not measure exactly how much of each ingredients are put in. So treat all amounts as an "estimate" and use the video as a visual guideline for how much was added!
All my recipes come with step-by-step video tutorials with extra tips not mentioned in the blog post, so make sure you watch the video to ensure success. If you enjoy them, consider subscribing to the YouTube Channel to not miss an episode. Thank you!
Subscribe to my YouTube Channel
Instructions
Preheat the oven to 400°F.

Line a baking sheet with parchment paper and drizzle with cooking oil. Place the eggplant slices on it and brush it tops of the eggplant with more cooking oil. Sprinkle with a couple of pinches of salt and roast for about 15 mins.

1 Japanese eggplant,

A pinch of salt

Crush garlic in a mortar and pestle just until they're broken into big chunks, or  you can smash and roughly chop them. 

Crush the chilies until broken and the seeds are released, but the chili is still in one piece. Alternatively, mince the chilies into small pieces. 

In a wok or a large saute pan, add just enough oil to coat the bottom. Add the garlic and chilies and heat slowly over low heat until the garlic starts to turn golden around the edges.

Add shrimp paste, shrimp, fish sauce and sugar. Turn the heat up to high and toss just until the shrimp are cooked.

1 ½ tablespoon Thai shrimp paste in oil,

350 g medium sized shrimp,

2 teaspoon fish sauce,

½ teaspoon sugar

Add halved cherry tomatoes and toss briefly. Turn off the heat and keep tossing for another 30 seconds, using the residual heat to soften the tomatoes.

Taste and adjust seasoning with more fish sauce or sugar as needed.

If the eggplant is not done at this point, let the sauce hang out in the pan for now. When the eggplant is done, place the eggplant in one layer on a large serving plate. Turn the heat back on the shrimp to reheat briefly, then add the chopped cilantro and toss to mix. Pour the shrimp and all the sauce over the eggplant. Serve with jasmine rice. Enjoy!

8 sprigs cilantro,

Jasmine rice for serving
Watch my videos AD-FREE and get bonus content on Patreon!
Tried this recipe? Share a pic!
Tag @hotthaikitchen on Instagram and Twitter!