---
Kanom Jeen is what I like to call the Thai spaghetti because in Thailand, we serve these tender rice noodles with various types of sauces, and you can even go to restaurants where they specialize in kanom jeen and you can choose from a spread of different sauces!
"Namya" is arguably the most popular of all kanom jeen sauces, and this version is from the south of Thailand, where I grew up. My family used to frequent this street-side restaurant that sells nothing but kanom jeen namya, and it was the most unglamorous of places (no walls, just old wooden tables under a roof), but going there is one of my favourite food memories of all time! They also made it mild enough that even as a little kid, I was able to enjoy it (or maybe I was eating the kid's version...I'm not really sure!).
This is not something you can easily find in Thai restaurants overseas, so definitely something you gotta make if you want to experience it! The key ingredient "grachai" is a bit hard to find, but you can buy it in brine in a glass jar at Asian grocery stores that carry a lot of Thai or Southeast Asian ingredients.
Watch The Full Video Tutorial!
All my recipes come with step-by-step video tutorials with extra tips not mentioned in the blog post, so make sure you watch the video below to ensure success - and if you enjoy the show, please consider subscribing to my YouTube channel. Thank you!
Print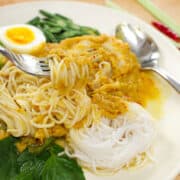 Rice Noodles with Fish Curry Sauce ขนมจีนนำ้ยา
---
200 g

dry rice vermicelli (see video for the specific type)
For poaching the fish:
100 g

white fish filet (any kind with a mild flavour)

1

 stalks lemongrass, bottom half only, smashed and cut into chunks

5

rounds galangal

1

root grachai or fingerroot, roughly chopped (see note)
Note: If you cannot find fresh grachai, look for ones in brine in a glass jar, available at Asian grocery stores that carry a lot of Southeast Asian products.
For the curry sauce
12

-

15

dried chilies or more to taste, soaked in hot water until softened, seeds optional

1

stalk lemongrass, bottom half only, sliced

5

rounds galangal

3 Tbsp

chopped grachai

5

cloves garlic

⅓ cup

chopped shallots

1

inch turmeric root, sliced, or

1 tsp

turmeric powder

1 tsp

fermented shrimp paste (gapi)

1 ½ cups

coconut milk

1

-

2

tablespoon palm sugar, finely chopped, packed

2

-

3

tablespoon fish sauce

1

-

2

tablespoon tamarind juice
For serving:
(The below are all optional, though I highly recommend the pickled mustard greens or another type of sour pickles such as sauerkraut)
Medium boiled eggs (boil for 7-8 minutes)

Fresh crunchy vegetables such as bean sprouts, long beans, bitter melon, cucumber, etc.

Pickled mustard greens (see note)

Thai basil or lemon basil
Note: You can get pickled mustard greens in clear plastic bags at Asian grocery stores (look for product of Thailand to make sure you have the right one). To use, remove it from the pickling liquid, rinse, then blanch in hot water for 10 seconds; drain and chop.
---
Instructions
Poach & pound the fish: Add about 1 inch of water to a medium pot along with the big chunks of lemongrass, 5 pieces of galangal, and the 1 root of grachai. Bring to a simmer then add the fish, letting it poach until fully cooked (you may need to flip the fish halfway through if the water doesn't cover the fish).
Turn off the heat and place the fish into the mortar (or a mixing bowl) and let cool slightly. Fish out the herbs from the poaching water and discard, saving the water.
Once the fish is no longer steaming hot, pound it until fluffy and fine, or without a mortar and pestle you can just mash it in a mixing bowl with a fork or a potato masher. Set aside.
Make the curry sauce: To a blender, add the soaked dried chilies, lemongrass, galangal, grachai, garlic, shallots, turmeric and shrimp paste; then add just enough of the coconut milk to blend. Blend until smooth and pour into the pot that still has the fish poaching water in it.
Add the remaining coconut milk to the pot, the pounded fish, 1 tablespoon of the palm sugar, and 2 tablespoon of the fish sauce. The sauce should look a little too thin right now as it will reduce a bit, so if it looks perfectly thick and luscious, add a little more water to thin it out. Simmer the sauce on LOW heat for 20 minutes, stirring occasionally.
Meanwhile, make the noodles: Bring a pot of water to a boil, add the noodles and cook till tender (mine takes 7 minutes, but this time will differ depending on your specific type of noodles). Drain the noodles and add them to a bowl of cold water. Using your fingers, grab a bunch of noodles with your thumb and middle finger, shaking them under water to release any tangles, then place them in a bundle on a paper-towel-lined plate. Set aside, covered in plastic wrap.
Once the sauce has simmered for 20 minutes, if it looks too thick, add more coconut milk or water. Taste and adjust seasoning with more fish sauce and/or sugar as needed (make it strong since you'll be pouring this over noodles). Then add the tamarind juice and taste; the tamarind should just bring brightness to the sauce without tasting distinctly sour. 
To serve: If you want, steam or microwave the noodles until hot (I find that if the sauce is simmering hot, room-temp noodles are fine), then pour the sauce over the top. Serve with your sides of choice. Enjoy!
---