---
Kao Yum, or Khao Yum, is a specialty of Southern Thai cuisine that has become popular in Bangkok in recent years because of the healthy, clean eating trend! This dish is similar to the Malay nasi kerabu, and in fact, many Southern Thai dishes have Malay roots.
In this video I also show you how to make natural blue food colouring! The rice is often dyed blue for Khao Yum, although you can most certainly use plain white rice, OR dye the rice a different colour such as yellow (turmeric or saffron) or pink (beets). The dressing, or what we call "nam budu" is the most important part: it's sweet, salty, umami and is key to the unique flavour of this salad. And yes, you can make the dressing in advance and keep it in your fridge for many weeks!
Choice of accompaniments around the rice are flexible, but there are some must-haves, so check the list below!
RELATED VIDEOS:
Pomelo Salad & How to Peel a Pomelo
Watch The Full Video Tutorial!
All my recipes come with step-by-step video tutorials with extra tips not mentioned in the blog post, so make sure you watch the video below to ensure success - and if you enjoy the show, please consider subscribing to my YouTube channel. Thank you!
---
Print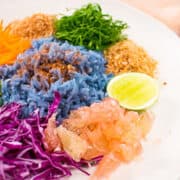 Rainbow Rice Salad - Kao Yum - ข้าวยำ
---
2 cups

of chopped red cabbage

2 ½ cups

water

1 ½ cups

uncooked jasmine rice

⅛

-

¼

teaspoon baking soda
Budu Dressing
3 Tbsp

chopped shallot

3

cloves garlic

3

inches lemongrass, bottom half only

3

slices ginger or galangal

¼

- 

½ 

cup water

¼ cup

fish sauce

1 tsp

shrimp paste

100 g

palm sugar, chopped

1

-

2

tablespoon tamarind concentrate/juice

2

kaffir lime leaves
Salad Components (amounts are estimates only, see note)
2

-

3

tablespoon dried shrimp, shredded and toasted (see instructions)

¾ cup

shredded coconut, toasted (see instructions)

2

stalks lemongrass, bottom half only, finely chopped

10

-

12

kaffir lime leaves, finely julienned

1

pomelo

 (o

r sub sour green mango or grapefruit)

2

limes

Chili flakes, to taste

A few fresh crunchy vegetables, julienned or finely chopped. Classic options are:

 Red/green cabbage, carrots, long beans, bean sprouts, wild betel leaves or another leafy green such as Chinese broccoli (what I used), and cucumber.
---
Instructions
Blue rice:
Heat cabbage and water until it comes to a simmer, then simmer for 5 minutes.

Drain the purple water into a clear or white container.

Add a tiny bit of baking soda (as in 1/16 of a teaspoon) and stir; you will notice it turning less reddish and more towards blue. Continue to add more baking soda, a tiny smidge at a time, until it turns completely blue. DO NOT ADD TOO MUCH or it will start to turn green, but if that happens you can bring it back by adding a little acid such as vinegar or lime juice.

To check colour, spoon some of the water onto a white plate, as I find this a more accurate way to check colour. When the water is in a large bowl, it tends to look more purple than it actually is.

Use this blue water to cook the rice as you normally would, for a lighter shade of blue, add some water to dilute the colour. Note: because the water contains sugars from the cabbage, the rice will tend to be browned at the bottom of the pot. To minimize this, make sure you cook the rice over low heat (if using stovetop) and remove the rice from heat as soon as it's done. 
Budu dressing:
In a blender, combine water, shallot, garlic, lemongrass and ginger or galangal. Blend until there are no more big chunks but it doesn't have to be smooth, adding more water to help it blend as needed.

Transfer into a small pot.

Add fish sauce, shrimp paste, palm sugar, tamarind, and torn kaffir lime leaves and simmer for about 5 minutes.

Remove the lime leaves, then taste and adjust flavour. It should be equally salty and sweet, with a little acidity to balance. It will be pungent and strong so taste only a little bit! The consistency of the dressing once cooled should be runny and easily pourable; if it's thick, add a little water to thin it out. 
The Rest:
Toasted dried shrimp: Grind dried shrimp in the coffee grinder or blender until fluffy. Transfer to a the saute pan and toast over medium heat, stirring constantly, until it is aromatic and darkened slightly. Remove from pan and let cool.
Toasted coconut:

Add coconut to a dry saute pan and cook over medium heat, stirring constantly, until it is DARK brown. Not golden brown, you want it deep, dark and toasty.

Veg Prep: 

Finely julienne or chop all the vegetables and herbs you're putting into the salad to make sure they distribute well. For pomelo, tear the segments into small pieces.

Assembly:

Place the blue rice in the center of a plate and arrange the other salad components around the rice, putting as much of each ingredient as you wish. Serve with the dressing, chili flakes and lime wedge on the side. 

To Eat: 

Each plate of the size shown in the video should get about 1 tablespoon of the dressing. If it's your first time, add just half a tablespoon of dressing and see how it goes. If half a tablespoon is already too strong, your dressing is too concentrated so you'll need to thin out the dressing with some water. Toss all the salad components with the dressing very well, take your time tossing, you don't want a bite full of just lemongrass! Add a squeeze of lime juice as needed.
---
Notes
Notes: Salad components are flexible to some degree, but the following are what I consider must-haves for a complete kao yum: toasted coconut, dried shrimp (or dried fish), lemongrass, pomelo or a tart fruit sub, a leafy green (very finely julienned), and 2 more of the vegetables listed above.