Pomelo is like a giant, sweet grapefruit. When you get a good pomelo..few things are more refreshing and invigorating to eat! It's also the perfect candidate for this beautiful, light salad, and I waited a long time to make this recipe cuz I wanted to make sure I am in Thailand where pomelos are the best in the world!
In this video I also show you how to peel a pomelo! It's a massive fruit so it is intimidating to many people, and tons of Thai people (including me) often buy pre-peeled ones just for convenience. But once you know the trick, it's really not hard—it just takes a bit of time!
Watch The Full Video Tutorial!
All my recipes come with step-by-step video tutorials with extra tips not mentioned in the blog post, so make sure you watch the video below to ensure success - and if you enjoy the show, please consider subscribing to my YouTube channel. Thank you!
Print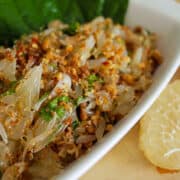 Pomelo Salad (Yum Som-O) ยำส้มโอ
---
Dressing
1 Tbsp

palm sugar (see note)

1½ Tbsp

lime juice (see note)

2 tsp

fish sauce

Thai chilies, to taste
The Salad
2 cups

Pomelo, torn into chunks (see how to peel a pomelo in the video)

3 Tbsp

shredded coconut, dark toasted

2 Tbsp

roasted peanuts, coarsely ground

2 Tbsp

dried shrimp, blitzed in a blender or coffee grinder until fluffy

3 Tbsp

shallots, thinly sliced

2

kaffir lime leaves, very finely julienned

2

inches lemongrass, bottom half only, very thinly sliced

¼ cup

mint leaves

¼ cup

cilantro leaves (optional)

Wild betel leaves for serving (optional)

Option: If you want to make the salad a bit more substantial, some people top the salad with some cooked shrimp as well.
Note:  The measurements I provided is for a pomelo that is relatively sweet and not very tart. You will need to adjust the dressing measurements according to the sweetness/tartness of the pomelo. If the pomelo is quite tart, use more sugar and less lime juice. 
---
Instructions
In a mortar and pestle, grind the chilies into a paste, then add palm sugar and pound until dissolved. Add fish sauce and lime juice and swirl to mix.
Pour the dressing into a mixing bowl, then add all other ingredients and toss to combine. That's it! You can serve it as is or serve some wild betel leaves (chaploo leaves) along side it which you can use to make little bit-sized wrap of the salad.
---
Tip: Peeled pomelo segments will keep in the fridge for at least a week or 2, so after I peel the whole thing, I just stick them in a well sealed container in the fridge, et voila, ready-to-eat delicious pomelo in the fridge for days! And pomelo is so much better cold, too!