---
This dish is an absolute classic southern Thai food. Ground pork, or any other ground meat, or even crumbled tofu, is stir-fried with southern curry paste laced with turmeric. It's spicy, it's super flavourful, and it's versatile! We toss it with some jasmine rice, but you can put it in an omelette or perhaps...a taco? Oh and it's also gluten-free and can be made vegan if you substitute crumbled firm tofu or TVP (detailed vegan substitutions below).
In Thailand, this dish is often way too spicy for me to enjoy (southern food is often super spicy), so I gotta make it myself so I can make it just right for me!
Once you've made a curry paste (which you can make in advance and then freeze), the recipe comes together in mere minutes and it keeps well for your lunch the next day. This is not a dish many Thai restaurants offer because it's more of a regional dish, so if you want to try it you gotta make it yourself!
Watch The Full Video Tutorial!
All my recipes come with step-by-step video tutorials with extra tips not mentioned in the blog post, so make sure you watch the video below to ensure success - and if you enjoy the show, please consider subscribing to my YouTube channel. Thank you!
---
Print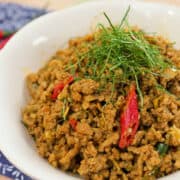 Kua Gling - Southern Pork Stir-Fry w/ Curry Paste คั่วกลิ้ง
---
Kua Gling Curry Paste
8

-

10

g dried chilies, seeds removed (I use arbol chilies because it's medium-spicy. Use Thai dried chilies for super spicy, and guajillo chilies for mild.)

1 tsp

black peppercorns

1

stalk lemongrass (bottom half only), divided into

2

equal portions

3 Tbsp

chopped galangal

2

-inch pc fresh turmeric or

1 ½ tsp

powdered turmeric

2 tsp

chopped kaffir lime zest (optional)

½ tsp

salt

⅓ cup

shallots, chopped

5

cloves garlic

2 tsp

fermented shrimp paste (gapi)
Kua Gling
1

lb (450 g) ground pork or other ground meats (see note)

¼

-

⅓

cup water or unsalted chicken stock

1

-

2

teaspoon fish sauce (this depends on the saltiness of your shrimp paste, so taste first before you add fish sauce)

2 tsp

sugar

6

-

7

kaffir lime leaves, finely julienned

Fresh red chilies, cut into big pieces (optional)

For serving: Jasmine rice, fresh crunchy veggies such as cucumber to help cool you down, and I also love serving pork crackling with this dish for extra texture!
Note: To make this vegan, use miso paste instead of shrimp paste, soy sauce instead of fish sauce, and use crumbled firm tofu or TVP instead of meat.
---
Instructions
For the curry paste:
Grind dried chilies and black pepper in a coffee grinder until fine. In a mortar and pestle (or use an immersion blender like this one) pound galangal, turmeric, kaffir lime zest (if using), half of the lemongrass, and the salt into a rough paste.
Add the ground chilies and black pepper and pound to help absorb some liquid from the herbs.
Add shallots and garlic and pound into a paste (doesn't need to be super fine, as long as there are no big chunks).
Add shrimp paste and pound to mix. You can now freeze this paste for future use if desired.
For the stir-fry:
In a wok, add just enough cooking oil to coat the bottom, then add the curry paste and saute it for a few minutes over medium heat, until the chili fumes fill your house! If the paste sticks, add water or stock as needed to deglaze.
Add the pork, or whatever protein you're using, and turn the heat up to medium high. Toss the pork well with the curry paste until there are no more big lumps. Add the sugar and keep tossing until fully cooked. If there is any liquid pooling at this point, crank the heat to high and keep cooking until there is no more liquid pooling.
If this is your first time making it, taste it at this point and see if how much fish sauce it needs, if at all. This will depend on various factors including the saltiness of your shrimp paste. Once it is properly seasoned, add lime leaves, the other half of the lemongrass and chilies and toss to mix and it's done!
Serve with jasmine rice, and if you wish, some crunchy fresh vegetables to help cool you down from the heat. Pork crackling also goes really well with this dish.
---