---
An egg salad like you've never seen before! This omelette salad or "laab kai jiew" is something we made at home one day because we didn't have any meat ready, but eggs are always something we have in the fridge, so we tried something different and it turned out to be delicious! Laab is a salad from northeastern Thailand normally made of ground meat, but Thai omelette works really well instead of meat and it's very unique too! I lightened the salad a bit with some crunchy cucumber, and loaded it full of fresh herbs. Yummy, healthy, gluten-free and so easy!
For more on the "premium" fish sauce I used: WATCH THE FISH SAUCE 101 VIDEO
Watch The Full Video Tutorial!
All my recipes come with step-by-step video tutorials with extra tips not mentioned in the blog post, so make sure you watch the video below to ensure success - and if you enjoy the show, please consider subscribing to my YouTube channel. Thank you!
---
Print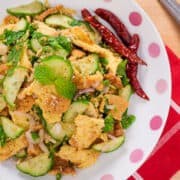 Spicy Omelette Salad ลาบไข่เจียว
Author:

Pailin Chongchitnant

Prep Time:

15 mins

Cook Time:

10 mins

Total Time:

25 minutes

Yield:

2 servings
---
3

large eggs

1 tsp

oyster sauce or fish sauce

½ cup

mint

1

small head shallot, thinly sliced

6

-

7

sprigs cilantro

1

green onion

¾ cup

sliced cucumber

2

-

3

inches lemongrass, thinly sliced
Roasted chili flakes, or regular chili flakes, to taste (see recipe below)

2 Tbsp

toasted rice powder (recipe follows)

2 tsp

fish sauce

1 ½ Tbsp

lime juice
Toasted Rice Powder
2 Tbsp

uncooked sticky or jasmine rice

2

kaffir lime leaves (optional)
Roasted Chili Flakes
Thai dried chilies, as much as you want to make (or any other kinds of spicy dried chilies you have)

2

kaffir lime leaves (optional)
---
Instructions
For the toasted rice powder:
Simply toast the rice and kaffir lime leaves in a dry saute pan over medium high heat, stirring constantly, until the rice is a deep golden brown and the lime leaves are crisp. Transfer to a mortar and pestle or a spice grinder and grind into a powder.
For the roasted chili flakes:
Preheat the oven to 300°F (150°C) and bake the chilies and lime leaves for 5-7 minutes until they are crisp, darkened, and have a smoky aroma.
Cool completely and blitz in a spice grinder until fine, or if you want coarser flakes, pound in a mortar and pestle. Be careful not to inhale chili dust as you grind—let the chilies settle in the grinder before opening, and if using a mortar and pestle, don't put your face directly on top of wear a face mask.
You can keep chili flakes it in an airtight container at room temp in the short term (a few weeks), but store in the fridge or freezer for long term storage to prevent mold.
For the omelette:
Beat the eggs with the 1 teaspoon of oyster sauce or fish sauce with a fork until there are no more egg whites visible.
Using a wok or a  non-stick frying pan (8-10 inch) add enough oil to generously coat the bottom and heat over medium heat until hot. Test the oil temp by dropping in a little bit of egg and it should puff up instantly once it hits the oil. Pour the egg mixture in, and just as the edges begin to firm up, quickly push the edges inward to allow the liquid eggs on top to run underneath the first layer (see video for how I do this). This will help the omelette cook more quickly and evenly.
Let the eggs cook over medium heat until the bottom is golden brown and the top is set enough to flip. Then flip the omelette and cook the other side briefly just until the eggs are done, 30 seconds or so.
Using a slotted spatula, transfer the omelette onto a plate. Use a paper towel and dab excess oil off the omelette gently and set aside while you prep the salad.
For the Salad:
Cut or tear the omelette into bite-sized pieces.
In a large mixing bowl, combine all ingredients except the fish sauce and lime juice, and toss to mix well. Drizzle the lime juice over the salad and quickly toss to mix, then drizzle the fish sauce and toss well. Note: It's important to "drizzle" the fish sauce and lime juice over the bowl rather than just dumping it into one spot because the omelette acts like a sponge and will quickly absorb the dressing. This is also why you wanna toss right after you drizzle so you can distribute the dressing before it soaks into the omelette.
Serve with some jasmine rice and enjoy!
---