Watch The Full Video Tutorial!
All my recipes come with step-by-step video tutorials with extra tips not mentioned in the blog post, so make sure you watch the video below to ensure success - and if you enjoy the show, please consider subscribing to my YouTube channel. Thank you!
The classic Laab salad turned into munchy meatballs!
Print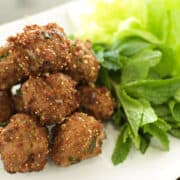 Crispy Laab Meatballs ลาบทอด (Laab Tod)
---
3 Tbsp

Thai sticky rice or jasmine rice, uncooked

2

kaffir lime leaves, torn into chunks, stem removed

1

lb ground pork (preferably not lean)

3 Tbsp

all-purpose flour 

1 Tbsp

minced galangal

3 Tbsp

minced lemongrass

¼

 cup chopped cilantro (with stems)

¼ cup

chopped sawtooth coriander (or use more cilantro)

¼ cup

small diced shallots

½ tsp

Chili flakes, to taste

2 Tbsp

fish sauce

3 Tbsp

lime juice
Canola oil for frying

Mint and butter lettuce for serving
---
Instructions
In a dry pan, toast sticky rice and kaffir lime leaves over medium high heat, stirring constantly, until the rice is a deep golden brown and the lime leaves are crisp. Let cool slightly and grind both the rice and the lime leaves in a mortar and pestle until fine.
Combine pork, flour, toasted rice powder, shallots, lemongrass, galangal, cilantro, sawtooth coriander, lime juice, fish sauce and chili flakes; mix well. If you want to taste the mix for seasoning, you can cook up a small amount in the microwave or on a frying pan.
Form loosely into 1.5-inch balls and fry in 350°F oil until browned.
Serve on its own or make a wrap with a piece of lettuce and mint. Enjoy!
---