"Miang" is our word for any kind of bite-sized wrap, usually wrapped in some type of leaf. เมี่ยงปลาทู "Miang Pla Too" or mackerel lettuce wrap, is one of the easiest ones to make, and also my absolute favourite! I had forgotten about this dish until my friend brought it to our New Year's Eve party last time I was back in Thailand, and it reminded me of just how fantastic it is! So, I had to share it wth you!
It's light, fresh, full of herbs, and perfect for the summer. If you don't like mackerel you can use other kinds of fish for the wrap—in Thailand we use other types of grilled white fish for miang as well.
Watch The Full Video Tutorial!
Print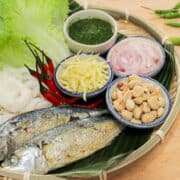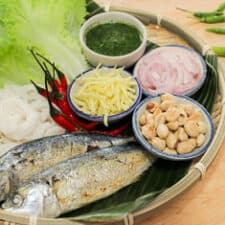 Mackerel Lettuce Wrap เมี่ยงปลาทู
---
3

 Thai short mackerel (see note) or

2

regular mackerel filets, thawed if frozen

½

head green leaf lettuce

90 g

rice vermicelli, small size, or somen noodles

1

-

2

heads shallot, thinly sliced

2

-inch knob ginger, peeled and thinly julienned

¼ cup

roasted peanuts
Note: You can look for short mackerel at Asian grocery stores, in the frozen section. They will come already steamed. Short mackerel is very lean and is much "fishier" than regular mackerel, so if you're serving non-adventurous eaters, regular mackerel might be a better choice.
Sauce
4

cloves garlic

2

-

5

green Thai chilies (see note)

1

-

1½

cup cilantro, roughly chopped

2 Tbsp

fish sauce

1 Tbsp

palm sugar, finely chopped, packed (see note)

3 Tbsp

lime juice
Note: If serving people with different spiciness tolerance, I would make the sauce with less chilies, and serve chopped chilies along with the wrap so people can add chilies to their own preference. 
To help the palm sugar dissolve more easily, I drizzle a little bit of hot water (2 tsp) on the sugar and let it sit while I prepare other ingredients. Right before I use it, I use a spoon to mash any big lumps. This is optional, if you don't want to do this you can just make sure the sugar is chopped very finely.
---
Instructions
For the noodles: Bring a pot of water to a boil, add the noodles and boil until tender (not al dente!), about 9 minutes for the small rice noodles, and 2 minutes if using somen noodles (no need to salt the water). Once done, transfer noodles into a bowl of cold water to cool them down and rinse off the starch. Pull a small amount of noodles from the water with your fingers, dab off excess water with paper towel, then arrange the noodles on a plate in small bundles (see video for technique).
For the sauce: Put all sauce ingredients into a blender and blend until smooth. The sauce will be quite loose, but if it looks too runny, you can add a bit more cilantro and an extra clove of garlic to thicken it up.
For the fish:  If using regular mackerel filet, pan-sear over medium heat in a little bit of oil for about 1.5 minutes per side until fully cooked. Once it has cooled slightly, remove pin bones that run through the middle of the filet either with a pair of tweezers or your fingers.
If using short mackerel, they will already be steamed, so just pan sear each side for about 1-2 minutes to heat them up and to get a nice golden colour. In the video I serve the fish whole as is traditional, but if serving guests or children, I would debone the fish and break the meat up into bite-sized chunks before serving, making sure you remove all the little bones (there are lots in pla too).
Assembly: Serve all ingredients on a nice platter, and each diner can make their own little bite-sized wrap as they eat!
---