---
A ridiculously simple ice cream recipe that is also ridiculously delicious! This mango ice cream is done in a blitz (literally!) using only a blender and 3-4 simple ingredients. Trust me, you'll be amazed, as I was, at how good this ice cream is given how easy and quick it is to make. Now every time good sweet mango goes on sale I buy a whole bunch and freeze them just for this occasion!
Important Tip for Success:
Mango makes up a very large proportion of this recipe so it's really important that you use good, flavourful, ripe mango for this. The quality of your ice cream depends largely on the quality of your mango! If your mango isn't very sweet, you may need to bump up the honey a bit. If it's sour, you may not need the lime. Because we're dealing with fresh ingredients, you'll need to taste and adjust according to what Mother Nature gives you!
The Key to Creaminess:
It's important to use Greek yogurt for this because regular yogurt has a LOT of water content, and that water will make for less creamy ice cream AND ice cream that freezes harder and will be difficult to scoop. Greek yogurt is rich and creamy, which in turn makes rich and creamy ice cream that is also softer to scoop.
Watch The Full Video Tutorial!
All my recipes come with step-by-step video tutorials with extra tips not mentioned in the blog post, so make sure you watch the video below to ensure success - and if you enjoy the show, please consider subscribing to my YouTube channel. Thank you!
Print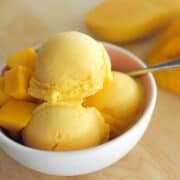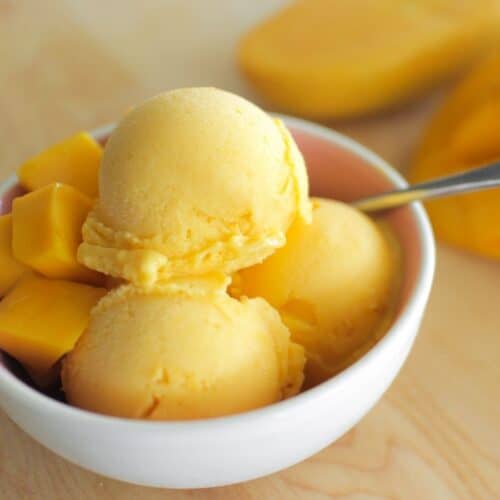 Mango Ice Cream in a Blender! ไอศรีมมะม่วง ง่ายสุดๆ
---
300 g

sweet, ripe mango, cut into small cubes and freeze until completely frozen. (see note)

¼ cup

(60 mL) honey (may need more if your mango isn't very sweet)

½ cup

(120 mL) Greek yogurt, plain, full-fat (about

10

% fat) (if you can't find Greek yogurt, see note below on how to make your own)

1

-

3

teaspoon lime juice (amount depends on how tart your mango is, and you may not need any at all if the mango is sour)
---
Instructions
Place a metal cake pan that you will use for storing the ice cream into the freezer before you start prepping. I suggest using a metal cake pan because it will help the ice cream firm up faster.  Faster freezing means less icy and more creamy ice cream.

Put the greek yogurt into the blender first, followed by the lime juice (if using) and honey. Tip: Try to place the honey into the middle of the blender jug without getting it on the sides, because the part that sticks to the sides may not blend in.  
Add frozen mango cubes and blend on highest speed (I use the pulse function). It will likely be stuck in the beginning, so you have to keep pushing the mixture down to the blade, using either the blender tamper or a wooden spoon. After a little pushing in the beginning, the mixture will eventually blend smoothly without getting stuck, and as soon as the mixture looks smooth, it is done. Do not over blend, you don't want to melt the mixture any more than necessary.
You can either serve it right out of the blender as a soft-serve style ice cream, or place it into the metal cake pan and freeze for at least 1 hour.
To serve: If you've let it freeze for several hours, it may be a little hard to scoop so you will just need to let it sit at room temp for 5 minutes to soften slightly to make scooping easier.
For long term storage, cover the container with plastic wrap and then another layer of aluminum foil
---
Notes
When freezing mango, freeze on a plate or tray lined with parchment paper or plastic wrap (so the mango won't stick to the tray) and spread the mango cubes out so they are not touching each other (so they won't stick to each other). If your tray isn't big enough, you can stack the mango in layers, with plastic wrap or parchment paper in between each layer.

To make your own Greek yogurt from regular, plain, full-fat yogurt: Line a mesh sieve with two layers of cheesecloth or coffee filter, and place it over a bowl. Place at least 1 cup of yogurt in the sieve and let it sit in the fridge for 2 hour, and you will notice a lot of watery liquid (the whey) will be strained out and your yogurt will now be very thick and creamy.