---
This popular Hong Kong style dim sum dessert is incredibly easy to make at home! Fruity, soft, luscious mango pudding, topped with fresh cream and studded with fresh mango pieces. It's sweet, tart, and creamy all at once. Use a ripe, juicy mango for maximum flavour. It's a great dessert to make in advance, not to mention it's a great gluten free option. If you don't eat dairy, you can also make this recipe using coconut milk.
Serve these in cute little containers, or put it in a fun mold and unmold for serving!
Watch The Full Video Tutorial!
All my recipes come with step-by-step video tutorials with extra tips not mentioned in the blog post, so make sure you watch the video below to ensure success - and if you enjoy the show, please consider subscribing to my YouTube channel. Thank you!
Print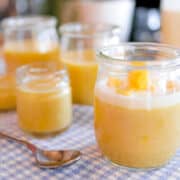 Mango Pudding (Hong Kong Style)
---
300g

mango flesh for puree, plus 1 extra mango for garnish (see note)

¼ cup

cold water

⅓

cup hot off-the-boil water

2

-

4

tablespoon honey (depending on mango sweetness)

2 tsp

gelatin powder (I use Knox brand), for a firmer pudding that can be easily unmolded, use

½ tsp

more)
Lime or lemon juice, as needed (depending on the mango)

⅓

 

cup whipping cream or coconut milk, plus extra for serving
Optional garnish: mint leaves
Note: You can use frozen mango for this as long as it's RIPE and sweet. I find Asian brands (from Thailand or the Philippines) tend to have better quality frozen mangoes, the Western brands often use more fibrous varieties and have pieces that are not ripe mixed in. If this is the only kind you can find, that's fine, just pick out any pieces that look underripe.
---
Instructions
Sprinkle gelatin onto ¼ cup cold water and let it sit for about 10 minutes until the water has been absorbed.
Meanwhile blend mango and 2 tablespoon of honey until smooth (you can strain it if you want to ensure smoothness) and transfer to a small pot. Add the cream and cook over medium heat, stirring constantly, until it is steaming. Once steaming, turn off the heat.
Pour hot off-the-boil water into the bloomed gelatin and stir to completely dissolve; pour this into the mango mixture and stir to mix well.
Taste the mixture and add more honey and/or lemon juice as needed.
Stir in mango dice, pour into molds. Refrigerate at least 3 hours or until the pudding is cold and set, if you want to unmold it, wait 8 hours if possible to ensure maximum firmness.
To serve pour some cream over the pudding, garnish with more mango cubes and mint leaves, enjoy!
---