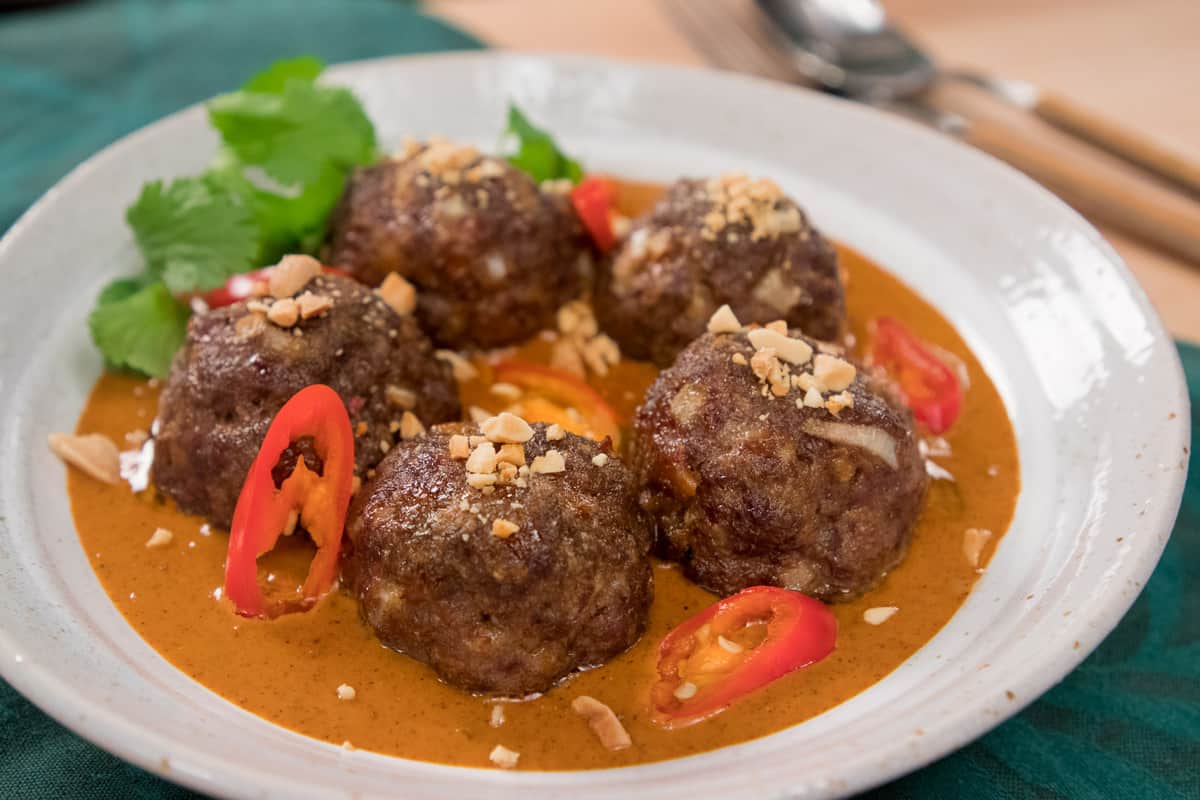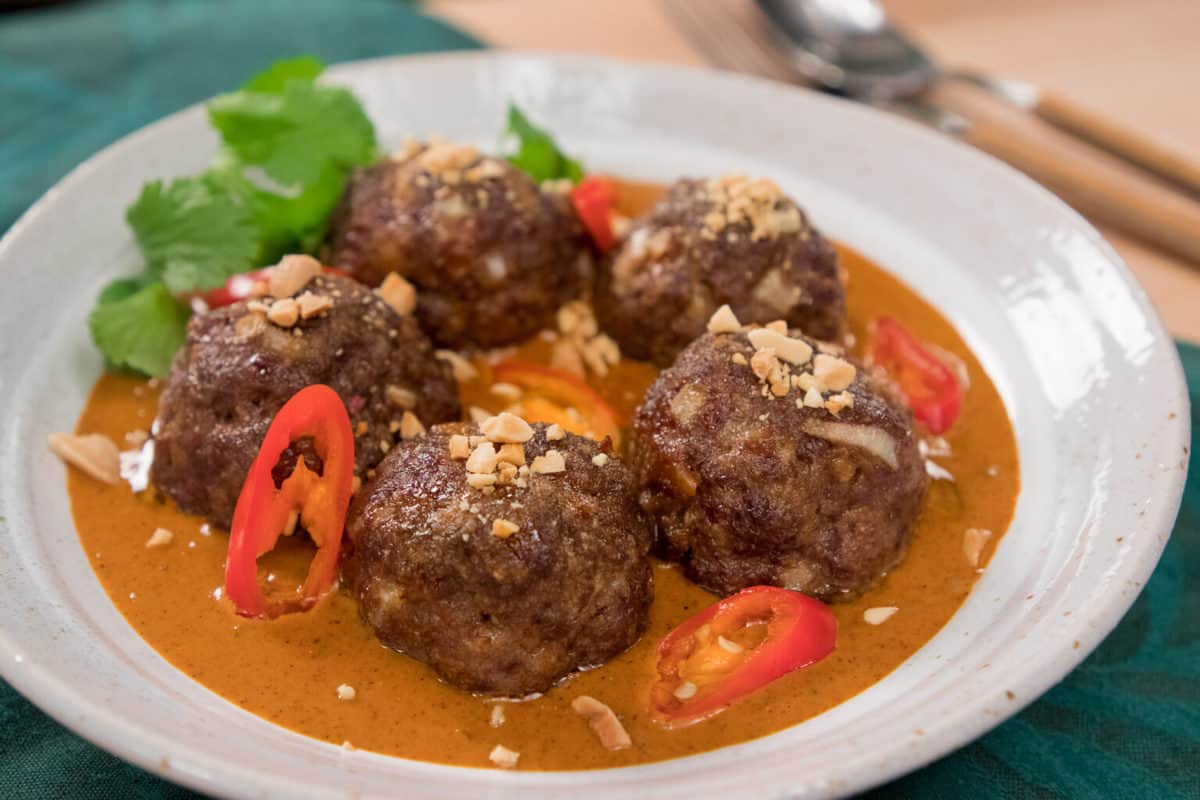 This post is sponsored by Canada Beef. Click here for tons of delicious beef recipes!
I have never met meatballs I didn't like, but THESE are pretty darn amazing because they combine my love for meatballs with my love for massaman curry. It's perfect.
All the warm spices in massaman curry go incredibly well with beef. The curry paste gets added into the meatballs themselves, so even without the sauce, they are extra. But the creamy coconut curry sauce with peanuts make them perfect served over rice or even mashed potatoes! In fact, I prefer to serve them with a potato side dish of some sort to reflect traditional massaman curry which always has potatoes in it.
The Quick-Fix Massaman Curry Paste
You can find premade massaman curry paste at some Asian grocery stores, but in general it tends to be hard to find. The good news is, you can easily turn red curry paste, which is available at most stores, into massaman curry paste with just a few addition of dry spices! I've provided the recipe for this quick-fix "semi-homemade" massaman curry paste below.
Do-Ahead Tips:
You can mix the meatballs the day before and just bake them on the day, or bake them a day ahead and just reheat. The sauce can be made in advance and will keep well in the fridge for up to a week! Meatballs can also be frozen and reheated in the oven, too.
Print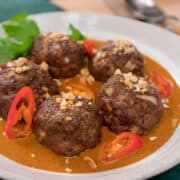 ---
Meatballs
¾ cup

coconut milk, divided

1

recipe semi-homemade massaman curry paste (recipe below) or

50g

store-bought massaman curry paste

1

lb (450g) lean ground beef

1 cup

minced onion, about

half a

large onion

½ cup

dry bread crumbs

1

egg, beaten

2 Tbsp

light brown sugar, packed

1 ½ Tbsp

fish sauce

2 Tbsp

cooking tamarind or

1 Tbsp

Worcestershire sauce or a squeeze of lime (see note)

Diced red bell pepper for garnish (optional)

For serving: jasmine rice or mashed/roast potato
Sauce
1 cup

coconut milk

2 tsp

palm sugar or light brown sugar, packed

2 tsp

cooking tamarind (see note)

1

-

3

teaspoon fish sauce, as needed (see note)

¼ cups

roasted peanuts, unsalted, roughly chopped
Semi-Homemade massaman curry paste
Simply mix together the following:
50g

Thai red curry paste

1 tsp

ground coriander

1 tsp

ground cumin

1 tsp

ground cinnamon

¼ tsp

ground cloves

⅛ tsp

ground nutmeg

¼ teaspoon ground cardamom



Notes: 
You can buy cooking tamarind at Asian grocery stores; they are labeled "tamarind paste" or "tamarind concentrate". Look for tamarind from Thailand or Vietnam; do not use tamarind from India as it's a lot more concentrated. 

Amount of fish sauce needed depends on how salty the curry paste is, so it's important to taste and adjust.

 
---
Instructions
For the meatballs:
Preheat the oven to 450°F. 

In a medium saute pan, bring ½ cup coconut milk to a boil over medium high heat. Add curry paste and stir to mix, then keep cooking and stirring until it's very thick and pasty. Remove half of this mixture and set it aside—this will be used for the sauce. 

With the other half of curry paste in the pan, add onion and cook for a few minutes over medium heat until the onions are translucent. Remove from heat and let cool slightly. (No need to wash the pan as you'll use it to make the sauce.)

In a large mixing bowl, add beef, bread crumbs, egg, ¼ cup coconut milk, brown sugar, fish sauce, tamarind, and the curry paste and onion mixture; knead just until well combined. 

Line a baking sheet with parchment or greased aluminum foil.

Form meatballs using ¼ cup of the meat mixture per meatball, and place them on the baking sheet.

Bake for 25-30 minutes, rotating the pan halfway through for even browning. 

While the meatball bakes, make the sauce.
For the sauce:
Put the curry paste you have saved back in the pan and add 1 cup of coconut milk, light brown sugar and tamarind. Mix well and bring to a boil, and simmer for about 2 minutes. 

Stir in the peanuts. Taste and add fish sauce to adjust saltiness as needed.
Assembly:
Pour the sauce into a serving dish and place cooked meatballs on the sauce. 

Garnish with red bell peppers and serve with rice or potato side dish.
---