---
Another treat for my vegetarian fans that I promise will satisfy my meat eaters as well! I was determined to develop a great recipe of our famous tom yum soup for my vegetarian fans, and after trying out several things, I am proud to announce that this version was so good even I was surprised! Mixed mushrooms are the trustworthy meat substitute Thai people turn to when making a vegetarian dish, and there are so many types to choose from so take your pick! (But don't pick the button mushroom!) Light but bursting with flavour, and the citrusy tartness is balanced by subtle natural sweetness. This easy soup will please even the most carnivorous among us 🙂
Watch The Full Video Tutorial!
All my recipes come with step-by-step video tutorials with extra tips not mentioned in the blog post, so make sure you watch the video below to ensure success - and if you enjoy the show, please consider subscribing to my YouTube channel. Thank you!
Print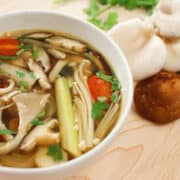 Mushroom Tom Yum (vegetarian) ต้มยำเห็ด
---
Vegetable Stock:
6 cups

water

½

Onion, large dice

4

-inch section daikon radish, large chunks

4

cloves garlic, smashed

3

cilantro roots, smashed

¼ tsp

white peppercorns, cracked
Mushroom Tom Yum:
2

heads shallots, quatered

Dried chili powder or flakes, to taste

1 Tbsp

vegetable oil

3 cups

vegetable stock

2

stalks lemongrass, bottom half only, smashed and cut into chunks

8

rounds galangal

6

Kaffir lime leaves, roughly torn

4 cups

(about 200 g) Asian mushroom mix of your choice, bite-sized pieces (see note)

3 Tbsp

soy sauce 

3Tbsp

lime juice

¼ tsp

salt

1 tsp

sugar
Note: Good Asian mushroom choices: straw (this one is a classic in Thailand but hard to find here), oyster, enoki, shimeji, shiitake. You can also use non-Asian mushrooms, of course, EXCEPT button or crimini mushrooms. 
---
Instructions
For veg stock: Add 6 cups of water into a stock pot and add all ingredients into the pot. Simmer for 1 hour, then remove all the vegetables with a mesh skimmer, then measure out 3 cups of stock. If you have less than 3 cups, add more water to makeup the shortfall. If you have too much, let it reduce a bit longer till you have close to 3 cups.
For the soup: 
Peel and cut shallots into quarters, place on a baking sheet, cut side up, and broil on high for a few minutes until the edges are charred. Set aside. 
In a medium pot, add oil and chilies flakes and saute over medium heat until the oil has taken on a red colour and you can start to smell smokiness from the chilies.  Add the vegetable stock and bring to a boil. Add the shallots, lemongrass, galangal, and kaffir lime leaves and simmer for 3-5 minutes. Note: the lemongrass, galangal, and kaffir lime leaves are for infusion purposes only; they are not meant to be eaten. You can either remove them after this step, or inform your guests not to eat them. If you plan to remove them you may want to put them in a cheesecloth bag for easy removal. 
Add the mushrooms, soy sauce, and sugar, and bring the soup back to a boil. Simmer for 1 minute or until the mushrooms are cooked through.
Stir in tomatoes and turn off the heat, letting the tomatoes cook slightly just with the residual heat of the soup. Add lime juice, then taste and adjust seasoning as needed.
Serve on its own or with rice as part of a bigger Thai meal. Enjoy!
---