---
You like mussels? How about Thai mussels! Personally, this is my favourite way to cook mussels. The citrusy aroma of Thai herbs go so well with mussels, and that broth....that spicy, tart, flavourful broth...I love dipping bread in it or just sipping it like soup! If you like mussels, this dish is a MUST TRY!
Watch The Full Video Tutorial!
All my recipes come with step-by-step video tutorials with extra tips not mentioned in the blog post, so make sure you watch the video below to ensure success - and if you enjoy the show, please consider subscribing to my YouTube channel. Thank you!
Print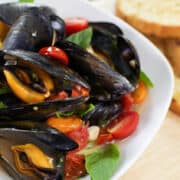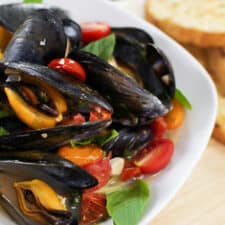 Steamed Mussels with Thai Herbs
---
1

lb live mussels

1 Tbsp

vegetable oil

3

cloves garlic, chopped

¼

red onion, small diced

1 cup

chicken stock or pork stock

1

stalk lemongrass, thinly sliced on a bias

5

kaffir lime leaves, torn into chunks, center rib removed

6

-

7

slices galangal

4

Thai chilies, crushed

1½ cup

cherry tomatoes, halved (I prefer a mix of orange and red ones for extra colour) 

1 Tbsp

fish sauce

1 cup

Thai basil

½ cup

cilantro, chopped

1 Tbsp

lime juice
For serving: grilled or toasted bread for dipping
---
Instructions
Prepare mussels: Rinse mussels twice in cold water. If there are open ones, give them a tap and if they don't close, discard them (mussels close slowly, so be patient with them!). If the shells have barnacles and seaweeds growing on them, as is the case for wild mussels, give them a scrub. To debeard mussels: Some mussels already come debearded, some aren't. The beard is the tough, stringy stuff that usually sticks out between the shells, and it's what the mussels use to attach themselves to rocks or other structures. This beard is tough and not pleasant to eat so you want to remove it by grabbing on the the beard with a thin rag or a paper towel and pull it firmly towards the hinge of the shells until it detaches.
In a pot large enough to hold the mussels, sauté garlic and onion in the vegetable oil until the garlic starts to turn golden. Add the stock, lemongrass, galangal, kaffir lime leaves, Thai chilies, 1 cup of the tomatoes, and fish sauce; bring to a boil. Add the mussels, cover the pot, and cook for about 2 minutes until the mussels are open (it will take longer if you're cooking a lot of mussels). I find it helpful to stir the mussels half way through to help distribute the heat, especially if you're cooking a large pot of mussels.
Once the mussels are open, turn off the heat and stir in Thai basil, cilantro and the remaining ½ cup of cherry tomatoes. Close the lid for 20-30 seconds to let the residual heat warm up the fresh tomatoes and distribute the aroma of the basil and cilantro.
You can serve it as is or add the lime juice for some added fresh tartness. Give the broth a taste and adjust seasoning as needed.
---