For many people, massaman is their favourite of all Thai curries because of the tender braised meats and aromatic spices. It's so popular that CNNGo once voted it to be "the most delicious food in the world!" This chicken massaman curry recipe is one that I've been making since I was a teenager in Thailand, and I promise it'll beat anything you get at a Thai restaurant!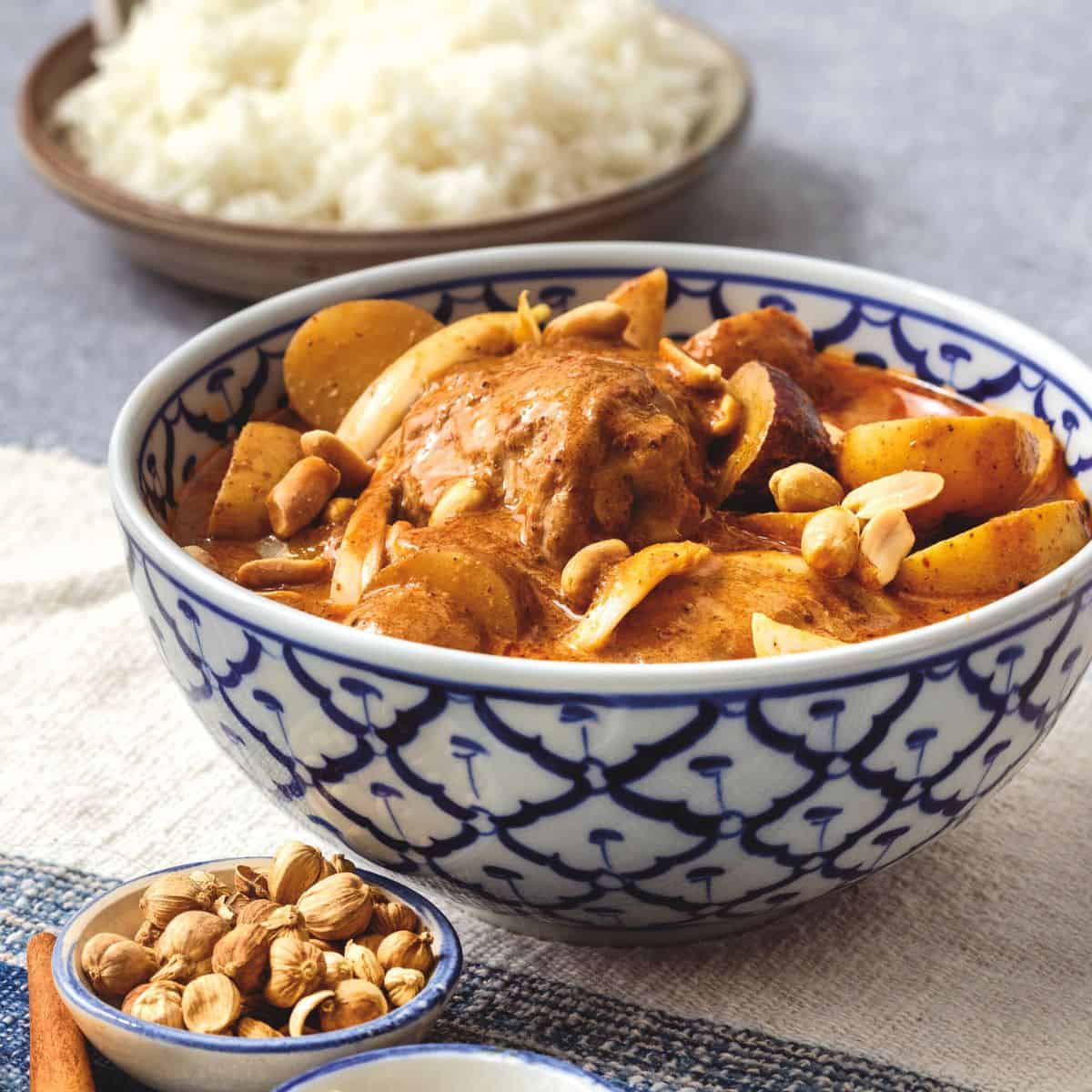 ​What is Massaman Curry?
In the context of Thai cuisine, massaman curry is unique in that it is thicker and richer than others like green curry or red curry. It also uses a lot of warm spices, making its flavour more reminiscent of Indian curries. It's believed to have come to Thailand via southern Thailand via the Malay people who are Muslims, which is why in Thailand massaman curry is considered a Muslim-Thai food.
Because of that, you will find massaman curries in Thailand made with chicken, beef, or even goat, but never pork. This is despite pork being the most popular meat in Thailand!
Massaman is typically a mild curry, so it is also one that's perfect for kids or those with low spice tolerance. For another mild Thai curry, try this Thai yellow curry recipe.
Watch The Full Video Tutorial!
Just an FYI that the recipe has been updated after the release of this video (which is very old!), so some of the steps and amounts in the recipe card may differ slightly. But it is still good to watch to get the idea of the process!
Ingredients
Here are all the ingredients you'll need to make this recipe. For amounts, check out the full recipe card below.
Bone-in, skin-on chicken thighs and/or drumsticks. If you want to substitute beef, check out this luxurious massaman beef recipe here that uses short ribs, or this Instant Pot massaman curry which uses chuck. Pork is not typically used for massaman curry because it is a dish of Muslim origin.
Coconut milk. See my post here on how to choose the best coconut milk.
Massaman curry paste. Store-bought curry paste is perfectly fine to use, Mae Ploy and Maesri both make massaman curry paste. However, because it's not considered a "basic" curry like red, green or even yellow curry, so many stores will not carry it, especially if it's not an Asian grocery store. Fortunately, you can make a semi-homemade massaman paste by adding some spices to store bought red curry paste. If you like to DIY you can also make homemade massaman curry paste from scratch.
Palm sugar, or substitute light brown sugar or granulated sugar
Fish sauce, see my post for how to choose the best fish sauce
Tamarind paste, you can use pre-made tamarind paste (also labeled as tamarind concentrate) or make you own from pulp. Be sure to use tamarind from Thailand and not India to ensure it is the right product. If you're unfamiliar, read more about what tamarind is and how we use it in Thai cooking. If you can't find it, a touch of Worcestershire sauce or lime juice is fine.
Potato, a starchy potato such as russet is fine but they overcook easily so you have to be careful. A waxier potato such as Yukon Gold or new potatoes will be a little more forgiving so it's generally my preference. You can also use yellow sweet potatoes (but not the orange ones as they are too soft and watery).
Yellow onion, cut into 1 cm strips.
Roasted whole peanuts
Jasmine rice for serving. But feel free to serve it with brown rice as well!
How to Make Massaman Curry มัสมั่นไก่
Here's a bird's eye view of this recipe, when you're ready to make, please see the full recipe card below!
Before you cook: Like all stews, this dish is better the next day after the flavors have had time to mingle. So if you can, make it a day in advanced!
In a heavy bottom pot, reduce ½ cup of the coconut milk until it "breaks," i.e. the coconut oil starts to separate. If the coconut has been reduced until very thick and this doesn't happen, that's fine, go ahead and proceed. (Some coconut milk has been processed in a way that prevents separation of fat).
Add the curry paste to the reduced coconut milk and sauté for a few minutes on medium heat until aromatic.
Add the remaining coconut milk, with the palm sugar and 2 tablespoon of the fish sauce and 2 tablespoon of the tamarind paste. Add the chicken and simmer gently for 35 minutes.
Add the potatoes, onions and peanuts, and if needed, add enough water to keep everything barely submerged. Let simmer gently for another 10-15 minutes or until the potatoes are fully cooked.
When the cooking is done, do a final seasoning check of the sauce. Adjust by adding more fish sauce (for salty), tamarind (for acid), and sugar (for sweet). Serve with jasmine rice.
Important Note: The reason I don't add all of the fish sauce and tamarind at once is because of variability in products. Curry pastes vary greatly in their saltiness, so adding everything at once may result in a dish that is too salty. Tamarind paste also varies greatly in acidity!
Modifications
Massaman curry can be adapted for a pressure cooker. Check out my Instant Pot massaman curry recipe here.
It can also be cooked in a slow cooker. I don't have a recipe specifically for it, but you can use my recipe for the massaman curry sauce, and then follow instructions for another slow cooker recipe for the protein of your choice.
Vegetarian massaman curry. You can omit the chicken and use vegetarian proteins such as tofu and other vegetables, keeping in mind that this is a rich curry, so you will need hearty veggies to stand up to the flavour. Eggplant, mushrooms, and root vegetables are all good choices. Adjust cooking time accordingly. Use soy sauce instead of fish sauce, and make sure that the curry paste does not contain shrimp paste.
Storage
Massaman curry keeps VERY well. In fact, I recommend making it one day in advance for even better flavour. But when you reheat, be careful not to overcook the potatoes! In the fridge, in an airtight container, the curry will keep for up to a week.
If you want to make this recipe a part of your regular rotation, I suggest making the massaman curry sauce in advance and freeze it!
Other Thai Curry Recipes to Try
If you're a fan of Thai curries, check out these other popular and equally easy recipes.
Print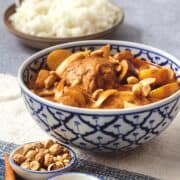 Thai Massaman Curry Chicken มัสมั่นไก่
Author:

Pailin Chongchitnant

Prep Time:

20 mins

Cook Time:

60 mins

Total Time:

1 hour 20 minutes

Yield:

Serves 4
---
Description
Authentic and easy recipe for Thai massaman curry with chicken. It's a 1-pot dish that's Thai food beginner-friendly. See modifications for other proteins and a vegan version in the blog post. Gluten free.
---
2 cups

(

500 ml

)

coconut milk, divided

 

5

to

6

tablespoons

(

75 to 90 ml

)

massaman curry paste, store bought, semi-homemade or homemade

3 tablespoons

(

36 g

)

finely chopped palm sugar or light brown sugar, packed

 

2

to

3

tablespoons

(

30 to 45 ml

)

tamarind paste, store-bought or homemade

2

to

3

tablespoons

(

30 to 45 ml

)

fish sauce

 

2

pounds

(

1 kg

)

chicken thighs and/or drumsticks, bone-in, skin-on

 

10.5 ounces

(

300 g

)

waxy potatoes, such as new or red-skinned potatoes, cut in 1-inch

(

2.5 cm

)

chunks

 

½

large yellow onion, cut in ½-inch

(

1.2 cm

)

strips

 

¼ cup

(

35 g

)

unsalted roasted peanuts

 

Jasmine rice, for serving

 
---
Instructions
Place ½ cup (125 ml ) coconut milk in a large pot and bring to a boil over medium heat. 
Add the curry paste and stir to mix well, and let the mixture thicken, stirring frequently, until the mixture is very thick and the coconut oil separates from the paste, about 5 minutes (the oil may not separate depending on the coconut milk you're using; this is okay ). If the paste sticks to the bottom of the pot, deglaze with a bit of coconut milk. 
Add the remaining coconut milk and stir to mix, scraping the bottom to make sure no curry paste is stuck. Add the palm sugar, 2 tablespoons (30 ml ) tamarind paste, and 1 tablespoon (15 ml ) fish sauce. Stir to mix well, then taste the sauce and add more fish sauce as needed. You will need to adjust the seasoning again after it's done, but it's important that the chicken is cooking in a well-seasoned sauce.
Add the chicken to the sauce and simmer gently over low heat, partially covered, for 35 minutes. (Time to make your rice now if you haven't done so!)
Add the potatoes, onions, and peanuts; if there is not enough liquid to keep the potatoes and onions barely submerged, top it up with more coconut milk or water (using coconut milk will make a richer curry ). Cook the potatoes over medium heat for 10-15 minutes, until they are fully cooked.
Taste and adjust the seasoning with more fish sauce or tamarind paste as needed. Serve with jasmine rice. 
---