This dish is the epitome of "Thai street food". If you wanted kao moo dang you can walk into any food court and you're guaranteed to find a vendor. At the basic level it's just Chinese BBQ pork (char siu) on rice, but what makes this dish unique to Thailand is the savoury-sweet gravy studded with roasted sesame seeds.
Will Any Char Siu Recipe Work?
Yes. The recipe I show you here is the closest to what a Thai street vendor would make, and it is also a bit simpler. But if you already have your own trusted char siu recipe, or you've made my super popular authentic Cantonese style char siu recipe, each will work just as well. All of these styles have the same flavour profile, just slightly different ingredients.
Choosing Pork for Kao Moo Dang
Chinese style char siu typically uses port butt or pork shoulder, which works fine for this, however the Thai style is leaner and we like to use pork loin. This works because there's gravy to keep the dish moist even though the meat is lean.
Buy a pork loin roast (pic shown in the video), then cut it lengthwise with the grain into long strips about 2"x1" in diameter. Try to cut it in such a way that each piece has a bit of fat on it, because this fat will help keep everything moist and tender.
If you can, get the fatty end. When I went to get my pork from the specialty butcher, he was cutting my roast from a whole piece and asked if I wanted the "lean and pretty end" or the "fatty end". Turns out the two sides of a pork loin are different! Either will work depending on whether you like fatty or lean meat, but it's nice to have the option! I got the fatty end, naturally.
How about pork chops? If you can't find pork loin roast, pork chops will work but you want to make sure they are at least 1-inch thick. The pork needs time to brown and char slightly without overcooking the inside.
Ingredient Substitution Guide
Here are some ingredients you may not have and how to substitute. You can also watch my video where I explain all the different sauces used in Thai cooking.
Thai seasoning sauce (Golden Mountain Sauce is a brand most commonly available). This is a type of soy sauce with a different flavour from our regular soy sauce. Maggi Seasoning or Bragg's Liquid Amino will work fine.
Tao Jiew or Thai fermented soybean paste. This is the Thai version of miso, except the consistency is runny and the soybeans are whole. It's very salty and comes in a glass jar; typically Healthy Boy Brand is the one most commonly available. You can substitute Japanese miso paste or Korean doenjang paste although they do taste slightly different; use them in equal amounts.
Five Spice Powder is a Chinese blend of spices that is absolutely key to the identity of this dish and is not substitutable. You can buy it, but if you have a lot of spices in your cabinet you can probably just make it. It's as simple as blitzing them in a coffee grinder. I prefer to make it from whole spices because the flavours are so much fresher than pre-ground spices. Check out my recipe for homemade five-spice powder here.
Thai black soy sauce is what we use to add dark, delicious-looking colour to various dishes like pad see ew. It's not very salty and has a molasses-y, slightly sweet flavour. You can substitute Chinese dark soy sauce, but because the Chinese one is much saltier, you have to be careful how much you add, and you may need to reduce the amount of the regular soy sauce a bit. You can also omit it altogether if you don't care about the colour.
Sweet soy sauce. Think brown sugar syrup + soy sauce. As the name suggests it is mostly sweet and is very thick. In this case you can use dark brown sugar instead.
Watch The Full Video Tutorial!
All my recipes come with step-by-step video tutorials with extra tips not mentioned in the blog post, so make sure you watch the video below to ensure success - and if you enjoy the show, please consider subscribing to my YouTube channel. Thank you!
Also check out...
---
Print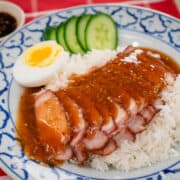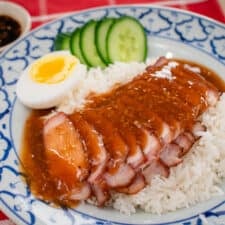 Chinese BBQ Pork & Rice (Kao Moo Dang)
Author:

Pailin Chongchitnant

Prep Time:

20 mins

Cook Time:

40

Total Time:

1 hour

Yield:

4-6 servings
---
Description
It looks like a lot of ingredients, but don't be intimidated. The process is quite simple! 
---
Components of the dish
Chinese BBQ pork "moo dang" (recipe follows)
Gravy
Jasmine rice
Dark soy chili vinegar dipping sauce (optional, recipe follows)
Optional garnishes: medium boiled duck or chicken eggs, cucumber slices, and sliced cooked Chinese sausage.
Thai-Style BBQ Pork (Moo Dang)
2

lb (900g) pork loin roast

2 Tbsp

(

30

ml) soy sauce

2 Tbsp

(

30

ml) Thai seasoning sauce (e.g. Golden Mountain. Can also use Maggi Seasoning, or Bragg's Liquid Amino)

1 tsp

(

5

ml) black soy sauce or dark soy sauce

1 Tbsp

(

15

ml) five spice powder, store bought or see my homemade recipe

3 Tbsp

(

45

ml) honey

1 Tbsp

(

15

ml) toasted sesame oil

2

cloves garlic, finely grated or pressed 

½ tsp

ground white pepper
About

10

drops red food colouring (optional)
Gravy:
1 ½ cups

(

360

ml) pork or chicken stock, unsalted 
Reserved pork marinade

2 Tbsp

(

30

ml) white sesame seeds, toasted

2 Tbsp

(

30

ml) tao jiew fermented soybean paste (see note); substitute equal amount doenjang or miso

1

-

1 ½

tablespoon (

15

-

23

ml) chopped palm sugar or brown sugar
Dark or black soy sauce, as needed

2 Tbsp

cornstarch or tapioca starch
Dark Soy Chili Vinegar (optional):
1 Tbsp

(

15

ml) sweet soy sauce or 1 tablespoon packed brown sugar

1 Tbsp

(

15

ml) vinegar

1 tsp

(

5

ml) soy sauce

1 tsp

(5 ml) Thai black soy sauce (or sub

2 tsp

Chinese dark soy sauce and omit the regular soy sauce)
Chopped chilies, to taste
Note: Don't know what some of these sauces are? Check out my video on Sauces for Thai Cooking
---
Instructions
Cut pork loin into long strips, about 1" x 2" wide (see video to get a better idea of what this looks like). You can then cut each strip in half if you wish.
Place them in a large zip-top bag or a dish that's just big enough to contain the pork in one, even layer.
Combine all marinade ingredients together and stir to dissolve the honey then pour over the pork, mixing well to ensure all surfaces of the pork are coated. Marinade for 24 - 48 hours, flipping the bag or turning the pork over half-way through to ensure even marinating.
Preheat the oven to 400°F (200°C) with the rack set in the middle. Allow it to preheat for at least 30 mins.
While the oven preheats, pull the pork from the fridge so that it has time to come to room temp a bit before roasting. Also now is a good time to get the rice going and prep any other garnishes you're serving. 
Line a baking sheet with foil or parchment paper and put a rack on it. Remove the pork strips from the marinade (don't throw away the marinade!), shaking off as much excess as possible, and place them on the roasting rack. If your pork is quite lean, it's a good idea to brush with some vegetable oil.
Roast for 30-35 minutes or until the internal temperature registers 155°F for well-done but still juicy pork. If you want medium doneness, pull them at 145°F. 
While the pork is roasting, make the gravy: In a small pot, add the stock and the pork marinade and bring to a boil. 
While you wait for it to boil, in a mortar and pestle crush the toasted white sesame seeds briefly just until they're broken but still look mostly whole. You should be able to smell the aroma once they're sufficiently broken. Remove from the mortar.
Add the Thai fermented soybean paste to the mortar and crush until there are no more chunks of soybeans; if using doenjang or miso you don't need to do this. 
Once the stock is boiling there will be a lot of congealed scum floating on top; this is just cooked pork juice, and you can skim it off with a fine mesh skimmer and discard.
Add the tao jiew, white sesame seeds, 1 tablespoon of the palm sugar, and just enough of the black or dark soy sauce to get a nice rich brown colour (if using Chinese dark soy sauce, add a little at a time as it can become too salty.)  Allow the gravy to simmer gently for about 5 minutes then taste and adjust seasoning with more soy sauce or sugar as needed. 
Mix the cornstarch with a splash of water and stir to dissolve, then pour the slurry into the gravy while stirring. Bring the gravy to a boil, stirring constantly, until it's thickened.
For the dark soy chili vinegar
Combine all ingredients together and stir. This can be made well in advance and any leftovers will last in the fridge for several weeks. 
Assembly:
Once the pork is done, allow it to rest for at least 10 minutes before slicing. The pork can even be served room temp if the gravy and rice are hot. 
While the pork rests, slice the cucumber, cut the boiled eggs in half, and prep any other sides you're serving.
Slice pork into thin pieces and place on top of the hot rice, ladle some gravy on top and serve with the eggs, cucumber slices, and Chinese sausages, if using.
---