---
Breakfast in Thailand
There are few dishes in Thailand that are considered specifically "breakfast food". Our breakfast often looks like lunch, snacks, or even dinner foods. Growing up in Thailand my breakfast was often just leftover dinner!
Congee is the one exception. Congee, or what we call "jok" in Thai, is one of the few dishes considered "breakfast" and you can easily find it on the streets of Thailand in the morning (although you can buy jok at all times of the day, even night time, too.)
Slow VS Quick Method
I have a video that shows you the traditional way of making congee from scratch, which takes a long time stirring broken rice in a pot until thick and creamy. Well, this version is much quicker and still comes out equally delicious if you ask me! It does require that you have some rice already cooked, and you also need some good stock on hand as well.
To be honest since I discovered this method I no long go back to doing it the long method anymore!
Bonus content for Patreon members: For this episode I share other types of rice porridge/soup type dishes that we have in Thailand. We have a bunch! Click here to learn more about becoming a Patreon member.
Watch The Full Video Tutorial!
All my recipes come with step-by-step video tutorials with extra tips not mentioned in the blog post, so make sure you watch the video below to ensure success - and if you enjoy the show, please consider subscribing to my YouTube channel. Thank you!
Print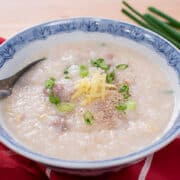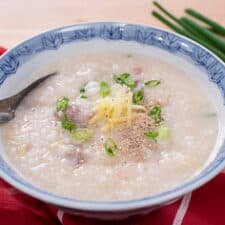 Quick & Easy Congee with Meatballs
---
Congee
3 cups

cooked jasmine rice, can be leftover

4 cups

pork or chicken stock, unsalted (or if salted, reduce seasoning)

1 Tbsp

+

1 tsp

soy sauce

2 tsp

fish sauce

Ground white pepper, to taste

1

green onion, chopped

1

inch piece ginger, julienned, or more to taste
Meatballs:
250 g

ground pork or chicken, preferably not lean

2

cloves garlic, finely grated

¼ tsp

ground white pepper

1 Tbsp

soy sauce

1 tsp

fish sauce

1 ½

 

tsp sugar

½

 

tsp sesame oil (optional)
---
Instructions
If the rice is chilled, microwave it for a minute so it's hot, which will help it absorb liquid more readily.

Add rice to blender along with just enough of the stock to blend. Blend the rice briefly (several seconds) until you have your desired consistency—this could be coarser or finer depending on your preference, but make sure not to over-blend it cuz you do not want a smooth puree!

Pour blended rice into a heavy-bottomed pot, then use the remaining stock to rinse out the blender so you get everything out and add to the pot.

Add soy sauce and fish sauce and bring rice to a simmer.

Simmer for at least 10 minutes, or up to 20 minutes. The longer you simmer, the softer and smoother the texture will be, but for a "quick" version, I find that 10 minutes will do just fine.

Once the rice starts to thicken up, stir frequently with a rubber spatula to prevent the bottom from sticking to the pot.

While the rice is cooking, make meatballs simply by combining all ingredients in a mixing bowl and knead everything together with your hands until smooth (wear gloves if you have them).

When rice is done, add meatballs in chunks directly into the rice using 2 teaspoons. Cook the meatballs for about 3 minutes until done.

Taste and adjust seasoning.

Stir in julienned ginger if you want, or you can leave it for each person to add to their own bowl when serving.
Serve with green onions and extra white pepper if desired. Enjoy!
---
Notes
If you want to add eggs, you can poach eggs separately and add it to the congee when serving. Or if you want the eggs mixed in, you can crack the eggs right into the congee, let them poach submerged in the congee for 3-4 minutes to firm up the whites slightly, then stir it up to mix into the congee.