---
A Northern African recipe that has become very popular in North America in the past few years, and for good reasons. Eggs are poached in a rich tomato sauce infused with spices...served with crusty bread, it's the perfect breakfast that can double as lunch or triple as dinner!
Make the sauce in advance, keep it in the fridge, and you can put the dish together in mere minutes. Add whatever toppings you like: cheese, olives, sausages..have fun with it!
Related Recipe: THAI PAN EGGS BREAKFAST
Watch The Full Video Tutorial!
All my recipes come with step-by-step video tutorials with extra tips not mentioned in the blog post, so make sure you watch the video below to ensure success - and if you enjoy the show, please consider subscribing to my YouTube channel. Thank you!
Print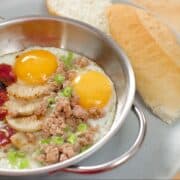 Shakshuka - Eggs Poached in Spiced Tomato Sauce
---
1

medium onion

½ tsp

salt

5

cloves garlic, chopped

1

small green or red bell pepper, small diced

1 tsp

cumin seeds, toasted

½ tsp

coriander seeds, toasted

½

-

1

teaspoon cayenne pepper

2 tsp

smoked paprika or regular paprika

1

large (28oz) can diced tomatoes or whole tomatoes, unsalted

1 Tbsp

fish sauce or soy sauce

1

-

2

teaspoon brown sugar

8

-

10

eggs (

2

per person)
Optional toppings: Cilantro, cheese (I like goat or feta), olives, crumbled sausages or whatever else you like
Tools: A skillet for cooking. You can either make individual size as shown in the video, or make one big one from which you serve everyone. Any saute pan will work for this.
---
Instructions
Make the Spiced Tomato Sauce:
In a heavy bottomed pot, add just enough olive oil or vegetable oil to coat the bottom. Add onions and salt, and stir occasionally over medium heat until the onions are soft and translucent.
Meanwhile, grind cumin and coriander seeds into a powder.
Add chopped garlic and green bell pepper and cook for a few more minutes until the peppers are softened.
Add cumin, coriander, paprika and cayenne pepper and toss with the vegetables for 1 minute.
Stir in tomatoes, if using whole tomatoes break them up with your spoon into small pieces. Add a splash of water so that the sauce looks a bit thinner than you want it to be at the end. Simmer the sauce on low heat for 20-30 minutes to allow the flavours to meld and for the sauce to thicken to the desired consistency.
Taste and adjust seasoning with fish sauce, and and brown sugar if the tastes a little too tart and off balanced. At this point you can refrigerate and sauce and reheat whenever you're ready to serve.
Assembly:
Ladle the sauce into a skillet so that it's about ½ inch deep. Bring sauce to a simmer, then turn heat down to low. Use a spoon to create craters for the eggs and put 1 egg into each crater, spreading them out around the sauce evenly. Push the tomato sauce aside to allow the egg white to slip under the tomato sauce. You can also spoon some tomato sauce over the whites.
Cover the pan (use foil or a cookie sheet if you don't have a lid) and cook over low heat until the eggs are done to your liking: 5 minutes if you want the yolks runny, 7-8 minutes if you want the yolks fully cooked. If using a cast-iron skillet, there will be carry-over cooking so turn off the heat a little bit before it's done to your liking.
Garnish with any toppings you like and serve with some nice chewy toast. Enjoy!
---