---
Son-in-law eggs is is one of the most popular dishes for kids in Thailand, and it was definitely one of mine! I'm not really sure why it's called "son-in-law eggs" even though there are lots of theories, but whatever the reason, it's a delicious and unique dish that you must try at least once in your life!
Medium-boiled eggs (preferably duck eggs) is deep fried in hot oil so they develop a browned chewy skin that gives the eggs a distinct texture. Then a sweet-and-sour tamarind sauce is drizzled over it, topped with crispy fried shallots and garlic chips. For the adults in the family, break up the crispy dried chilies and add a little spice to your eggs! The combination of these ingredients is magical, and it'll be like nothing you've ever had. This is one of those classic Thai dishes that most Thai people grow up on, and I really hope you try son-in-law eggs out!
Watch The Full Video Tutorial!
All my recipes come with step-by-step video tutorials with extra tips not mentioned in the blog post, so make sure you watch the video below to ensure success - and if you enjoy the show, please consider subscribing to my YouTube channel. Thank you!
Print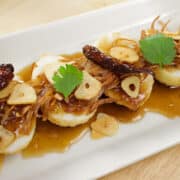 Thai Son-in-Law Eggs Recipe ไข่ลูกเขย
---
---
---
---