---
This recipe is sponsored by Pine Brand glass noodles.
Hot Pot: The Best Party Food
I LOVE a hot pot party. Not only is it fun and delicious, but it is also the best way to have a relatively stress-free dinner party because you don't have to cook anything! My favourite part is the interactivity of the meal, and my ability to make up whatever combo I want from the ingredients available.
Hot Pot: The Ultimate Health Food
There are few meals healthier than hot pot, and in fact in Thailand, hot pot is popular for those on a diet because it is so healthy. The meal is filled with a variety of vegetables, good protein, and the only starch in the meal is the glass noodles which have the lowest Glycemic Index of all noodles! Glass noodles are also a low calorie option because they absorb so much water and swell up so much that you really don't need much for one serving.
Glass noodles: The Ultimate Noodles for Hot Pot
Glass noodles are the quintessential noodles for Thai hot pot for a reason. For many reasons in fact! Firstly, glass noodles have almost no flavour in themselves, so they go with anything and everything on your hot pot table. They are also very light (not heavy like pasta) so they won't fill you up and you'll have room for all the other stuff on the table. Most importantly, unlike wheat or rice noodles, they do not leech any starch into the pot so you won't end up with a murky pot of starchy broth at the end of the meal!
Choosing the Best Glass noodles
Glass noodles are made from mung bean starch...mostly. Or rather, they SHOULD be made from 100% mung bean starch, but some less expensive brands have other kinds of starch mixed in. 100% mung bean noodles, such as Pine Brand, have the best texture and also resist over cooking the most, which is important in hot pot where people often leave things sitting in the broth for a little too long!
Watch The Full Video Tutorial!
All my recipes come with step-by-step video tutorials with extra tips not mentioned in the blog post, so make sure you watch the video below to ensure success - and if you enjoy the show, please consider subscribing to my YouTube channel. Thank you!
Print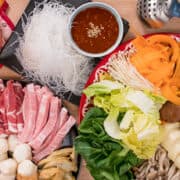 Thai Sukiyaki Hot Pot Recipe (MK Suki Style)
---
MK Style Sukiyaki Dipping Sauce
5

cloves garlic

1

-

2

Thai chilies, to taste (optional, but I don't personally add it)

2

cubes red bean curd +

1 Tbsp

juice

1 Tbsp

toasted white sesame seeds

6 Tbsp

Sriracha (see note)

4 Tbsp

tomato ketchup

2 Tbsp

sugar

2 Tbsp

soy sauce

2 Tbsp

oyster sauce

1 ½ Tbsp

toasted sesame oil

¼ cup

 water

½ cup

chopped cilantro (optional)
Fresh lime wedges (optional, see note)
Notes:
I developed this recipe using the "Huy Fong" Sriracha. If using a different brand, you may need less sugar, so start with half and taste and adjust from there.
Some hot pot restaurants serve a piece of lime with their sauce for people who like it a touch more tart.  
Hot Pot Ingredients:
At least

2

L homemade pork or chicken stock (see note)

2

x 40g packs glass noodles
At least

2

types of leafy greens, e.g. napa cabbage, bok choy or water spinach
At least

2

types of sturdy vegetables, e.g. carrots, kabocha squash or baby corn

1

-

2

types of Asian mushrooms, e.g. enoki, shimeji, fresh shitake (not dried!) or king oyster
Soft tofu and/or egg tofu

2

-

3

kinds of thinly sliced beef or pork (can buy pre-sliced at Asian supermarkets)
Assorted fish/shrimp/squid balls and cakes (can buy frozen)
Fresh seafood (optional) e.g. shrimp, squid, or fish (a mild flavoured white fish is best)
Note: I do not recommend using store-bought stock as you want the best quality stock with very little salt and the cleanest flavour possible. You can use my recipe to make a fantastic homemade Thai-style chicken stock, but in a pinch, you can just boil some chicken or pork bones for a couple of hours and add a bit of salt so it tastes like a very mildly flavoured soup. Do not make it salty as this broth will reduce as you eat. And it's a good idea to have more stock than you need as backup so you have enough to refill the pot if needed; you never know how much broth people are gonna take or how much will boil away.
---
Instructions
For the sauce:
In a mortar and pestle, pound garlic and chilies (if using) until fine. Add the red bean curd and juice and mash until smooth. (No mortar and pestle? You can also mince the garlic and mash the bean curd with a fork.)
Add white sesame seeds and crush lightly just until they are broken. Add this mixture to a small pot.
Add sriracha, ketchup, garlic, sugar, soy sauce, oyster sauce, toasted sesame oil and water. Mix together and bring to a simmer for just 1-2 minutes, stirring frequently. Remove from heat.
Once the sauce comes to a boil, remove from heat.
When ready to serve, add chopped cilantro if using.
Preparing Hot Pot Ingredients:
Soak glass noodles in room temp water for 7-10 minutes until softened. Cut them with scissors a few times so they are shorter and easier to separate. Arrange on a serving platter along with the rest of the vegetables and tofu.
On another platter, arrange your meats and seafood.
If you have unsalted stock, add just enough salt so that it tastes like a very mildly seasoned soup. The liquid will reduce over time so make sure it is not too salty to start, and keep extra stock on hand to add to the pot as the liquid dries up.
Tips for Eating Hot Pot:
I always start by adding a bunch of vegetables first because veggies will help flavour the broth, and they also tend to take longer to cook. This is the "communal veg" which means anyone can take from this pile. Keep adding communal veg as people take them.
Things that can live in the hot pot for a while such as tofu and fish balls/fish cakes, you can just add a bunch in for communal use. Although this depends on the group of people you're with, some people may prefer cooking their own proteins and not be happy if you've taken something they put in.
Glass noodles take about 2 minutes, but can be in there a little longer without overcooking. I just put a bunch in my " sieve ladle" and let it hang out for a couple of minutes. When you take it out, some will probably have fallen out of the ladle so it's good to fish around a bit with your chopsticks.
Thinly sliced meats, cook in your sieve or dip with your chopsticks for literally 10 seconds just until it's cooked through. Don't let thin slices of meats linger in the pot!
Speaking of  chopsticks: the hot pot etiquette is that there are personal and communal chopsticks. Personal chopsticks are for eating. Communal ones are for putting things into the hot pot and taking them out. I can never keep them straight and always end up eating with the communal chopsticks lol! But honestly, when I eat with immediate family we don't care who's using what chopsticks, especially since they will be "sanitized" in the boiling broth anyway!
Do not let it boil away! Keep your eyes on the heat. You want to start out on a full boil but once food goes in, a simmer is a good place to be so you don't overcook everything so quickly and you also won't lose so much liquid so fast and run out of stock.
---