---
Oxtail soup may not strike you as a dish that sounds particularly Thai, but yes in fact we do have our own version of it! It's not a super common dish (beef isn't a popular choice of meat in Thailand to begin with) but you can most often find it at Thai Muslim restaurants. There are two main versions of oxtail soup, one is the Thai Muslim version, which you can find in restaurants I mentioned. Another type is the "Thai version" for lack of a better term, which tends to be simpler and use simple staple herbs most people have at home. This is the version I'm sharing with you.
*Extra Goodies for Patreon Members: In this episode's "Show After The Show" I share with you how to modify this recipe to make it the Thai-Muslim version of the soup! Click here to find out more about becoming a Patreon member!
Tips for choosing oxtail
I like to pick large, meaty pieces of oxtail so there is more meat to eat. However, if you can only find smaller ones, that's totally fine. In fact, smaller ones will give even a richer soup because there will be more bones and connective tissue to enrich the broth. If you feel like there isn't enough meat on your oxtail, you can always add more stew-friendly meat (I would go with beef shank or the "super digital flexor muscle").
How to make this dish in advance
Oxtail soup does require long cooking time because the oxtail needs a lot of time to cook. So you can definitely divide it up into 2 days. First day, simmer the beef for 2.5 hours on its own with the lemongrass tops and kaffir lime leaves. Put this in the fridge, which will also make fat skimming much more convenient once it all solidifies on top of the soup! Then bring it out, bring it to a simmer gain, and add tomatoes and onions and pick it up from there. You can also just make the whole thing in advance, and just finish it off by adding fresh tomato pieces when ready to serve!
As a side note, this is the perfect recipe to do in your pressure cooker or slow cooker!
Watch The Full Video Tutorial!
All my recipes come with step-by-step video tutorials with extra tips not mentioned in the blog post, so make sure you watch the video below to ensure success - and if you enjoy the show, please consider subscribing to my YouTube channel. Thank you!
Print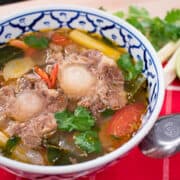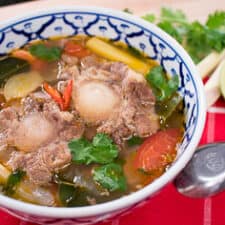 Thai Oxtail Soup ซุปหางวัว
---
2 ½

lb oxtail

2

stalks lemongrass

2 Tbsp

fish sauce

3

tomatoes, half small diced, half wedges

½

large onion, chopped

2

-inch knob ginger, sliced

10

-

12

kaffir lime leaves, torn into chunks
About

½ cup

chopped cilantro or sawtooth coriander, or to taste
Thai chilies, chopped to taste (optional)

3

-

4

tablespoon lime juice
---
Instructions
Add oxtail to a pot and cover completely with water.

Cut the lemongrass in half, and using just the top, smash it to bruise, then add these tops to the pot. Keep the bottom half for later. Tear 5 kaffir lime leaves into chunks and add to the pot as well. Add 2 tablespoon of fish sauce and simmer the beef for 2 ½ hours. Skim off fat and scum that floats to the top as it cooks, and add water as needed to keep the beef covered.

Once done, fish out lemongrass and lime leaves.

Add onion and the diced tomato and simmer for another 30 mins; you want the tomatoes to dissolve into the soup.

After the onions have softened and the tomatoes have disintegrated, check that the beef is fork tender. If not, keep it cooking longer until it is.

Smash the remaining lemongrass bottoms to bruise and release aromatic juices, then cut into 2-inch pieces and add to the pot. Tear the remaining lime leaves into chunks, and add them to the pot along with the ginger. 

Simmer another 15-20 mins.

 

Note: The lemongrass, ginger and kaffir lime leaves pieces are for infusion only and are not meant to be eaten. Make sure you inform your guests or remove them before serving. You can also add them to a muslin or cheesecloth bag for easy removal.

Taste and adjust seasoning with more salt or fish sauce. If you want, you can add the lime juice now, or you can serve a lime wedge on the side so people can squeeze in their own lime juice as well.

When ready to serve, add wedges of tomatoes and cook just for a minute to soften slightly. Remove from heat and add chopped cilantro.

Serve with a wedge of lime if you haven't added lime juice to the soup already. You can serve this with rice or have it on its own. Enjoy! 
---
Keywords: oxtail soup, low carb, healthy, slow cooker, soup