---
Coffee and coconut are two flavours that go together like peas in a pod, and I know this because we use this combo in a Thai dessert, too. So when Starbucks came out with a "toasted coconut cold brew coffee" I really wanted to try it. My conclusion after tasting it: I can make a better one at home! 🙂
So I went home and got busy, and came up with this delicious recipe that is just the right amount of creamy, nutty, and refreshing. And you can prep all the ingredients in advance, and put it together in a matter of seconds!
Watch The Full Video Tutorial!
All my recipes come with step-by-step video tutorials with extra tips not mentioned in the blog post, so make sure you watch the video below to ensure success - and if you enjoy the show, please consider subscribing to my YouTube channel. Thank you!
Print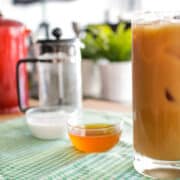 Toasted Coconut Cold Brew (Starbucks Copycat Recipe!)
---
Cold Brew:
¾ cup

coffee beans (or a bit more for darker flavours), dark roast, non-acidic (See note)

4 cups

drinking water
Note: Choosing the right coffee is very important. Light roast or acidic coffee does not work well for this recipe. The light roast will be too dilute by the time we mix it with other ingredients, and the acid clashes with coconut milk. I use Starbucks beans for this because most of their coffees are not acidic (EXCEPT for the blonde roast). When buying coffee beans, stay away from ones that mention any sort of fruit in the tasting notes. Instead, go with ones that use words like "nutty," "chocolatey," or "smooth."
Toasted coconut syrup:
¼ cup shredded dried coconut, unsweetened

¾ cup drinking water

⅓ cup

- ½ cup palm sugar (chopped and tightly packed) or granulated sugar (or a little less if you want less sweet).
The rest: 
~ 1 cup good coconut milk (see this page for the coconut milk brand I recommend)
Ice
A french press or a muslin and sieve for filtering out the beans. (See this page for a classic Thai coffee strainer that works well for this)
---
Instructions
To make the cold brew coffee:
Grind coffee beans to a coarse grind (this is so you get less of the fine powdery stuff coming through).
If using a French press: Place the beans in a French press. Add cold drinking water and stir to mix well. Cover with the plunger and press it just until the beans are completely submerged (don't press it all the way down). Let sit for 12 hours at room temp, if you can, stir it halfway through. Then press the beans all the way and then keep in the fridge as is or pour it into another serving pitcher.
If using the Thai coffee cloth filter: place the coffee beans in the filter bag and suspend it over a pitcher. Pour water through the coffee beans and stir the coffee inside the filter. Let steep for 12 hours, if you can, stir it halfway through.
If not using a french press: Place the beans in a container that is easy to pour from (something with a spout). Add water and stir to mix well; let steep for 12 hours, if you can, stir it halfway through. When ready to strain, line a sieve with a muslin cloth and pour the coffee through the sieve into a serving pitcher. Keep in the fridge until ready to serve.
Note: If you're not quite ready to strain after 12 hours, put the coffee in the fridge until ready to strain. 
To make the toasted coconut syrup:
In a dry saute pan, add the coconut and toast over medium heat, stirring constantly, until the coconut is a dark brown colour. Once you achieve the right colour, add the water (it will splatter aggressively). Simmer the coconut in the water over low heat for about 5 minutes. Remove from heat and strain out the coconut into a heatproof liquid measuring cup. Press out as much liquid as you can from the coconut, you want to extract ALL that flavour!
Look to see how much water you have left, and add equal parts sugar. Stir to dissolve. If using palm sugar you may need to heat it up in the microwave briefly to help the big chunks dissolve.
Formula for assembly:
1 cup cold brew coffee

~1 ½ - 2 tablespoon toasted coconut syrup

3 tablespoon coconut milk (do not use cold, clumpy coconut milk or it will remain clumpy in your coffee. Heat it up in the microwave briefly to dissolve all the clumps)

A full glass of ice
In a mixing cup, combine the coffee, syrup and coconut milk. Taste and adjust as needed, then pour it over ice. Enjoy!
---