---
Tom yum and pasta, the perfect marriage
Tom Yum Spaghetti is a true flavour bomb! It's one of the most popular Thai pasta dishes in Thailand, and it is no doubt my favourite. All the iconic tom yum flavours— lemongrass, lime leaves, chili paste, lime, etc.—go so incredibly well with tomato sauce. If you love a good tomatoey pasta, and you love the tart, herbaceous flavours of tom yum, get ready to be completely blown away by how delightful this dish is!
This recipe is also quite easy and definitely weeknight friendly. In the video I show you an "efficiency" technique so that once you've got all your ingredients prepped, the cooking will only take you as long as it takes to cook the pasta.
See the original tom yum goong recipe here.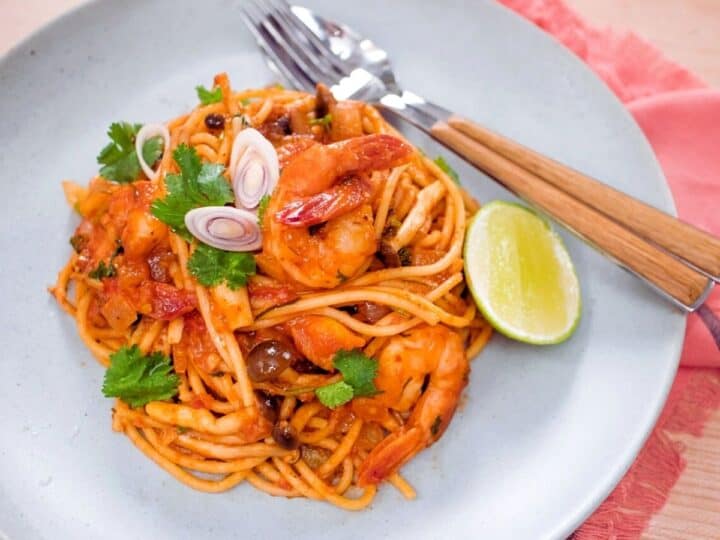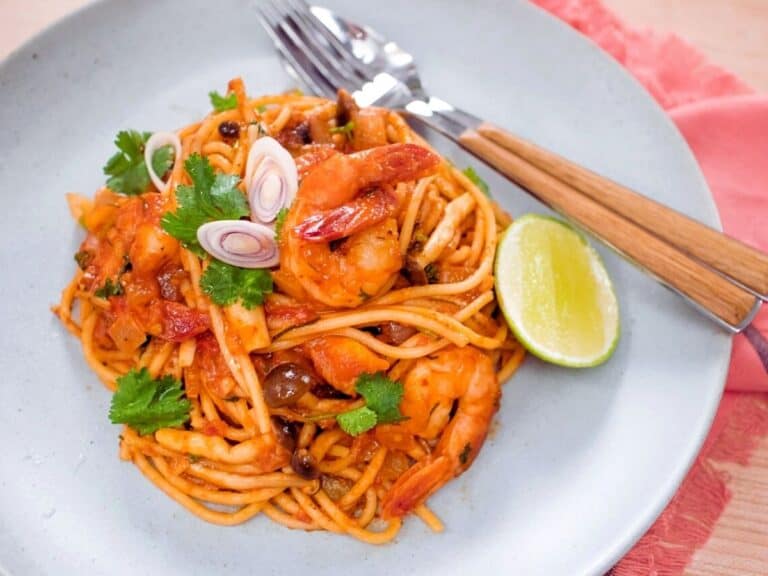 Other Thai Pasta Recipes
We actually have several "Thai fusion" dishes that involves the use of pasta in Thailand, many of which has become common. One might even argue they have become part of Thai cuisine. Tom yum spaghetti is certainly one of them, as is "spaghetti pad kee mao" or "drunken spaghetti". A more kid-friendly version might be this "pad macaroni" which my siblings and I loved growing up. (And I still do!). You can find these Thai pasta dishes served at many restaurants that offer pasta selections. Usually these would be more modern, trendy Thai restaurants you can find in Bangkok shopping malls or in the downtown area.
Substituting Button or Crimini Mushrooms
I chose shimeji mushrooms for this recipe as they are delicious, available, inexpensive, and super easy to work with. Other Asian mushrooms like fresh shiitake, oyster or even King oyster would work as well. If you want to sub white button or the brown crimini mushrooms, however, make sure you cook them off first. These button varieties give off a lot of water, so what I like to do is slice them, then saute them off with a pinch of salt in a little bit of oil until they are fully cooked. Remove them and set aside, and throw them into your pasta when you add your tomatoes. Fun Fact: You can't overcook mushrooms, so don't worry about double cooking them. Once mushrooms reach a certain point of being cooked, they don't ever become mushy or disintegrate, so you can cook them as long as you need.
*Extra Goodies for Patreon Members: In this episode's "Show After The Show" I share my tips on how to choose the best quality key ingredients for this recipe: pasta, canned tomatoes, and chili paste. Click here to find out more about becoming a Patreon member!
Watch The Full Video Tutorial!
All my recipes come with step-by-step video tutorials with extra tips not mentioned in the blog post, so make sure you watch the video below to ensure success - and if you enjoy the show, please consider subscribing to my YouTube channel. Thank you!
---
Print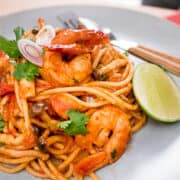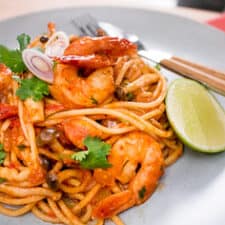 Tom Yum Spaghetti สปาเก็ตตี้ต้มยำกุ้ง
---
1

stalk lemongrass, bottom half only, thinly sliced

6

slices galangal, chopped

6

kaffir lime leaves, finely julienned

1

-

3

Thai chilies, to taste

Half a medium onion, chopped

2 Tbsp

Thai chili paste

1 ½ Tbsp

fish sauce

14 oz

good quality whole peeled plum tomatoes (half of a 28oz/796ml can) 

150g

shimeji mushrooms (see note)

12

-

15

medium shrimp, or as many as you'd like

250g

spaghetti

1 ½

-

2

tablespoon lime juice

Chopped cilantro, as much as you want

Grated parmesan cheese for serving (optional)
---
Instructions
Bring a large pot of water to a boil for your pasta. Add salt, about 1 teaspoon per one liter of water.
In a mortar and pestle, pound together lemongrass, galangal, lime leaves and Thai chilies until there are no more big chunks. It should resemble a fine crumble.
In a wok or a large sauté pan, cook off the shrimp just until they're done. Remove and set aside; do not clean the wok.
Drop your spaghetti into the boiling water, set the timer for 1 minute LESS than the cooking time indicated on the package. Immediately start cooking your sauce once your pasta is dropped. (With this timing, your sauce should be done before the pasta is done. But if it is not, not a problem, just drain the pasta and set it aside until ready to use.)
In the same wok, saute onion over medium heat for a couple of minutes until they're translucent.
Add the mushrooms and a little splash of fish sauce, then cook for a minute.
Add herbs paste and quickly toss it in the oil, then add the tomatoes. Break up the tomatoes with your spatula into small chunks.
Add chili paste and fish sauce, and simmer for a few minutes until the sauce is thickened.
If the pasta is not yet done, just turn off the heat and wait for the pasta.
Once the spaghetti is done, add it to the sauce—I like to use tongs and add move the pasta directly from the pot to the wok, no need to drain in the colander (less dishes to do!). This way you also get more of the starchy pasta water transferred into the sauce, which helps thicken the sauce slightly. If you're going to drain the pasta, be sure to save a cup of pasta water in case you need it.
Add shrimp back in and and toss everything in the sauce for 1 more minute, adding more pasta water if you need more liquid. You can make this as dry or as saucy as you like. I prefer it on the dryer side.
Off the heat, then stir in lime juice and cilantro. Taste and adjust with more lime juice/fish sauce as needed.
Serve with grated parmesan if desired.
Enjoy!
---
Notes
Other good mushroom options include: oyster, straw, shiitake, or another Asian mushroom. If you're using button or crimini mushrooms, cook them off first separately by sauteing them in a saute pan, then throw them in afterwards. You want to do this because otherwise they will give off a lot of excess water.
Keywords: tom yum, spaghetti, thai fusion, pasta, noodles