---
So excited to show you how Thai people do pasta! This recipe, though it uses many Western ingredients, is unique to Thailand and has been with Thai people for many decades. This interpretation of Western cuisine quickly became a staple dish for many Thai families because it's so delicious and easy. As a bonus, it's particularly popular with kids, and it was certainly a hit in our house when we were young!
Watch The Full Video Tutorial!
All my recipes come with step-by-step video tutorials with extra tips not mentioned in the blog post, so make sure you watch the video below to ensure success - and if you enjoy the show, please consider subscribing to my YouTube channel. Thank you!
Print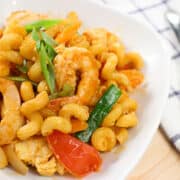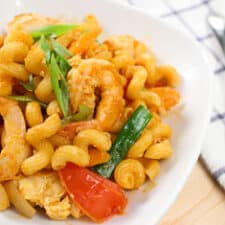 Thai-Style Pasta "Pad Macaroni" ผัดมักกะโรนี
---
3 Tbsp

ketchup

2 Tbsp

Sriracha hot sauce (see note)

2 Tbsp

Golden Mountain sauce (sub Maggi or soy sauce)

½ tsp

sugar

¼ tsp

white pepper

225 g

(half a pound) short tube pasta (see note)

15

medium sized shrimp

2 Tbsp

butter

5

-

6

cloves garlic, chopped

1 cup

carrots, bite-sized pieces

½

onion, halved crosswise, then julienned

3

eggs

1

large tomato or

2

small ones, cut into wedges

2

Green onions, halve the white part horizontally, then cut into

2

-inch pieces
Note: I use Thai sriracha in the video ("Sriraja Panich"), but you can also use other brands, though sweetness and spiciness will vary between brands. Feel free to add more and make it spicier if you like! Check out the video for how to make your own sriracha.
In Thailand we use large elbow macaroni or long macaroni (neither of which I can find here!). I don't recommend using elbow macaroni that's commonly used in N. America for mac' n' cheese because those are too small for this dish.
---
Instructions
Heat a pot of water for cooking the pasta over high heat. Add salt (1 teaspoon for every 1 litre of water) and stir to dissolve. Bring to a boil.
While you wait for the water to boil, mix together ketchup, sriracha, Golden Mountain sauce, sugar and white pepper, stir to mix well. Prep all other ingredients and have them ready to go before you cook the pasta.
When all your ingredients are ready, drop the pasta into the boiling water. Set the timer for however long your particular pasta needs to cook. (Mine took 8  minutes, but this will vary depending on the shape of the pasta, so check the package.) Start the wok as soon as your pasta goes in the water and the timing will work perfectly!
In a wok, add a little vegetable oil just to coat the bottom and heat over medium high heat. Add shrimp, sear until they are browned on one side, flip them and cook the other side until done. Remove from pan and set aside.
Let the pan cool down a little bit. Add a little more vegetable oil, butter, and garlic and turn the heat back on to medium. Saute the garlic until the butter browns slightly. Add onions and carrots and cook, stirring, constantly, for 1 minute if you like your carrot and onion still crunchy; if you like them soft, cook them longer.
Push the carrots and onions aside, then add the eggs to the empty space. Break the yolk and stir the yolks to mix with the whites just slightly, to create a marbling effect. Let the eggs set about 70%, then toss it with the carrots and onions. The next thing to add is the pasta, and your pasta should be a few minutes from being done at this point, so turn off the wok, and wait till pasta is done. (If you're taking a little longer and your pasta is done before you're ready to add it, don't panic! Just turn off the wok, go drain the pasta and come back to the wok and carry on. It'll be fine.)
Once the pasta is done, drain, shaking the colander well to make sure no pasta water is lodged inside the pasta tubes. Add pasta to the wok, add the sauce, turn the heat back on to medium high and toss until the pasta is coated in the sauce.
Add tomatoes and green onions. Toss to heat the tomatoes and soften them slightly. Remove from heat and serve immediately. Enjoy!
---