---
This super easy, comforting Thai chicken soup is full of wonderful aromas of traditional Thai herbs that truly represents simple home cooking of southern Thailand. I particularly love this dish because you literally throw everything into a pot and let it go - it doesn't get easier than this! It's also gluten-free!
Turmeric, the star of the dish, is an herb that's not used too often in Thai cuisine as a whole, but it is used a LOT in the south! I strongly suggest you use fresh turmeric root here rather than ground, because it can be very easy to over-do powdered turmeric which gives the soup a too-medicinal taste.
If you love a good comforting chicken soup, I highly recommend checking out this tom kha gai soup recipe! It uses many of the same herbs as in this soup, minus the turmeric but with the addition of coconut milk. It's a bit richer and creamier, and is the perfect way to sooth a cold!
For a Thai chicken soup that uses no hard-to-find ingredients, try this super nostalgic chicken potato soup.
Do ahead tips: This is one of those dishes that taste even better the next day, so if you can, make it in advance!
Watch The Full Video Tutorial!
All my recipes come with step-by-step video tutorials with extra tips not mentioned in the blog post, so make sure you watch the video below to ensure success - and if you enjoy the show, please consider subscribing to my YouTube channel. Thank you
Print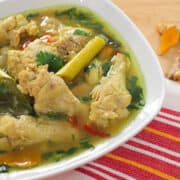 Turmeric Chicken Soup ไก่ต้มขมิ้น
---
1.5

lb (700g) chicken drumettes (see note)

2 Tbsp

fish sauce

1 tsp

sugar

3

small heads shallots, roughly chopped

6

cloves garlic, crushed

1

stalks lemongrass, bottom half only, smashed and cut into

2

inch sections

7

-

8

thin rounds of galangal 

5

kaffir lime leaves, roughly torn

7

-

8

slices turmeric root (sliced on a sharp bias)

Fresh Thai chilies, crushed, to taste and/or ground white pepper

Salt, to taste

2 Tbsp

tamarind juice
Fresh chopped cilantro or green onion for garnish
Note: If you want to use boneless chicken, go with dark meat, and then you MUST use a good chicken stock instead of water.
---
Instructions
Marinade chicken wings in fish sauce and sugar for at least 1 hour (the longer the better).
Add chicken to a pot and add just enough water to cover the chicken by about 1 inch. Add shallots, garlic, lemongrass, galangal, kaffir lime leaves, and turmeric and bring to a simmer.
Simmer the chicken gently over low heat, loosely covered, for 30 minutes or until the chicken is fork tender.
Once the chicken is tender, add tamarind juice and salt to taste. If you plan on serving this with rice, make sure you make the seasoning a bit stronger. If you want it spicy, crush some Thai chilies and stir into the soup, or add some ground white pepper for more subtle heat.
Ladle into a bowl and top with chopped cilantro or green onions. Serve on its own or with jasmine rice, enjoy!
---