---
This ain't your mama's "fruit cake"! This light and refreshing beauty is an absolute showstopper, and nothing says "summer treats" more than these gorgeous cubes of fruit-embedded jelly. The coconut layer adds an extra tropical flare! The fruit combination I used: mango, papaya, pineapple, lychee, kiwi and blueberries, is a winning combination, but you can really be creative with it. You can have colour themes for your cake too: red, purples, oranges...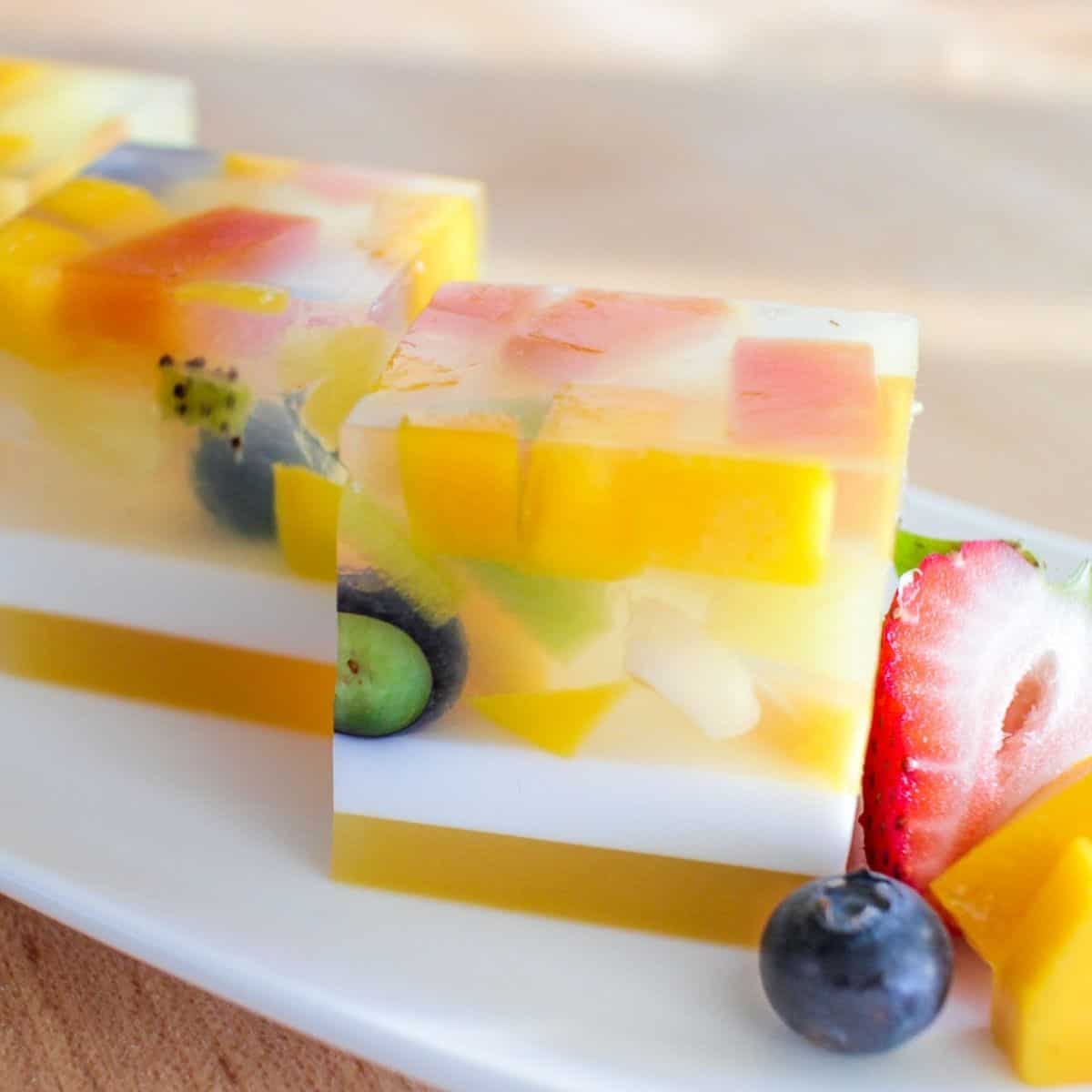 BEFORE YOU MAKE THIS RECIPE...
Please do yourself a favour, watch this "Recipe Footnote" video before you make this. It will tackle common problems people have, one of which might actually ruin the recipe if you're not aware of it.
Trust me, I've received many many questions about agar jelly desserts over the years, and without fail, people who come to me would've not had these issues had they watched the footnote video. It seems like a simple dessert but there are a few tricks that you need to know to ensure you will not fail!
Watch The Full Video Tutorial!
All my recipes come with step-by-step video tutorials with extra tips not mentioned in the blog post, so make sure you watch the video to ensure success. If you enjoy them, consider subscribing to the YouTube Channel to not miss an episode. Thank you!
If you prefer, you can also watch the video on YouTube.
---
Print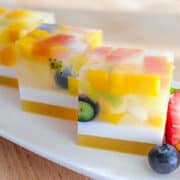 Agar Jelly Fruit Cake เค้กวุ้นผลไม้
---
Description
Please watch this "Recipe Footnote" video before making to ensure you will succeed with this recipe. There are a few important tips you will need to know!
---
Fruit Layer
1 ⅓

 

cups water

⅔ cup

juice from canned lychee (and keep the fruit for the cake itself)

¼ cup

sugar

1¾ tsp

agar agar powder (buy it online)

~2 cups small fruit pieces of your choice(I used mango, pineapple, red papaya, lychee, kiwi and blueberries)
Coconut Layer
¾ cup

coconut milk

¼ cup

water

¾ tsp

+

⅛ tsp

agar agar powder

3 Tbsp

sugar

A pinch of salt

~4 inches pandan leaf, optional
 Bottom Juice Layer
¾ cup

juice of your choice (I used mango juice to match the colour and flavour of my fruit pieces. If your juice isn't thick like mine, you can use 1 cup of juice and no water)

¼ cup

water

¾ tsp

+

⅛ tsp

agar agar powder

Sugar to adjust flavour if needed
---
Instructions
Before you start, make sure you have all your fruit cut and ready to go.
Make the fruit layer:
In a small pot add COLD water, lychee juice, agar agar powder, and whisk until there are no more lumps. Once mixed, turn on the heat and bring to a full boil, stirring constantly.
Once boiling, let it boil for a minute or so, or until agar agar powder is completely dissolved. To check, scoop some liquid into a spoon, pour it off, then closely inspect the spoon to see if there are any specks of agar agar stuck to the spoon or not. If not, you're good to move on.
Add sugar and stir until dissolved, then remove from heat and immediately pour about ¼-inch of the agar agar into your mold. Working quickly, place fruit pieces in the mold, making sure you evenly distribute all the different colours. Once you've added all the fruits, pour the rest of the liquid gently over them.
Let this layer sit for several minutes or until the top is firm enough to pour on the second layer.
While you wait for the fruit layer to set, make the coconut layer:
In a small pot, combined coconut milk, water, agar agar powder, and stir to dissolve the powder.
Add the pandan leaf, if using, then turn on the heat to medium high and bring to a boil, stirring constantly.
Once boiling, let it boil for a minute or so, or just until the agar agar is completely dissolved (do the same check as above).
Add sugar and a pinch of salt and stir to dissolve. Remove the pandan leaf.
Your bottom layer should be firm enough by this point, but check by gently touching it and see if the top is set and dry; it is okay if it is still soft in the centre. If it is ready, GENTLY pour the hot coconut layer on top of it. If the bottom layer is still quite soft, pour the coconut layer onto the back of a spoon and let it drizzle gently onto the bottom layer.
While you wait for the coconut layer to set, make the bottom juice layer:
Combine all ingredients in a small pot and stir to mix the powder. Turn the heat on to medium and bring to a boil, stirring constantly, just until the powder has completely dissolved. DO NOT OVER COOK THIS MIXTURE, SEE NOTE BELOW.
Make sure the coconut layer has set enough, and pour the hot juice layer over it.
Refrigerate for a couple of hours until cold.
If you want to unmold the whole thing in one piece, it can be a bit of a challenge, but see the video for my technique OR check out my Coffee and Cream Agar Jelly for a new technique I came up with!
Important Note on Unmolding: Do not unmold or cut agar jelly until close to serving time. When agar jelly is uncontained, water will slowly seep out because it's an unstable gel. A small amount of water loss will not affect how it tastes, and if it has to sit for a couple of hours unmolded that's fine, but you want to avoid it when possible. If you want to give it away to people, I recommend making it in glass or clear heat-proof plastic containers that you're willing to part with.
---
Notes
When working with acidic liquids such as fruit juices, DO NOT simmer the liquid any longer than necessary. Simmering agar agar in an acidic liquid for a long time will break it down and it will not set. Simmer it just long enough to dissolve the powder and use it immediately. Trust me, I learned the hard way!