---
This dessert was my childhood obsession! I'd forgotten about it for a long time and just remembering it now so I wanted to share the recipe with you. In Thai it is called "Tao Huay Fruit Salad" but it is also known as Almond Float in some country. This version I'm making is a more sophisticated and more delicious version of what I used to eat as a kid, which came out of a packaged mix, but it's still really easy to make, and super refreshing!
This dessert can be made in advance and kept in the fridge, nice and chilled, it's perfect for the summer! Just keep the jelly and the fruit compote separate.
Watch The Full Video Tutorial!
All my recipes come with step-by-step video tutorials with extra tips not mentioned in the blog post, so make sure you watch the video below to ensure success - and if you enjoy the show, please consider subscribing to my YouTube channel. Thank you!
Print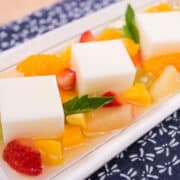 Almond Agar Jelly & Fruit Salad (Almond Float)
---
1 Tbsp

+

2 tsp

agar agar powder (what is agar agar?)

2 cups

water

3 cups

milk (or unsweetened milk substitute like almond or soy milk)

1

-

1½

 

tsp almond extract (depends how strong you like the flavour)

¾ cups

sugar

3 cups

fruit mix of your choice: Papaya, mango, pineapple, grapes, strawberries

1 ½ cups

water

¼

 

cup sugar
---
Instructions
Make the Almond Jelly:
In a pot, add the water and stir in the agar agar powder. Bring to a boil, stirring constantly.

Once it comes to a full boil and the agar powder is dissolved, add milk and sugar and stir until sugar is dissolved. If you want the dessert to last as long as possible, bring this mixture to a boil, otherwise you can turn it off now.

Stir-in almond extract and pour into the mold. Let cool to room temp, then refrigerate for at least 3 hours or until cold. 
Make the Fruit Salad
In a pot, combine sugar and water, and heat until the sugar is all dissolved and the syrup is just steaming but not boiling.

Turn off the heat and add all "sturdy fruits", i.e. fruits that can stand to be cooked without turning into mush, leaving out anything that will turn mushy or discolour in the heat, like grapes and strawberries.

Let cool to room temp, then stir in the remaining "delicate fruits".

Chill in the fridge for a few hours until cold and to give the fruit time to infuse their flavours into the syrup.
---