---
I fused together two traditional Thai desserts and gave it a bit of a twist, and the result was absolutely divine! Warm and luscious black sticky rice pudding with creamy coconut ice cream, refreshed by sweet-tart caramelized pineapple. It's a beautiful dessert that can be easily made in advance, not to mention it's gluten-free, dairy-free and vegan!
If you love sticky rice desserts, and you love Thai food, don't miss our world famous mango sticky rice as well!
Watch The Full Video Tutorial!
All my recipes come with step-by-step video tutorials with extra tips not mentioned in the blog post, so make sure you watch the video below to ensure success - and if you enjoy the show, please consider subscribing to my YouTube channel. Thank you!
Print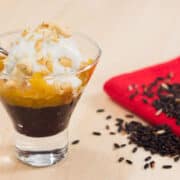 Black Sticky Rice Sundae w/ Caramelized Pineapple
---
½ cup

Thai black sticky rice 

2 Tbsp

white sticky rice

Half a pandan leaf

⅓ cup

finely chopped palm sugar (packed) or substitute a scant ⅓ cup of brown sugar

½ tsp

salt

2 Tbsp

tapioca starch
Good coconut ice cream (See note)
Caramelized pineapple (recipe follows)
Sprinkles: roasted peanuts, unsalted, roughly chopped
Caramelized Pineapple
1 Tbsp

butter

1 cup

pineapple, cut into small pieces

3 Tbsp

sugar
Note: It's really important that you use good coconut ice cream with very pure coconut flavour. Look at the ingredient list and it should not contain any dairy products, and should be made almost entirely of coconut milk, with few other ingredients for maximum coconut flavour. If you can find young coconut ice cream, even better! If you really cannot find coconut ice cream, good vanilla ice cream should work as well.
---
Instructions
For the black sticky rice pudding: Combine the two types of rice and wash the rice 2-3 times. Soak in room temperature water for at least 3 hours and up to overnight. Drain, rinse, and place into a medium sized pot.
Cover the rice with 2 cups of water, add pandan leaf band bring to a boil. Once boiled, reduce heat to a simmer and cook for 30-35 minutes, stirring frequently once the rice starts to thicken. Once the water dries up, keep adding more water, about 2-3 tablespoon at a time, and continue to stir over low heat until the rice is done. The rice is done when the pudding is very thick and creamy, and the rice grains have split—this should take at least 30 minutes. You can remove the pandan leaf any time after it has infused for 15 minutes.
Add sugar and salt and stir to dissolve. Dissolve the tapioca starch in just enough water to dissolve it, and add half of the starch slurry into the pudding, stir until the rice is thickened and starts to bubble again. If you want it to be thicker, stir in the other half. Remove from heat.
For the caramelized pineapple: Add butter to a flat saute pan and turn the heat on to medium. While the butter is melting, toss together the pineapple and sugar. Once the butter has melted and the bubbling has stopped, add the pineapple and spread it out into one layer. Let cook without stirring until the pineapple is well browned. Once browned, give the pineapple a quick stir and remove from heat.
To assemble: In a sundae cup, a martini glass, or a small bowl, place the warm black sticky rice pudding on the bottom (as much as you like!). Place some pineapple on the rice and top with the coconut ice cream. Sprinkle roasted peanuts on top, and enjoy!
---