Do you ever buy a head of broccoli because it's a healthy vegetable that you feel you should eat...yet whatever you end up making it, it's never really that exciting? Well, that's about to change! This seemingly simple broccoli stir fry uses a secret weapon that adds a ton of oomph to this humble vegetable. It's so satisfying and full of flavour that this is one side dish that doesn't need a main!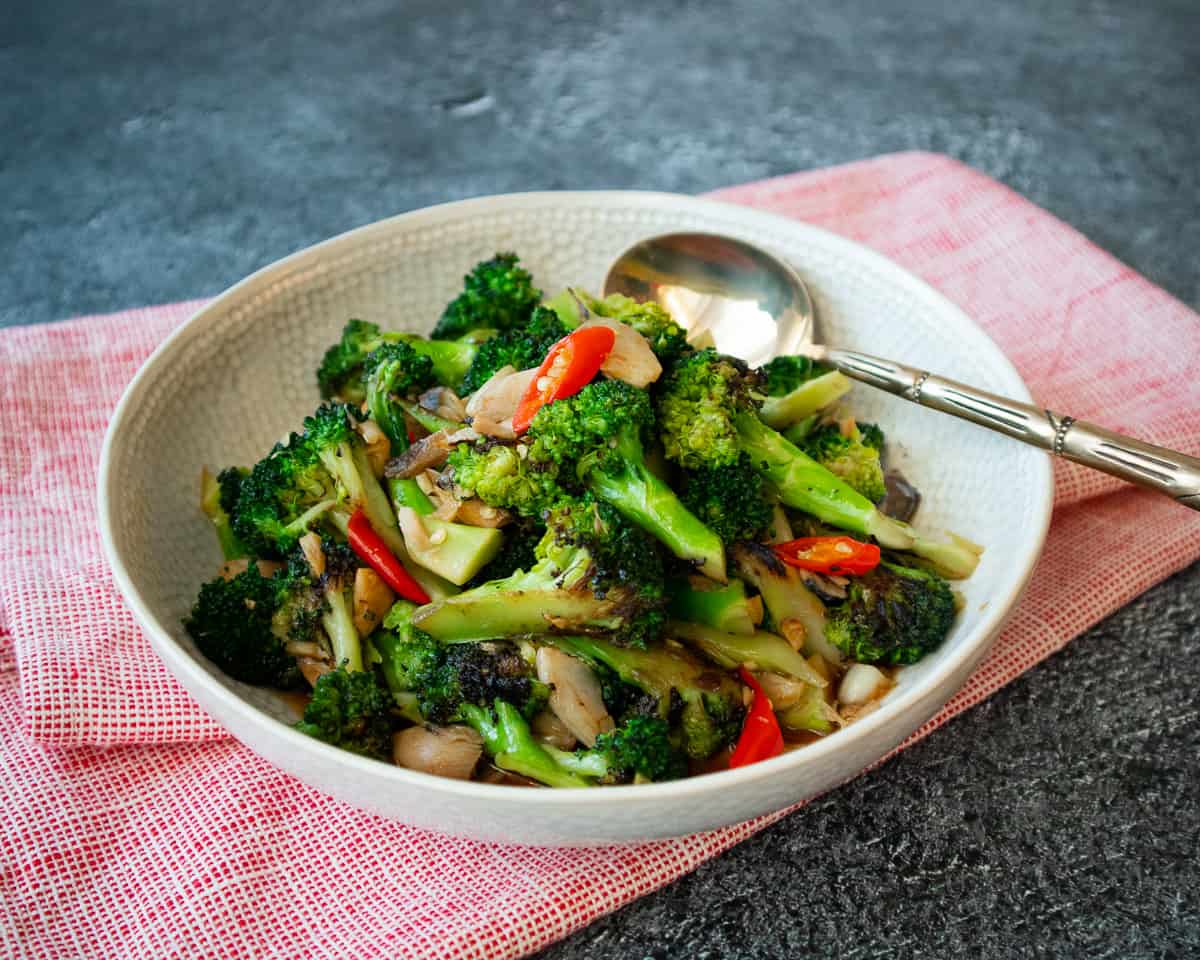 The secret ingredient to elevate your veggies
Ready for the secret? Salt-cured mackerel. And while that might sound fancy, complicated, or weird… it is very simple. You put salt on the fish...and that's it! You don't even have to use mackerel; it can be done with other fish. More on that below.
The cured mackerel is used sparingly, much in the same way that bacon bits are used in small amounts to add salty umami bits to baked potato; or how chunks of salty feta cheese brighten up a Greek salad. This is the Thai version of that.
How Thai people use salt-cured fish
In Thailand you can buy salt-cure mackerel (or salted mackerel) from any market. It's a very common ingredient, and a staple in many households. Salt-curing is a traditional way to preserve fish in many cultures, and in Thailand this is usually done using king mackerel or short Asian mackerel because the firm flesh can hold up to the salting, and the result has a wonderful chew. It works perfectly though with any kind of mackerel or other firm-flesh fish such as salmon or cod.
Most typically you'll see salted fish served with plain congee, used in salted fish fried rice, or added to a Chinese broccoli stir-fry; which is where I got the idea for this broccoli version. We also use it in a pasta dish, and is the inspiration behind my chilli garlic noodles recipe, which is amazing if you haven't checked it out yet!
Why you should have salt-cured fish in your fridge
Having salt-cured fish in your fridge makes it super easy to add a little salty, umami deliciousness to so many things. It works particularly well in adding complexity to things that might otherwise be rather simple tasting. Some examples of things I've added salted fish to are: veggie stir fry, fried rice, fried noodles, pasta dishes, scrambled eggs, congee, and mashed potatoes. (Note: Always break the fish up into little chunks when adding to any dish.)
What would YOU add salt-cured fish to? Share it with me in the comments below!
In Thailand you can see salt-cured mackerel sold in brine, in oil, or as semi–dried steaks. Because of the high salt content it'll last a long time in your fridge, and the saltier the fish, the longer it will keep. For my homemade version I like to make it less salty so that I can use more of it, but that means it won't last as long as the ones you buy (even though I've yet to see it go bad in my fridge even after a few weeks!)
Ingredients You'll Need
Here are all the ingredients you'll need...so simple!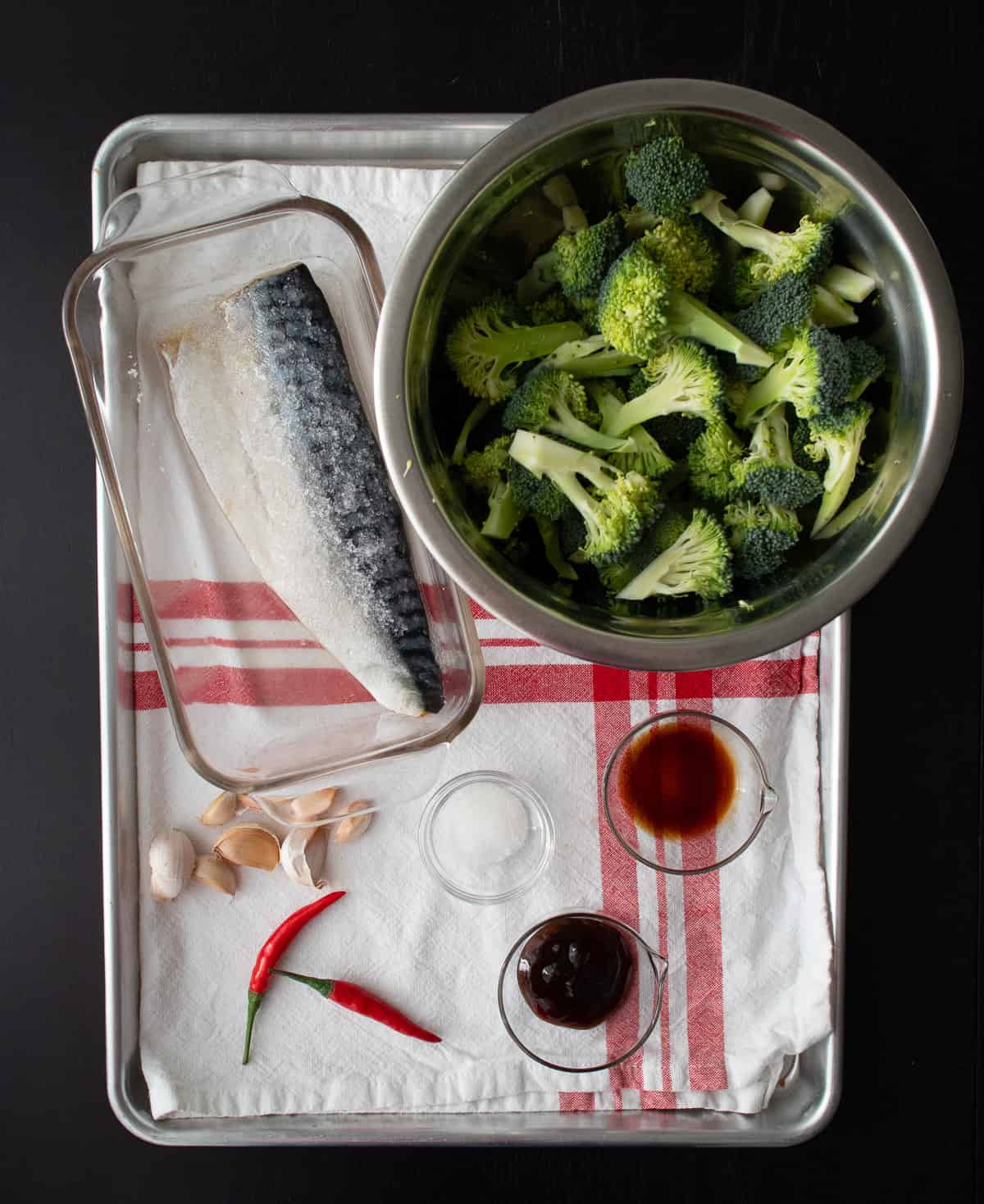 Step-By-Step:
Here's a bird's eye view of the process, but be sure to check out the full video tutorial in the recipe card below to ensure success!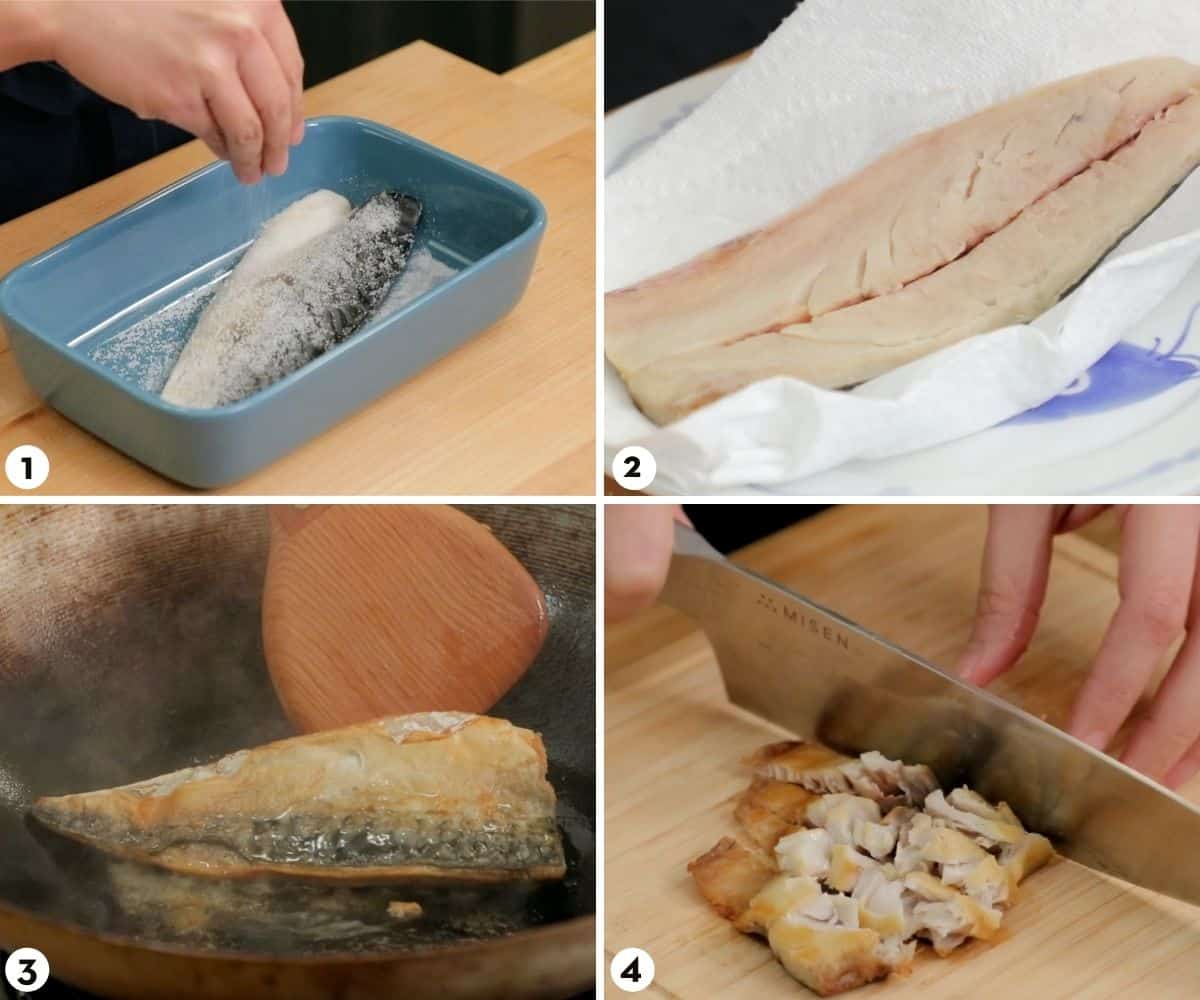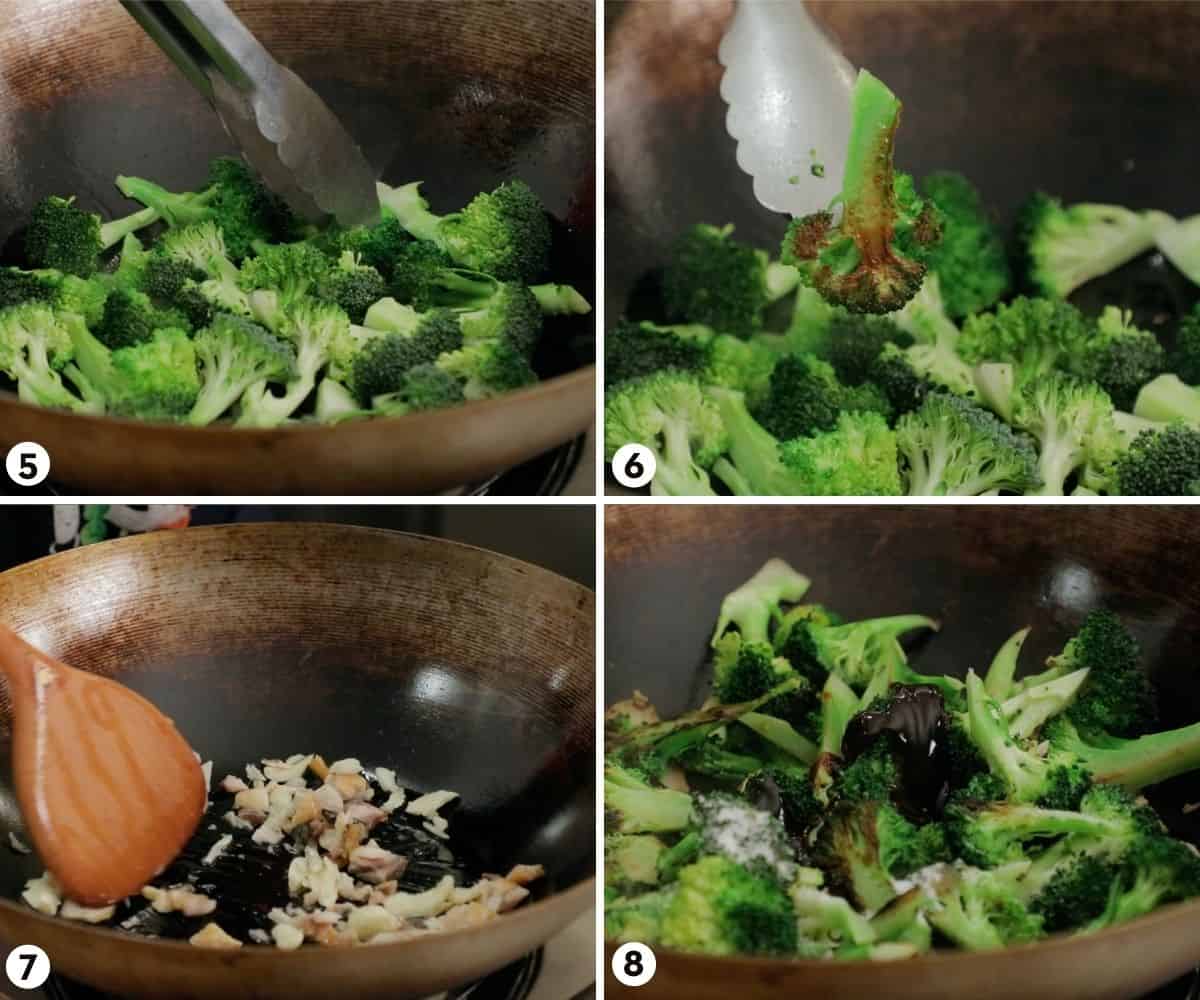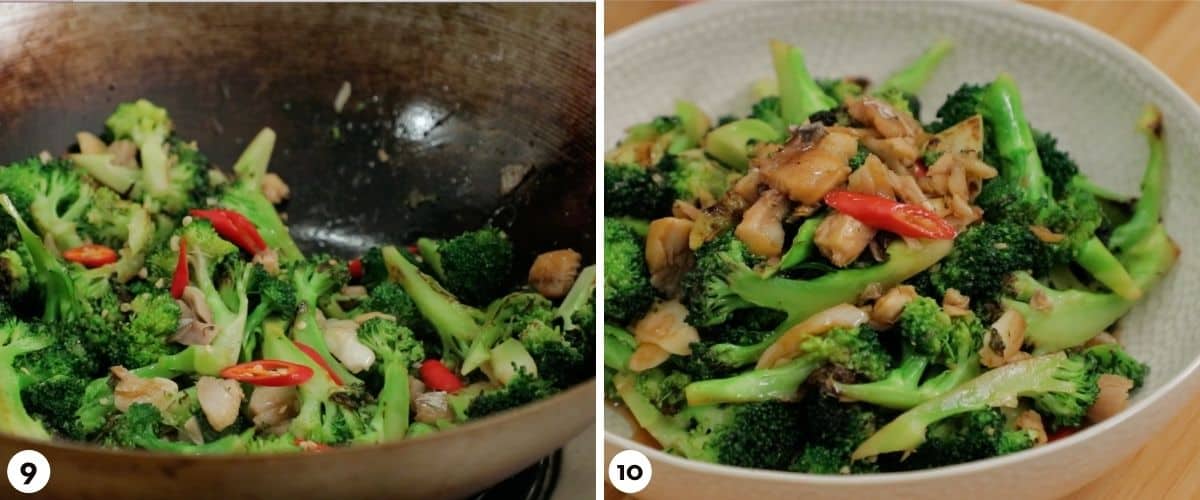 Pro Tip: Don't Over-Cook Salted Fish!
As I stressed in the video, when you add the chopped salted fish to the wok you might be inclined to cook them for a long time to get them nice and crispy. While you CAN do that, keep in mind that that will make the fish even saltier, because you'll be drawing out a lot of moisture from the fish; concentrating the salt. If you want to make the fish crispy, salt it only for a few hours and cut into chunks bigger to allow for this.
Frequently Asked Questions
How long should I salt the fish for?
Anywhere between 2-24 hours depending on how salty you want the fish. Traditionally it is quite heavily salted, as the fish is being preserved - so that would take at least 24 hours. I personally prefer it less salty, so I do it for between 12-24 hours.

*The saltier the fish, the less you can use in the dish and the smaller you have to chop the fish, but the longer it will last.

If you're not ready to cook the fish after it's done curing, rinse the excess salt with cold water, pat dry, and keep it in the fridge until ready to use.
What other kinds of fish can I use?
Mackerel has a strong fish flavour and firm flesh that I think works best for this. But I have tried it with great success with salmon; which is my fish of choice when making salted fish fried rice due to it's pretty color. I have not tried salting any other fish, but in theory any kind of firm flesh fish (like cod) should work. I wouldn't go with anything too expensive for this though!
What kind of salt should I use?
Any kind of salt will work, but I find that coarser grain salt such as kosher salt or sea salt makes things easier - mostly because the grains stay on the fish well, and you can clearly see how much salt has been applied. I used table salt in the video (cuz I forgot the coarse salt!), which works fine, but as you can see the round grains like to roll off the skin and it's harder to see how much has been used.
Why do you have to cook the fish after salting, since you're going to cook it in the stir fry anyway?
You don't have to, technically. In this recipe you can just chop the fish raw and cook it directly in the stir fry. But I always cook my fish after it's done curing and I store it in the cooked state because: 1) cooked fish lasts longer, and 2) it's more convenient because I can just break off a little bit and add it to anything without having to cook it.
Can I use other vegetables aside from broccoli?
Absolutely! I've used broccoli really as a demo vegetable, and also because traditionally this dish is done with Chinese broccoli, so the flavour combo works very well. But any other cruciferous veggie such as brussels sprouts, kale or cauliflower will also work fantastically - and in truth you can add it to any kind of veggie stir-fry!
Like salt-cured fish? You'd also love these!
Before you start, be sure to watch the video tutorial to ensure success! I always include little tips and tricks not mentioned in the blog post. The video is in the recipe card below, but you can also watch it on YouTube!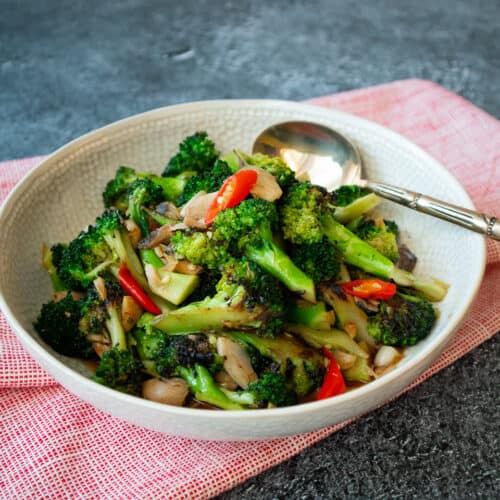 Broccoli Stir Fry with Salted Mackerel
Salt-cured mackerel is a simple ingredient that can significantly elevate the humble broccoli or any other vegetable you like to stir fry! Make the cured fish ahead of time and keep it in the fridge for a fast and delicious healthy dish!
Ingredients
For Cured Mackerel
1

mackerel filet

,

(see note 1)

coarse sea salt

,

as needed
For stir Fry
6

cloves

garlic

,

smashed and roughly chopped

2

oz

cooked salted fish

,

chopped (see note 2)

1

lb

broccoli

1

tablespoon

good oyster sauce

½

tablespoon

soy sauce

1

teaspoon

sugar

2

Thai chilies, chopped, or some ground white pepper
Check Out Ingredients and Kitchen Tools I Use
Notes
You can use another firm-flesh fish such as salmon.
For the salted fish, the amount given can be adjusted according to how salty the fish is. So once you cook the fish, it's important to taste for saltiness, and if it is very salty, feel free to add less. You can always add more after the fact, but you can't fix a dish that's too-salty!
All my recipes come with step-by-step video tutorials with extra tips not mentioned in the blog post, so make sure you watch the video to ensure success. If you enjoy them, consider subscribing to the YouTube Channel to not miss an episode. Thank you!
Subscribe to my YouTube Channel
Instructions
For the salt-cured mackerel
Pat the mackerel dry, then generously salt the filet on both sides; you need just an even blanket of salt that doesn't immediately disappear, there is no need to drown the fish in salt. Refrigerate for anywhere between 2-24 hours, depending on how salty you want it. The saltier it is, the longer it will last, but the less you can use in a recipe, and so it will be more like a condiment. The one I used in the video was salted for about 16 hours.

1 mackerel filet,

coarse sea salt

Once the fish is done, rinse off the excess salt with cold water and pat dry.

Pan sear the fish over medium high heat on both sides until fully cooked, about 2 minutes per side. This is now ready to use and can be kept in the fridge for at least a few weeks.
For the Broccoli Stir-Fry:
Cut the broccoli into florets, making sure that each floret has a flat side so that it can brown effectively.

Taste your cured fish and chop into small chunks according to how salty it is. The saltier it is, the smaller you want to chop it so that it is not overpowering in each bite.

Place a wok or a large skillet over high heat and add enough oil to coat the bottom. Without having to wait for the oil to heat up, put about half of the broccoli in and arrange them into 1 layer, turning all the pieces flat-side down. Let the broccoli sear until most of the pieces have developed some nice browning, then remove them from the pan. Repeat with the other batch and remove them from the pan.

In the same wok, turn the heat on to medium and add no more than 1 tablespoon of oil (the broccoli is harbouring some oil from searing already) then add the garlic and the chopped mackerel. Saute until the smallest bits of garlic turn golden.

Turn the heat up to high then add the broccoli, oyster sauce, soy sauce, sugar and a splash of water and toss until the broccoli is done to your liking - adding a splash more water if it dries up too quickly.

1 tablespoon good oyster sauce,

½ tablespoon soy sauce,

1 teaspoon sugar

Once the broccoli is done, toss in the Thai chilies or white pepper, then turn off the heat. Serve with jasmine rice.

2 Thai chilies, chopped, or some ground white pepper
Watch my videos AD-FREE and get bonus content on Patreon!
Tried this recipe? Share a pic!
Tag @hotthaikitchen on Instagram and Twitter!