---
This recipe is an easy and fun appetizer (or even dinner) to make! It's inspired by the lettuce wrap I get in Chinese restaurants that is made from the meat of Peking duck. With five-spice powder, hoisin sauce, crunchy water chestnuts and crisp iceberg lettuce, it was an instant hit!
Watch The Full Video Tutorial!
All my recipes come with step-by-step video tutorials with extra tips not mentioned in the blog post, so make sure you watch the video below to ensure success - and if you enjoy the show, please consider subscribing to my YouTube channel. Thank you!
Print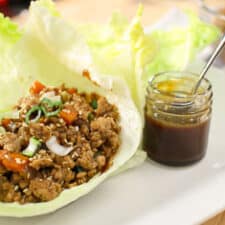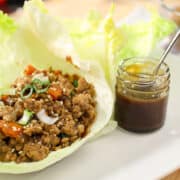 ---
The Sauce
2 Tbsp

oyster sauce

1 Tbsp

hoisin paste or

1 ½ Tbsp

hoisin sauce + extra for wrapping 

1 ½ Tbsp

soy sauce (see note)

1 Tbsp

tamarind juice (aka tamarind concentrate)

½ tsp

sesame oil

¼ tsp

white pepper
Chili flakes, to taste
The Rest
1 tsp

cornstarch

½

onion

3

cloves garlic

1 Tbsp

finely grated ginger

½ tsp

five spice powder

500g

ground chicken

½ cup

carrot, small dice

⅓ cup

water chestnuts, small dice

1 tsp

black soy sauce (optional)

¼ tsp

salt, or as needed
Half a head iceberg lettuce, split into leaves
Note:  I don't use Thai soy sauce for this because it's too light. In the video I used Filipino soy sauce, but you can use Chinese or Japanese soy sauce as well. 
---
Instructions
Combine all sauce ingredients together and stir. If you want, you can add a splash of water to loosen it to make it easier to pour into the wok.
In a small bowl, add the cornstarch and just enough water to dissolve it. Stir until there are no more lumps. Set aside.
In a wok, add just enough vegetable oil to coat the bottom and heat over medium high heat. Add onion, garlic, and ginger, and stir until the onion is translucent. Add five-spice powder and stir for 30 seconds to toast the spices.
Add ground chicken and break it apart with the spatula. Once there are no more lumps, but the chicken is still mostly raw, add the sauce and keep cooking and stirring until the chicken is almost done. Add carrots and water chestnuts and stir. Once the chicken is done, crank the heat up to high and cook, stirring constantly, until there is no more sauce pooling at the bottom of the pan.
Add black soy sauce to adjust colour if you wish. Stir the cornstarch slurry again (it will settle over time) and pour into the chicken and stir quickly. This will thicken the sauce and allows the sauce to cling to the chicken pieces rather than run down and pool at the bottom. Turn off the heat.
Toss in green onions. Taste and adjust seasoning.
To serve, put a bit of diluted hoisin paste or hoisin sauce on a piece of iceberg lettuce. Put the chicken filling on top, drizzle with toasted white sesame seeds and enjoy!
---